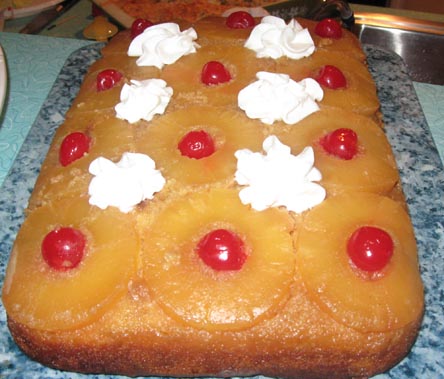 Pineapple Upside Down Cake was first mentioned in print in 1930,
and appeared in a the Sears and Roebuck catalog in 1936,
but the cake can be traced back to 1925 in a Seattle fund-raising cookbook,
although it was called Pineapple Glacé. It became popular very fast at this time
partly due to the new canned perfect pineapple rings, and other
time saving gadgets that let the homemaker focus on looks
as well as taste.
Pineapple has an interesting history.
How it got its name is funny enough
The History of Pineapple
Click on this link and catch a good tidbit for parties, and other
fun facts about this incredible fruit that I have a passion for
We recently did a catering with a 1950's theme and one
of the things we made was this cake that went over well.

I have found that using vanilla beans or a triple shot
of vanilla extract to flat out turn this upside
down cake right side up with Enchantment
I used a 9 by 13 dish for this recipe that I doubled for the party.
Here is a recipe from an old Pineapple cookbook from Dole, that I will show
My additions that I have learned that enchant this cake.
PINEAPPLE UPSIDE-DOWN CAKE

*Glacé
1/4 cup butter
1/2 cup brown sugar

5 to 7 slices Dole Pineapple (No. 2 or 1 lb., 4 oz. can) Maraschino cherries, optional
1 package white or yellow cake mix for one layer cake (or one-half of a regular size package)

Melt butter, brown sugar and 2 tablespoons of pineapple syrup in an 8 or 9-inch skillet or cake pan or in special Dole upside-down cake pan. (See offer below*.) Remove from heat and arrange pineapple and cherries in mixture.

Prepare batter as directed on cake package. Pour over mixture in the pan. Bake in a preheated 350 degree oven 40 to 50 minutes, until cake tests done. Let stand 5 minutes. Invert on serving plate. Allow 2-3 minutes before removing pan. Serve warm with whipped cream. Makes 5 or 6 servings.