Recipes from a German Grandma Website | Recipes | Our Cookbook
Maybe a perfect
gift package of goodies for someone you know?

I have found out that my "Recipes from a German Grandma" is more than just a recipe book to people, It also brings back many fond memories of Life in a German -
American household, in the 19th century.

I have given my book to some dear friends as gifts and included some other goodies like vintage 1920's German postcards with fabulous drawings of that era.

Also some vanilla beans and vanilla sugar as well, wrapped nicely, so when they unwrapped it the smell of fresh vanilla made the experience extra special.
I was so pleased with the reaction I go, so I wanted to offer this to others that might think this would be special.
I will send you
a signed copy of
"Recipes from a German Grandma"
3 fresh premium vanilla beans
1 pkg. Vanilla sugar
CD of Bonus Recipes
with step by step pictures
5 vintage German post cards (replicas)
24.97
If you feel that this would be a good gift Then
Place Your Order with Me Now on our secure server

| | |
| --- | --- |
| Normally the cost of the vanilla beans, vanilla sugar and vintage postcards is $15.00, but it makes the present extra special when they open it up and the package smells so good! It is reminiscent of the pleasures of baking also. | |
| | |
| --- | --- |
| | These Postcards are replicas of the original art that was made in Germany in the Early 1900's. Germany was noted for their high technology in this area. Many American postcards were made in Germany at that time. You can keep them or send a note to your friends. |
We started out just wanting to preserve the recipes and also the stories that were told around the dinner table about my grandmother that came over on the boat to America. She arrived with hope of a better life through Ellis Island at the turn of the century and living in a German-American family early in the 1900's and through the depression years, living almost to 100 years old.

Life was different then, every thing had to be made from scratch, much of which was raised in the garden , and preserved for the winter. Everyone in the family had to work just to survive.
The book has been featured on The "Visions of Bavaria " television broadcast aired by KVIE and WMHT PBS stations.
We received many letters and comments that they enjoyed reading the book, because it brought back so memories of that part of their heritage as well as remembering the recipes they brought over from the old world such as Sauerbraten, Rouladen, Spaetzle, and sweet and sour red cabbage (Rotkohl). Also Apple Strudel and the different Christmas baking like Stollen, Springerle, and lebkuchen.
I am only going to do about 100 of these gift packages, as I want to make sure I get them all done and sent out on time, and while this fresh batch of vanilla sugar lasts.

Only 24.97
6.00 S/H
US and Canada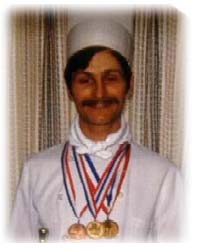 Yours Truly,
Stephen Block
Co-author along with his Mother Aileen,