While you read the newsletter here are some nice music from past Spargelfests, by the way Spargelfest is almost here!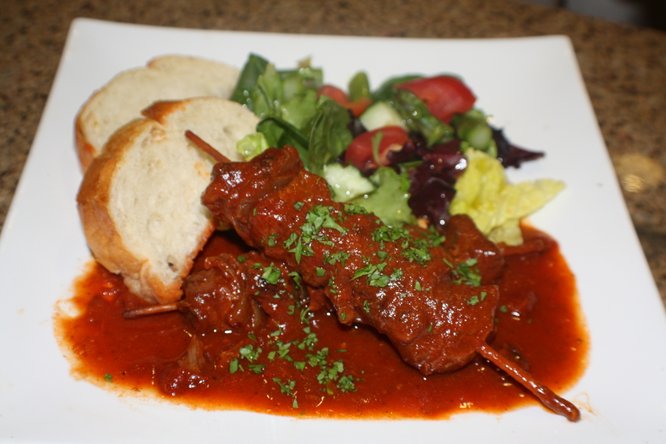 This is a bit different than the traditional style German food we think of but It's very much a part of the German Food-scape as a quality quick food like a Burrito would be in the states. Lots of different spices and flavors!

Schaschlik is Kebab of either pork , beef or chicken that is sometimes marinated in spices and either grilled or in this case slow simmered in a flavorful Paprika style sauce that is out of this world!

The word Schaschlik (Sha-Shlick) seems to be a word from the Tartars but the recipes seem to be more from the area just east of Turkey in Russia, know as the Caucasus that incorporates Armenia as well. It is a blend of many cultures including Asian (via Marco Polo). Germany and Turkey historically have intermingled a great deal, so it is no surprise that this kind of dish is popular.
My friend Trudy Maynard that grew up in Limbach, Germany in Rhineland/Pfalz, where it is really popular in small fast food stands called Schnell-Imbiss. She found a recipe and worked with it till it tasted authentic, then bless her heart she sent it to me.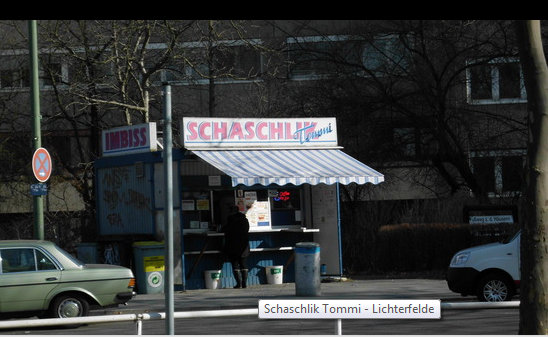 Just as many foods from Germany that migrate over to the states get the name modified, so did Schaschlik. In South Dakota it is called Chislic. This is a differernt recipe where it is marinated a then often deep fried or grilled.
Go here to make Beef Schaschlik with Step by Step Pictures
We will cover some other Schaschlik recipes in the future
that my friend Dieter sent me.
~~~~~~~~~~~~~~~~~~~~~~~~~~~
~~~~~~~~~~~~~~~~~~~~~~~~~~~
From the German Deli
Germandeli.com
Annabell's Laugenbrezeln
(Pretzels) 10pck
By Brinker Bakery in Germany
From Germany imported soft Pretzels are baked in the old Pretzel tradition with a top quality recipe. They are then frozen to lock in flavor and moisture. Thaw and enjoy or bake frozen in preheated oven for 2-4 minutes for a fresh baked taste.
Roggenbrot
1000g (Old Rye Bread)
This item has 22 number 5 star reviews!
I loved it when I got mine. I was amazed that a loaf of bread can be made thousands
of miles away in the Fatherland and taste like it was made next door.
Hand Made in Germany, deep-frozen and shipped to the US in a deep freeze container. This bread has a strong Rye taste. A 90% rye and 10% wheat flour combination bread with a biological 3 stage natural sour dough. A very moist center with a very crisp, flavorful crust. It's all about the crust with this bread. It's a real winner. You simply defrost and heat through. Outrageously delicious by our German staffs' standards.
~~~~~~~~~~~~~~~~~~~~~~~~~~
Our Family
Cookbook

Comes with over 50 Bonus recipes with Step by Step color pictures.


16.97
Print these recipes off at your leisure,so you can look at the pictures as you cook.

Add recipes also from our newsletters to your notebook.

~~~~~~~~~~~~~~~~~~~~~~~~~~~
German Music
Spargelfest in Staffelde
Asparagus Peeling Competition
Büchenauer Spargelfest
~~~~~~~~~~~~~~~~~~~~~~~~~~~~~~~~~~~~~~