While you read the newsletter here is a nice Easter Music
Some Easter (Ostern) Ideas
How Did the Easter Bunny get from Germany to the United States
In pagan times, the "Easter hare" was no ordinary animal, but a sacred companion of the old goddess of spring, Eostre.
The Easter bunny has its origin in pre-Christian fertility lore. The Hare and the Rabbit were the most fertile animals known and they served as symbols of the new life during the Spring season.
Since long before Jesus Christ was born, parents told their children that the magic hare would bring them presents at the spring festival. The presents were often painted eggs, as these represented the new life starting at this time of year." Hares are animals which look like rabbits, but are larger and in many countries quite rare. In most places, the Easter rabbit (bunny) has replaced the Easter hare completely.

The bunny was first used as a symbol of Easter in 16th century Germany , where it was first mentioned in German writings. The first edible Easter bunnies, made primarily of pastry and sugar, were produced in Germany as well, during the early 1800s. Also in Germany , children made nests of grass and placed them in their yards. They believed the Easter Bunny would fill these baskets with brightly decorated eggs during the night.

The Easter bunny was introduced to American folklore by the German settlers who arrived in the Pennsylvania Dutch country during the 1700s. The arrival of the "Oschter Haws" was considered "childhood's greatest pleasure" next to a visit from Christ-Kindel on Christmas Eve. The children believed that if they were good the "Oschter Haws" would lay a nest of colored eggs.

Thus the custom of making nests also spread to America . Children would build their nest in a secluded place in the home, the barn or the garden. Boys would use their caps and girls their bonnets to make the nests . The use of elaborate Easter baskets would come later as the tradition of the Easter bunny spread through out the country.

~~~~~~~~~~~~~~~~~~~~~~~~~~~

Grünerdonnerstag Suppe


Fresh Creamy Herb Soup

I found it interesting reading about a tradition in Germany called Gründonnerstagsuppe or Green Thursday which is served on Gründonnerstag or Maundy Thursday.

The tradition itself is more about the green being a symbol for new life, after a long hard winter, the new green herbs give us enrichment for life.
The history behind this soup's name is an interesting one. The Thursday before Easter is often called Gründonnerstag in Germany. However in this case, grün , or green, is a modern day corruption of an old, medieval word, greinen , which means to cry. In Christian tradition, the Thursday before Easter is the day on which Christ held the Last Supper and was later betrayed. The medieval word greinen marked this day as one of sorrow for Christ's eventual martyrdom. Maundy is a word that meant something similar to "begging". Today, despite the origin of the day's name, many Germans eat green meals on Gründonnerstag.
I have seen some recipes that call for 7 herbs and some that call for 9.
The nine has to do with and ancient tradition that it should be 3 x the divine number 3.

Some of the herbs that are used are spinach, parsley, leeks, chives, dandelion and sorrel. I have also seen Mugwort, Nettle, Watercress, Daisies and Dandelion.

Here is another use for your dandelions greens, in this soup!

As one German author put it According to ancient tradition, If one or the other herbs is not palpable, we may substitute, for "Traditions are like street lamps. They show the way, but only a drunkard clings to her!" (P. Werner)

All the herbs are noted for different medicinal purposes as well, and meant to help you get through the year healthy.

The leftover soup can be used as a sauce and served with hard boiled egg halves, or as a topping for asparagus.

Children bringing in the new Spring by eating Grundonnerstagsuppe with some crusty bread, and fresh flowers on the table!
Come into my kitchen and let's make
Gründonnerstag suppe with step by step pictures
~~~~~~~~~~~~~~~~~~~~~~~~~~~
Our Family
Cookbook

Comes with over 50 Bonus recipes with Step by Step color pictures.


16.97
Print these recipes off at your leisure,so you can look at the pictures as you cook.

Add recipes also from our newsletters to your notebook.
~~~~~~~~~~~~~~~~~~~~~~~~~~
Osterbaum
(Easter Tree)


Karen Kinnane just got back from Kleinzerbst, Germany and talks about the German Osterbaums that decorate many villages
Karen writes...Germany is very festive, so many homes in the villages including Kleinzerbst have "Easter egg trees" inside and outside the houses. Inside they often use forsythia branches and in time the "trees" sprout yellow flowers, plus the blown out and decorated colored eggs.
Anne and her Mother used to dye the eggs with home made colors, blowing out the eggs for the shells for the Ostern tree decorations, and using the bent wood match with the string through the egg shell out the smaller hole at the top of the eggshell in order to hang them from the ostern tree after dyeing them with the natural dyes: purple red from beets, yellow from onion skins, green from the stinging nettles of which I don't know the German name or the American name as we have them here at the edge between the fields and the woods. You don't want to touch this plant because it stings your bare skin, makes it itch, NOT POISON IVY! They boiled the organic material and then boiled the eggs in the colored water.
Here is a nice colored egg that I made by boiling yellow onion skins. I was
very pleased with the nice goldish yellow color.


Wash the egg to get anything off that might keep the dye from setting.
Use a small nail or needle and twist carefully till it goes through the shell.
Turn the egg over and repeat.
Blow out one end of the shell over a bowl, and the egg will come out.

I put the egg in the simmering yellow dye. Add salt or vinegar as a "mordant"
which is something that will help set the dye.
Here are some more natural foods to use for dye.
Natural Easter Egg Dyes
Color
Ingredients
Lavender
Small Quantity of Purple Grape Juice
Violet Blossoms plus 2 tsp Lemon Juice
Red Zinger Tea
Violet Blue
Violet Blossoms
Small Quantity of Red Onions Skins (boiled)
Hibiscus Tea
Red Wine
Blue
Canned Blueberries
Red Cabbage Leaves (boiled)
Purple Grape Juice
Green
Spinach Leaves (boiled)
Liquid Chlorophyll
Greenish Yellow
Yellow Delicious Apple Peels (boiled)
Yellow
Orange or Lemon Peels (boiled)
Carrot Tops (boiled)
Celery Seed (boiled)
Ground Cumin (boiled)
Ground Turmeric (boiled)
Chamomile Tea
Green Tea
Golden Brown
Dill Seeds
Brown
Strong Coffee
Instant Coffee
Black Walnut Shells (boiled)
Black Tea
Orange
Yellow Onion Skins (boiled)
Cooked Carrots
Chili Powder
Paprika
Pink
Beets
Cranberries or Juice
Raspberries
Red Grape Juice
Juice from Pickled Beets
Red
Lots of Red Onions Skins (boiled)
Canned Cherries with Juice
Pomegranate Juice
Raspberries
For a more intense color leave the eggs in the fridge overnight with the dye.
This takes some creativity as the eggs will float. You can improvise a light weight that will keep them submerged.

~~~~~~~~~~~~~~~~~~~~~~~~~~~
~~~~~~~~~~~~~~~~~~~~~~~~~~~
~~~~~~~~~~~~~~~~~~~~~~~~~~~
The Block Family's recipe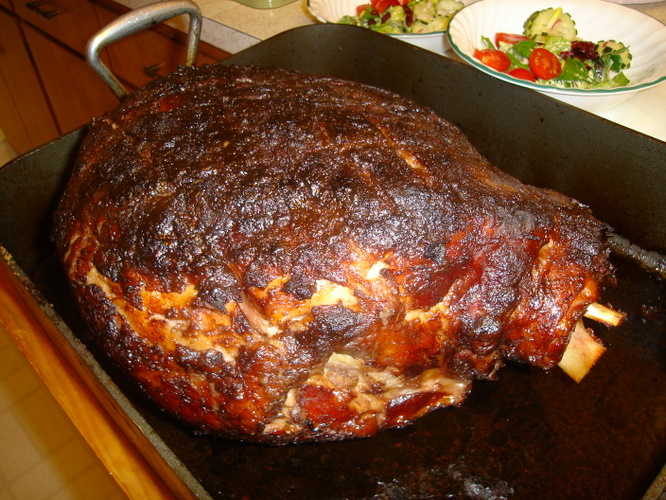 When Grandma took a notion to bake a ham, she used generous amounts of Grandpa's homemade wine to baste it with while it was cooking. The spicy aroma of the ham, wine, cloves, and brown sugar baking in the oven left no doubt about what was for dinner! In the old days, she'd buy a real smoked ham, with the bone in and skin on. After having the skin taken off, it was boiled to get some of the salt out of the meat, then covered with brown sugar and cloves, and baked in wine. Those hams were truly memorable!
Go here for the Recipe for our Schinkenbraten (Baked Ham) Recipe.
~~~~~~~~~~~~~~~~~~~~~~~~~~
From the German Deli
Germandeli.com
Annabell's Laugenbrezeln
(Pretzels) 10pck
By Brinker Bakery in Germany
From Germany imported soft Pretzels are baked in the old Pretzel tradition with a top quality recipe. They are then frozen to lock in flavor and moisture. Thaw and enjoy or bake frozen in preheated oven for 2-4 minutes for a fresh baked taste.
Roggenbrot
1000g (Old Rye Bread)
This item has 22 number 5 star reviews!
I loved it when I got mine. I was amazed that a loaf of bread can be made thousands
of miles away in the Fatherland and taste like it was made next door.
Hand Made in Germany, deep-frozen and shipped to the US in a deep freeze container. This bread has a strong Rye taste. A 90% rye and 10% wheat flour combination bread with a biological 3 stage natural sour dough. A very moist center with a very crisp, flavorful crust. It's all about the crust with this bread. It's a real winner. You simply defrost and heat through. Outrageously delicious by our German staffs' standards!
~~~~~~~~~~~~~~~~~~~~~~~~~~
German Music
Bach's Easter Oratorio, '' Kommt , Eilet und Laufet ''
~~~~~~~~~~~~~~~~~~~~~~~~~~
~~~~~~~~~~~~~~~~~~~~~~~~~~
Frohe Ostern
~~~~~~~~~~~~~~~~~~~~~~~~~~~~~~~~~~~~~~