Pflaumenzeit ist Zwetschgenzeit!
Plums and Plums Time !
2 different kinds
Zwetschgen
this plum is a more oblong and a freestone pit.
Folks have been writing me that their plums are ripening, and that has always been an exciting time for me. Growing up in the Northwest we had lots of plums and grandma had so many Zwetschgen, (what she called an Italian plum) that we gathered them off the ground. She made not only plum kuchen but put up lots of an extraordinary jam that she called Prune Conserve.

I am sure that other countries and cuisines have plum cake recipes but am not sure it's like the tradition that I see in German cuisine to make plum kuchen. Every year I get so many folks with German heritage tell about how this was such a big part of the late summer and fall and even years after their relatives who made the magic in the kitchen have passed they want this tradition to live on!

I look forward to making the Pflaumenkuchen or Zwetschgenkuchen when I go up for Dad's 90th birthday celebration this year.

Freezing Plums
If you want to save some plums and have this treat in the winter then here is a tip that Marge Wolf sent me:
| | |
| --- | --- |
| I split them and pitted them. Then laid them in a single layer on a cookie sheet and froze them overnight. After they are frozen solid they can easily be placed in ziplock bags to keep in freezer until you are ready to make the kuchen. Wh ere we live, the Italian plums can only be found in September. So we like to store them for later use. | |
By the way I tried this and after 8 months the plums worked fantastic in a kuchen!
Thank you Marge Wolf!
Some of my favorite Plum Kuchens
| | | |
| --- | --- | --- |
| Our Traditional style Kuchen in our family, using a sweet dough and baking in an rectangular baking dish. | This is one that I like to make sort of a pizza style kuchen. It is light and great for picking up and eating with your hands. | This style uses more of a sponge cake batter and the plums sink into the cake as it bakes. |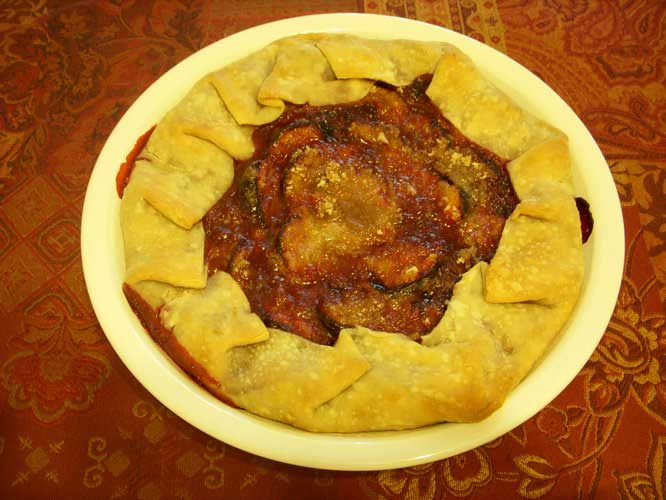 Marsha McEllisgott sent me her grandma's recipe for Plum Kuchen.
This is a style that I have never seen before.
My mother (Gertrud Feuerle Coon) grew up and lived as a young woman in Germany in

Schwäbisch Gmünd

- then married a U.S. military officer at the end of World War II and came to the U.S. and lived out her life in the beautiful Finger Lakes area of New York which she often described as being so similar in landscape to her "home" . We are so happy to have many of her old German recipes and we hope you like this one. Marsh McEllisgott.
Go here for Marsha's recipe for her Omi's Zwetschgenkuchen
~~~~~~~~~~~~~♥♥♥~~~♥♥♥~~~~~~~~~~~~~
Our Family
Cookbook

Comes with over 50 Bonus recipes with Step by Step color pictures.


16.97
I include
Over 50 Bonus Recipes with Step by Step Pictures

On CD
I am very proud of these recipes as they take a lot of the
guess work out of making these fabulous German specialties.

Simply open up the recipes with step by step pictures and print out the item you like. I keep mine in a notebook.
See the Whole List Here of Recipes Here
Berliners

Apple Kuchen

Apfel Strudel

Stollen

Pfeffernusse

Lebkuchen

Springerle

Zimmsterne

Bratwurst

Sauerbraten

Rouladen

Wienerschnitzel

Old Fashioned Home Made Noodles

German Potato Salad

Potato Dumplings
(Kartoffel Knödel)

Spätzle

Gefulte Nudeln

Chicken and Dumplings

Rotkohl
(Sweet and Sour Purple Cabbage)

Potato Pancakes
(Kartoffelpuffer)


See the Whole List Here of Recipes Here

~~~~~~~~~~~~~♥♥♥~~~♥♥♥~~~~~~~~~~~~~

If you liked Recipes from a German Grandma...

From Germany with Love,
By Aileen Block

This is a nice companion book to Recipes from a German Grandma.
From Germany with Love tells more about the story of my grandma, Emma Block, growing up in a little town in Baden/ Würtemberg, Germany near Heidelberg named Steinsfurt. Then at the age of 15 immigrating to the United States, taking a train with one of her sisters and brothers to Hamburg and sailing the Atlantic with other hope filled Germans wanting to make a life in the "New World". It was not easy but with good values learned in her German upbringing made a full life, had a wonderful family with lots of fun and celebration including great German meals.


Order Here
14.97
~~~~~~~~~~~~~♥♥♥~~~♥♥♥~~~~~~~~~~~~~
From the German Deli
Germandeli.com
Abraham
Speck, Ham Large

Abraham of North America offers a delicious Smoked Ham which has been made with minimum processing. Made from the outside round of the hind leg of pork/ham, a favorable cut for drying and aging, this Prosciutto contains the least moisture content. Our production recipe comes from the southern Austrian and northern Italian region of Tyrol. The meat is slightly salted and seasoned with pepper, coriander and regional herbs, briefly smoked over beechwood chips, then naturally air cured for up to 12 months. The aging process guarantees a supremely tender meat with a rich, savory flavor. This product should be sliced wafer thin. Each piece weighs an average of between 3 and 4 pounds. We recommend using an electric slicer or get to know your local butcher very well and ask if he/she will slice it for you (offer to share a little). A professional slicer will certainly produce the best results.
NET WT. between 3 and 4 LBS.

Ingredients: ham, salt, sugar, juniper berries, black pepper, coriander, potassium nitrate, sodium nitrite.

Order Abraham Speck, Ham Large Online

Kochers Doppelt-geräucherter
Speck
(Double Smoked Bacon)

Kocher's Double Smoked Bacon is indispensable to add the right smoky flavor to traditional German dishes such as Rouladen. Try chopping it up into small pieces and using it to make your favorite Flammkuchen. Each piece has a bacon rind and is not overly salty.

~~~~~~~~~~~~~~~~~~~~~~~~~~
Want to see some Great German Engineering?
Roy Denman sent this video that
just gives me goose bumps!
Ok maybe it's a guy thing.

~~~~~~~~~~~~~~~~~~~~~~~~~~
German Music Selections

Oesch`s die Dritten - Ku-Ku Jodel


~~~♫~~~♫~~~
Jodlerclub Wiesenberg und Francine Jordi
~~~♫~~~♫~~~
~~~♫~~~♫~~~
Marc Pircher - Volksmusik medley
~~~♫~~~♫~~~
Takeo Ischi - Bockwurst, Bier und Blasmusik
~~~♫~~~♫~~~
Stefanie Hertel - Liebe hat tausend Gesichter 2006
~~~♫~~~♫~~~
Stefanie Hertel - Lust auf Sommer
~~~♫~~~♫~~~
~~~~~~~~~~~~~~~~~~~~~~~~~~~~~~~~~~~~~~