Birnen Bohnen und Speck
Pears, Green Beans and Bacon




Apfel Mürbeteig
German Apple Pie

Himmel and Erde
Potatoes and apples

This is the time of year for green beans in the garden along with pears and apples. They make great dishes and great combinations too. I remember folks telling me years ago to put an apple in the pot with the potatoes for mashing, and to put a pear in the pot of simmering ham and beans. That sounded so strange at first but when I tried it I was suprised by yum and ....COOL! I love it when I am FORCED to try something new and then get that feeling that I have expanded my horizons in enjoyment of cuisine.

The dynamics of this whole project is fascinating. It started out as not a German cooking website but a German-American website. Now it is German- Australian, German -South Africa, etc. The key is that people like me have a beloved German heritage that they feel and are inquisitive about.

A similar person with heritage, Peggy, last week said her Oma made a dish out of cut green beans, potatoes and sausage but only had a some what phonetic idea of what it was called. Thanks to folks on the German Goodies forum that grew up in Germany they came up with the dish with all the context clues that Peggy gave.

The dish is called Schnippelbonhen which means snipped beans. Made into a stew it is called Schnippelbohnen Eintopf. Eintopf is a German word for Stew. Ein =one and Topf = Pot. This dish can be cooked many ways and presented in many ways.

For a sweet I snagged Roy Denman from Germany's recent pic of an Apple Torte or Apfel Mürbeteig that he made with a short crust.

So here are some recipes using Green beans, Pears, and Apples.

Green Beans, Potatoes, Simmered with Sausage and Ham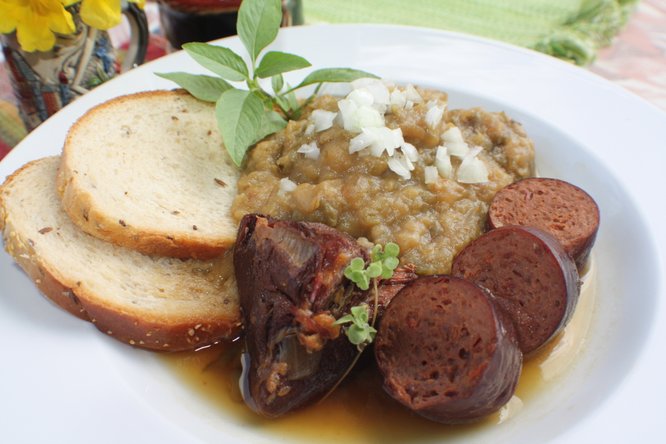 What a fun name, Schnippelbohnen. schnipp means to to snip and Bohnen means Bean.
Generally Schnippelbohnen refers to what in the U.S. we would call a French style green bean.
This is a great way to use older green beans. It is a shame to throw away the larger tougher green beans. Also today green beans aren't as stringy as they use to be. These tougher beans were often put through a machine that would slice them and remove the string making them easier to eat. Some folks like to add a pear or 2 to this. It gives a nice background flavor. You can use an unripe pear if you want.

Go here to make Schnippelbohnen
with step by step pictures
Here is another Potato Mash with Apples called
Himmel und Erde or Heaven and Earth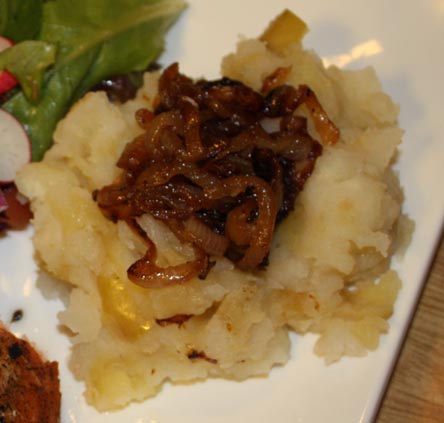 Go Here for the Recipe for Himmel und Erde
~~~~~~~~~~~~~♥♥♥~~~♥♥♥~~~~~~~~~~~~~
Our Family
Cookbook

Comes with over 50 Bonus recipes with Step by Step color pictures.


16.97
I include
Over 50 Bonus Recipes with Step by Step Pictures

On CD
I am very proud of these recipes as they take a lot of the
guess work out of making these fabulous German specialties.

Simply open up the recipes with step by step pictures and print out the item you like. I keep mine in a notebook.
See the Whole List Here of Recipes Here
Berliners

Apple Kuchen

Apfel Strudel

Stollen

Pfeffernusse

Lebkuchen

Springerle

Zimmsterne

Bratwurst

Sauerbraten

Rouladen

Wienerschnitzel

Old Fashioned Home Made Noodles

German Potato Salad

Potato Dumplings
(Kartoffel Knödel)

Spätzle

Gefulte Nudeln

Chicken and Dumplings

Rotkohl
(Sweet and Sour Purple Cabbage)

Potato Pancakes
(Kartoffelpuffer)


See the Whole List Here of Recipes Here

~~~~~~~~~~~~~♥♥♥~~~♥♥♥~~~~~~~~~~~~~

If you liked Recipes from a German Grandma...

From Germany with Love,
By Aileen Block

This is a nice companion book to Recipes from a German Grandma.
From Germany with Love tells more about the story of my grandma, Emma Block, growing up in a little town in Baden/ Würtemberg, Germany near Heidelberg named Steinsfurt. Then at the age of 15 immigrating to the United States, taking a train with one of her sisters and brothers to Hamburg and sailing the Atlantic with other hope filled Germans wanting to make a life in the "New World". It was not easy but with good values learned in her German upbringing made a full life, had a wonderful family with lots of fun and celebration including great German meals.


Order Here
14.97
~~~~~~~~~~~~~♥♥♥~~~♥♥♥~~~~~~~~~~~~~
Birnen ,Bohnen ,und Speck
Pears, Green Beans, Potatoes and German Bacon
Karin Reid who was raised in Hamelin, Germany in Saxony, the same town the Pied Piper came from, was the first to tell me about this dish. I was taken aback a bit cooking pears with potatoes and beans. This was a great memory for her as well as being an actor in the Pide Piper Play that was performed daily in the town center in Summer.


Then I heard from my friend Rolf who grew up in Eastern Germany , that he had found some good beans and pears so he was going to make this dish. So I had to try it.
The idea of cooking the pears comes partly I think from using up unripe pears that you can't eat or use in a kuchen.

So if you see a good deal on pears in the store that are still hard this is a good thing you can make with them right away. Cooked with the flavors of Speck and then add the green beans and the potatoes the combination of flavors was one of the more satisfying lunches we had in a long time.

It is not heavy at all. We opted to serve pieces of a ham hock with it, but you could get by with just the flavor of a little Speck.

Speck from Abraham Company and imported from Germany Read more here.

My grandma had a large pear tree in their yard in Steinsfurt growing up, and Charlie Kilo remembers his mother wrapping each hard unripe pear in newspaper and storing them in the root cellar. Charlie would be sent down to get the pears for this dish, but Charlie's mom would layer all these ingredients, and then finish it with mashed potatoes instead of boiled.

Come into my kitchen and let's make some
Birnen , Bohnen and Speck
(an Americanized version) with step by step pictures.

Margarette Taylor recommends Kassler Ripchen
(This is a special Smoked Pork Chop)
for this dish, and she says that
Segi's brand Kassler Ripchen
is excellent.
I have enjoyed several Segi's products.
~~~~~~~~~~~~~♥♥♥~~~♥♥♥~~~~~~~~~~~~~
German Style Apple Pie or Torte
Apfel Mürbeteig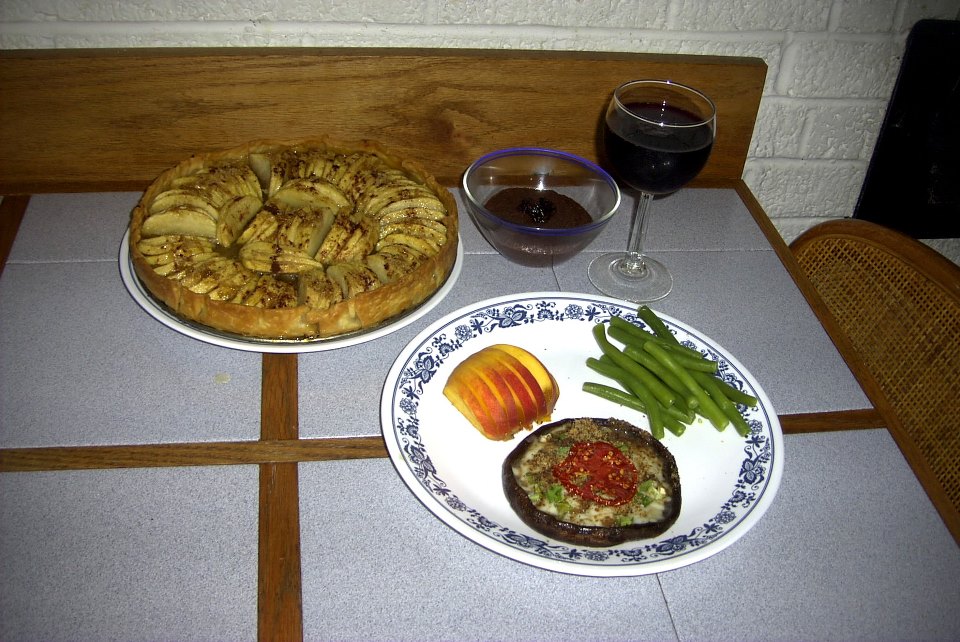 Roy Denman from Rottenburg, in Bavaria is one of the best cooks I know that blends his German roots
with other cuisines as well,and uses techniques to add nutrition and lower overall calories.
I want to offer many of Roy's recipes to you in the future, like his different stuffed
Portabellas like he does here, but for now I wanted to show you how he does an apple torte
or apple pie German style with a dough called Mürbeteig. Mürbeteig is a German word for
shortcrust, or pie dough. There are different ways to make it.
This is a classic way that one of our other readers Enizi Johnson sent to me. Her mother
made it on the counter. This recipe below puts a top crust on the pie while Roy above
Uses just a bottom crust and builds a crust up the side of the springform pan.


Some Background on Einzi's recipe for Mürbeteig
Einzi writes .....My mother used to make it on the counter. She put flour on the counter and then made a well in it and added the ingredients as needed. She was good at it and it took me awhile to find out that she made her Mürbeteig this way. It was fairly soft and she kind of smeared it in the form, than she added the apples, cherries or whatever and because the dough was soft, usually the fruits sank into the cake. Sometimes she added sweet cream to which she added eggs and a little flour and poured it over the cake before she baked it. Later it all made sense to me, her kitchen was hot and the butter was just to soft. Lots of times she used leftovers, like sour cream and eggs (where she only used the white off) so it would not be wasted. On a farm everything is used. In the older days we had a cellar and that's where all the food was kept cool. Later on we had a fridge and things were different.

Go here for the recipe for Apfel Murbeteig
with step by step pictures
~~~~~~~~~~~~~♥♥♥~~~♥♥♥~~~~~~~~~~~~~
From the German Deli
Germandeli.com
I have enjoyed ordering Germandeli's selection of German Wursts and other meats that come packed
perfectly in an insulated container with dry ice to keep nice and cold. Even the Schweinshaxe that
I can't find anywhere else ship perfectly.
Check out their nice selection of German Cold Cuts
Here is their Bratwurst Selection
Plus 6 extra beans

25.97
19.97
More of my Vanilla Bean Specials for summer here
~~~~~~~~~~~~~~~~~~~~~~~~~~
German Music
~~~♫~~~♫~~~
~~~♫~~~♫~~~


~~~♫~~~♫~~~
Wildecker Herzbuben - Medley 2008
Here is more from
~~~♫~~~♫~~~