Simone's Zwiebelkuchen
also Flammenkuchen in the Oven on the Grill
In just a week our friends from Nancy, France will arrive that first taught me how to make Flammenküche also called Flammenkuchen. One is from the Alsace- Lorraine region in France and one is from Germany but they are essentially the same. The French and Germans have a long history with Alsace Lorraine.

It is hard to believe that France and Germany which seem so different share not only a border but this fantastic dish that resembles a pizza.

In other parts of Germany a similar dish is called Zwiebelkuchen.
It is an easy to put together dish for a summer evening and serve with a salad and as Simone says in Germany they served with fresh pressed apple cider.
Simone Jahrling grew up in Germany and then moved to New Brunswick, Canada.
Zwiebelkuchen was requested by her son when he came home to celebrate his sister's graduation. She made one with just Onion, One with Just "Speck", and one with both. 2 on pizza pans and one on a sheet pan
\

So What is ....Speck?

Speck is a Tyrolean but also a German bacon, that is similar to American bacon but not sweet, and not usually as smokey. Depending on where you get it , it is often made from the butt of the pork and not the belly. The traditional way to make it is to cure it with spices, then smoke it with low temperature smoke, no higher than 68 degrees! so it doesn't get too smoky and it has time to slowly penetrate into the meat.

Why is it called Speck? Julie Ravely told me that growing up in Germany, Speck was a name for flab on your bones. different is cooking fat which is Fett. But it seems that this bacon or Speck is much more then fat, but maybe it is the flabby part of the pig ?

The word Speck comes from the Old Dutch and German word Speckle . Perhaps at first it was speckled with fat and lean.... if you know for sure I would love to hear it.

You can order Speck online
from the German Deli in Southlake, Texas


Go here to make Simone Jahrling's Zwiebelkuchen's
with step by step pictures.

~~~~~~~~~~~~
~~~~~~~~~~~~~~~~~~~~~~~~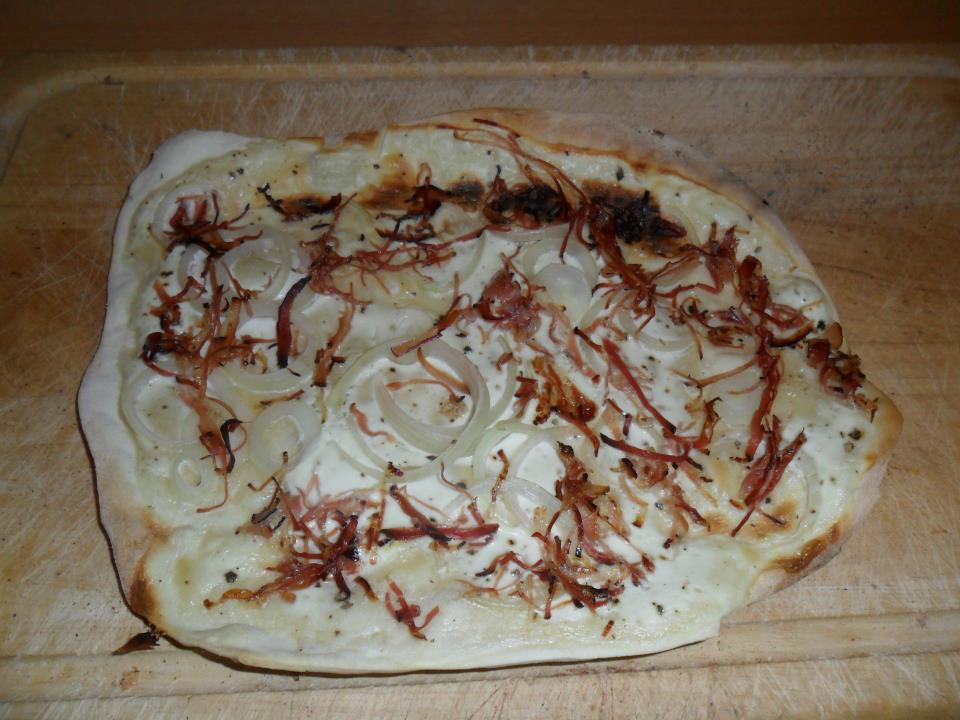 From one of my favorite cooks in Germany!
Heike Krueger lives in the Black Forest.
Check out her special recipe for this dish
~~~~~~~~~~~~~♥♥♥~~~♥♥♥~~~~~~~~~~~~~
Our Family
Cookbook

Comes with over 50 Bonus recipes with Step by Step color pictures.


16.97
I include
Over 50 Bonus Recipes with Step by Step Pictures

On CD
I am very proud of these recipes as they take a lot of the
guess work out of making these fabulous German specialties.

Simply open up the recipes with step by step pictures and print out the item you like. I keep mine in a notebook.
See the Whole List Here of Recipes Here
Berliners

Apple Kuchen

Apfel Strudel

Stollen

Pfeffernusse

Lebkuchen

Springerle

Zimmsterne

Bratwurst

Sauerbraten

Rouladen

Wienerschnitzel

Old Fashioned Home Made Noodles

German Potato Salad

Potato Dumplings
(Kartoffel Knödel)

Spätzle

Gefulte Nudeln

Chicken and Dumplings

Rotkohl
(Sweet and Sour Purple Cabbage)

Potato Pancakes
(Kartoffelpuffer)


See the Whole List Here of Recipes Here

~~~~~~~~~~~~~♥♥♥~~~♥♥♥~~~~~~~~~~~~~

If you liked Recipes from a German Grandma...

From Germany with Love,
By Aileen Block

This is a nice companion book to Recipes from a German Grandma.
From Germany with Love tells more about the story of my grandma, Emma Block, growing up in a little town in Baden/ Würtemberg, Germany near Heidelberg named Steinsfurt. Then at the age of 15 immigrating to the United States, taking a train with one of her sisters and brothers to Hamburg and sailing the Atlantic with other hope filled Germans wanting to make a life in the "New World". It was not easy but with good values learned in her German upbringing made a full life, had a wonderful family with lots of fun and celebration including great German meals.


Order Here
14.97
~~~~~~~~~~~~~♥♥♥~~~♥♥♥~~~~~~~~~~~~~
From the German Deli
Germandeli.com
Abraham
Speck, Ham Large

Abraham of North America offers a delicious Smoked Ham which has been made with minimum processing. Made from the outside round of the hind leg of pork/ham, a favorable cut for drying and aging, this Prosciutto contains the least moisture content. Our production recipe comes from the southern Austrian and northern Italian region of Tyrol. The meat is slightly salted and seasoned with pepper, coriander and regional herbs, briefly smoked over beechwood chips, then naturally air cured for up to 12 months. The aging process guarantees a supremely tender meat with a rich, savory flavor. This product should be sliced wafer thin. Each piece weighs an average of between 3 and 4 pounds. We recommend using an electric slicer or get to know your local butcher very well and ask if he/she will slice it for you (offer to share a little). A professional slicer will certainly produce the best results.
NET WT. between 3 and 4 LBS.

Ingredients: ham, salt, sugar, juniper berries, black pepper, coriander, potassium nitrate, sodium nitrite.

Order Abraham Speck, Ham Large Online

Kochers Doppelt-geräucherter
Speck
(Double Smoked Bacon)

Kocher's Double Smoked Bacon is indispensable to add the right smoky flavor to traditional German dishes such as Rouladen. Try chopping it up into small pieces and using it to make your favorite Flammkuchen. Each piece has a bacon rind and is not overly salty.

~~~~~~~~~~~~~~~~~~~~~~~~~~
Angela Wiedl Country Jodler
~~~♫~~~♫~~~
~~~♫~~~♫~~~
Angela Wiedl -Leo
~~~♫~~~♫~~~
Angela Wiedl -Lied du Sehnsucht
~~~~~~~~~~~~~~~~~~~~~~~~~~~~~~~~~~~~~~