Pork Tenderloin Sauerbraten
like a Schweinebraten

(below)

Rotkohl
Sweet and Sout Purple Cabbage

Semmelknödel
German Bread Dumplings
Thinking about Spring

Frühlingsglaube
Faith in Spring

While you read the newsletter turn on some
~~~~~~~~~~~~~~~~~~~
Pork Tenderloin Sauerbraten
Schweinebraten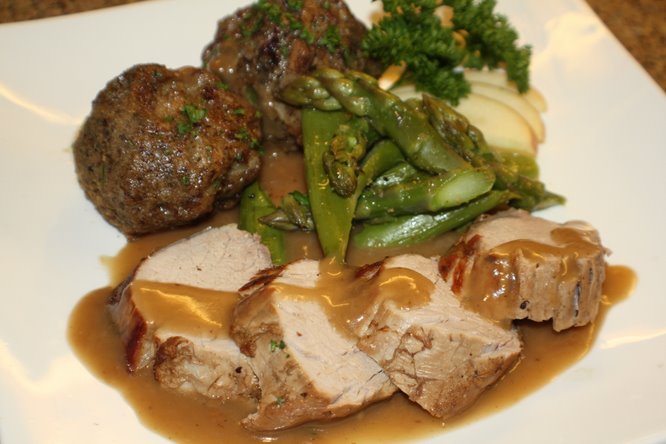 Pork Sauerbraten that would be called Schweinebraten.
Schweine = Pork Braten = to Roast or Bake
However if you order a Schweinebraten in Germany you will get something
different than this. It is not like a Beef Sauerbraten only substituting Pork.

If you order Schweinebraten in a German restaurant they take a pork roast that still has the skin on it and roast it till that skin is very crispy on the outside but super tender on the inside, very much like the world famous Schweineshaxe that is so revered, and served at so many German festivals and restaurants all over the world.
I just wanted to use a Pork Tenderloin
because they come nicely packaged so it is enough for 2 to 4 people and they are very lean for those of us trying to watch fat intake, and I wanted to give it that Sauerbraten flavor.
For this dish Semmelknödel (German Bread Dumplings) are the perfect accompaniment, and traditionally Rotkohl or Sweet and Sour Red Cabbage would be perfect but asparagus or "Spargels" were on sale so I couldn't pass them up.

The results were well received even by non- German-Americans so I wanted to share.
Come into my kitchen and let's make
Pork Tenderloin Sauerbraten
with
step by step pictures.
~~~~~~~~~~~~~
Like our German Recipes and Newsletter?
You might like our Cookbook
Our Family
Cookbook

Only
16.97

Comes with
28 Bonus Recipes
with Step by Step color Pictures

(See below)
| | |
| --- | --- |
| Below are a few of the Step by Step Recipes Featured | |
Sauerbraten

Bratwurst

Pan fried Chicken Schnitzel

Apfel Strudel

Old Fashioned Home Made Noodles

German Potato Salad

Springerle

Spätzle

Gefulte Nudeln
German Bread Dumplings
This is what I served with the Pork Tenderloin Sauerbraten.
These nice little dumplings are made from leftover dried bread. They resemble the kind of stuffing you would use for Thanksgiving in the turkey.
They almost look like meatballs! But they are little dumplings.
These are a very popular dumpling in Germany. I get a lot of requests for them. my grandma didn't make these so I am just starting to cook these more often now, as it is a great way to use up good bread that has gone a bit stale.
Let's use up some of that stale bread
and make some
Semmelknödel
with step by step pictures.
~~~~~~~~~~~~~~~~~~~~~~~~
Rotkohl
Sweet and Sour Purple Cabbage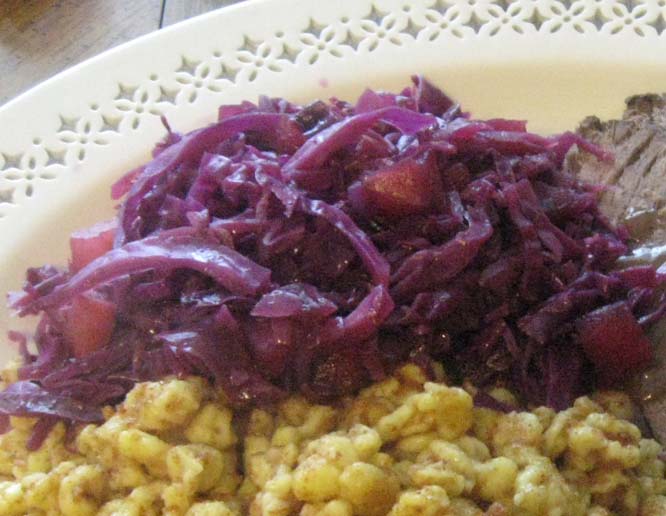 This is what would have been traditional to serve with a Schweinebraten, but asparagus was on sale so I found it hard to pass that up. This was one of my grandma's specialties and I still love her recipe to this day. It is very basic and simple. Of course the apples and onions give it nice balance of flavor but The real key is the little bit of ground cloves, that sets it off.


This is the best thing to serve with the
Pork Tenderloin Sauerbraten
Let's make it with
Step by Step Pictures
~~~~~~~~~~~~~~~~~~~~~~~~~~
From the German Deli
Germandeli.com
~~~~~~~~~~~~~~~~~~~~~~~~~~
German Music
Fruhlingsglaube (Faith In Spring)
by Schubert - Marisa Buchheit
Fruhlingsgluabe - Faith In Spring
Die linden Lüfte sind erwacht,
Sie säuseln und wehen Tag und Nacht,
Sie schaffen an allen Enden.
O frischer Duft, o neuer Klang!
Nun, armes Herze, sei nicht bang!
Nun muß sich alles, alles wenden.
Die Welt wird schöner mit jedem Tag,
Man weiß nicht, was noch werden mag,
Das Blühen will nicht enden.
Es blüht das fernste, tiefste Tal:
Nun, armes Herz, vergiß der Qual!
Nun muß sich alles, alles wenden.





The gentle winds are awakened,
They murmur and waft day and night,
They create in every corner.
Oh fresh scent, oh new sound!
Now, poor dear, fear not!
Now everything, everything must change.
The world becomes more beautiful with each day,
One does not know what may yet happen,
The blooming doesn't want to end.
The farthest, deepest valley blooms:
Now, poor dear, forget the pain!
Now everything, everything must change.
~~~~~~~~~~~~~~~~~~~~~~~~~~~~~
~~~~~~~~~~~~~~~~~~~~~~~~~~~~~
Waldeslust - Heino
Lyrics to Waldeslust
Rough translation to English....
1. Waldeslust! Waldeslust!
Oh wie einsam schlägt die Brust!
|: Ihr lieben Vögelein,
Stimmt eure Lieder ein
Und singt aus voller Brust
Die Waldeslust! :|

2. Waldeslust! Waldeslust!
Oh wie einsam schlägt die Brust!
|: Mein Vater kennt mich nicht,
Die Mutter liebt mich nicht,
Und sterben mag ich nicht,
Bin noch so jung! :|

3. Waldeslust! Waldeslust!
Oh wie einsam schlägt die Brust!
|: In einer Sommernacht
Ist mir die Lieb erwacht;
Mein Schatz ist weit von hier
Was liegt daran! :|

4. Waldeslust! Waldeslust!
Oh wie einsam schlägt die Brust!
|: Kommt einst der Tod herbei,
Ist mir das einerlei,
Legt mich zur kühlen Ruh
Und singt dazu! :|


First Waldeslust ! Waldeslust !
Oh how lonely beats his chest !
|: My dear little bird ,
Is one your songs
And singing lustily
The forest glade! : |

Second Waldeslust ! Waldeslust !
Oh how lonely beats his chest !
|: My father does not know me ,
The mother does not love me ,
And I do not like to die ,
I'm still so young ! : |

Third Waldeslust ! Waldeslust !
Oh how lonely beats his chest !
|: In a Summer Night
My love is awakened ;
My love is far away from here
What does it matter? : |

4th Waldeslust ! Waldeslust !
Oh how lonely beats his chest !
|: If once the death cause ,
Is the same to me ,
Lay me to rest cool
And sings ! : |