Zigeuner
Tsee-goy-nair
I love the sound of this word to begin with.
for Ziguener-schnitzel
The word means Gypsy in German and with the Schnitzel it means with a Hungarian influence, with their magical spice paprika.
No one knows for sure where the "Gypsys' or Romani people as they like to be called. Most scholars think they started in India in about 400 A.D. when there was very little work so they learned to travel around setting up and playing music like our modern day street musicians, selling crafts and some even told fortunes.
Some believed they were Egyptians and hence the shortened name Gypsy. They started to spread all over in the middle ages.
We know for sure that a group of four hundred arrived in Germany, at Luneberg, in 1417.


They had a large influence on German music and even for classical musicians like Bach and Beethoven.
When I first heard about Ziguenerschnitzel or Gypsy Schnitzel I imagined a sauce much like a Jaegerschnitzel sauce but filled with bell peppers and seasoned with good hungarian paprika. I ordered it at the Kaiserhof in San Diego and it had a sweet and sour type flavor to it that I wasn't expecting. It was kind of good though. The next time I had this I wanted to learn how to make it.
I love to buy different Good Hungarian Paprika's to make Goulasch and Ziguenerschnitzel, becuase of the wonderful flavor and also the color.
..........................................
Here are a few Ziguenershnitzel recipes with a little different seasoning to them to make them unique.
Pan fried Chicken Schnitzels simmered lightly in a
paprika sauce with a sweet and sour flavor with the addition of a little vinegar and sweetner.
Go here for the
recipe for Chicken Zigeunerschnitzel
with Step by Step Pictures
~~~~~~~~~~~~~~~~~~~~~~~~~~~~~~~~~
George Moser's
This recipe for Zigeunerschnitzel donated by George Moser,
uses chopped pickles as it's secret special seasoning.
Go here for the
recipe George Moser's Zigeunerschnitzel
~~~~~~~~~~~~~~~~~~~~~~~~~~~~~~~~~~
This recipe uses veal, but pork works well and lo s and lots of colored bell peppers. So if you see them on sale this is the perfect recipe to utilize them, and bring out their flavor with the paprika, garlic and red wine.
Go here to make this
Gypsy Schnitzel
with step by step pictures
~~~~~~~~~~~~~~~~~~~~~~~~~~
Our German Cookbook Specials
with 3 different Hungarian Paprikas !
Our German Cookbook with Special Paprikas bonus
Sweet Hungarian Paprika, Smoked Hungarian Paprika, and Hot Hungarian Paprika
Enough to make the nice Zigeunerschnitzel in this issue.
Order Here
If you just want the 3 Special Hungarian Paprikas
Below are a few of the Step by Step Recipes Featured on the Bonus CD.

| | | | |
| --- | --- | --- | --- |
| Sauerbraten | Bratwurst | Pan fried Chicken Schnitzel | |
| Apfel Strudel | Old Fashioned Home Made Noodles | German Potato Salad | |

Buy Both
Recipes from a German Grandma

With Bonus CD |
with step by step pictures

and my new book

Get in a Pickle!

with pink curing salt, pickling spices and vanilla bean
Plus CD with bonus recipes.

Save 4 dollars and cut down your shipping cost
$30.00 plus 6 .00 shipping and handling
Regularly 42.44
(available in U.S. and Canada)

If you live in the outside U.S. and Canada,
It is just 4 dollars more for shipping,

GO HERE TO ORDER
~~~~~~~~~~~~~~~~~~~~~~~~~~
3 Paprika Special
Sweet Hungarian Paprika,
1 oz, (about 5 Tablespoons heaping 1/4 cup),
Smoked Hungarian Paprika
1 oz, (about 5 Tablespoons, heaping 1/4 cup)
Hot Hungarian Paprika,
1/2 oz (2 Tablespoons)
~~~~~~~~~~~~~~~~~~~~~~~~~~
Fasching Festival coming soon in Germany!
Fat Tuesday
While American's are celebrating Mardi Gras, the Germans call it ...Fastnacht, Fasching, or Karneval
Fasching is Germany's version of Mardi Gras. while the British have "Shrove Tuesday" (pancake day). The climax to the Fasching celebrations takes place on Tuesday March 8 2011. Most people will get the afternoon off work so that they can go down to the Viktualienmarkt wearing a silly costume. In the weeks leading up to 8th Febuary there are also lots of Gala Balls and other Fasching related events taking place.
It is a time when there are costumes and parades and all sorts of craziness. This climaxes on what is called Fastnacht, ( the night before the fast) which is called Mardi Gras here or Fat Tuesday. It's root's go way back to ancient Roman times.
The History of Mardi Gras
~~~~~~~~~~~~~~~~~~~~~~~~~~
Here is a Fasching Favorite
~~~~~~~~~~~~~~~~~~~~~~~~~~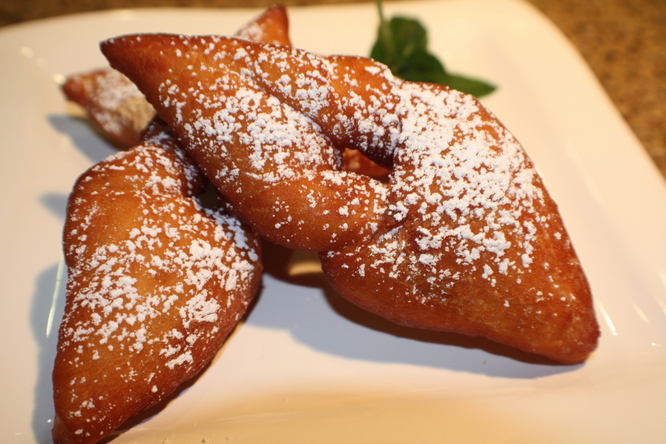 Just because for centuries households made pancakes or donuts on Fat Tuesday doesn't mean they weren't creative.
This little twist on a donut dough is one of my favorites.
Let's make some
Angel Wings
with
Step by Step Pictures