Kassler Rippchen
Smoked Pork Chops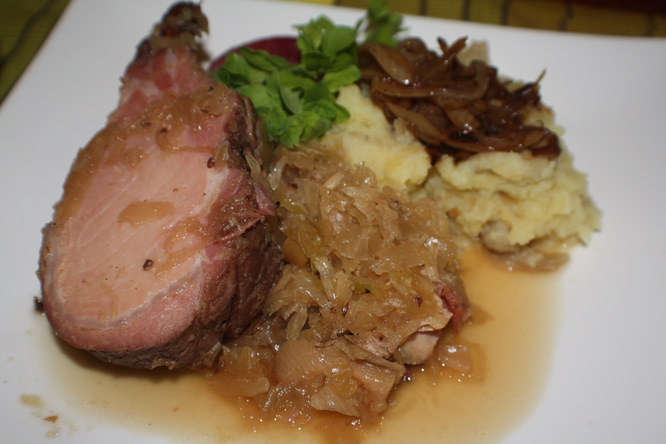 Kassler Rippchen Notes
I first saw these at the Black Forest Inn , Bend, Oregon where I had my restaurant. Later the owner, Axel Hoch and I hooked up to start another restaurant. he had these on the menu
and called them Kassler Ribs. I never questioned why ...Kassler.
This is a very popular dish through much of Germany and shows up on many menus in the states.
It also goes by the name Kassler Kottelet. In the States it may be Kassler Ribs, or Kassler Pork Chop. Rippchen refers to this cut of meat, like a Spare rib or chop.
No one seems to know for sure, but I find this,
The "Kasseler" procedure was invented in 1880 by a butcher in Berlin (last name Cassel). He smoked a large pork loin then allowed it to ripen in a salt brine. By doing this, moisture was drawn out of the meat, thereby preventing bacteria from spreading. This process preserved the meat, but also gave the meat a distinctive taste. It soon became a favorite in and around Berlin. Its popularity spread throughout Germany, where it remains a favorite dish today. However the records show no one living at that time in Berlin named Cassel. So who knows. There is a town in Germany named Kassel, but most folks don't think this process started there.
My friend Gloria McKay asked me about this dish that she had at a German restaurant outside of Phoenix, AZ. I had been wanting to experiment with this dish and see what we came up with.
Many folks will grill, or BBQ these chops but I simmered them with Sauerkraut in Beef Broth.
I served them with Himmel und Erde, which is a potatoes boiled with apples and mashed.
You can buy these smoked pork chops , but also you can start with a pork roast bone in and make your own.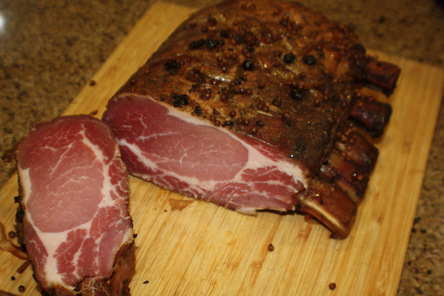 Come into my kitchen and let's make
Kassler Rippchen mit Sauerkraut
(Smoked Pork Chops with Sauerkraut)
with Step by Step Pictures.
This dish goes well with Himmel und Erde,
Potatoes cooked with apples and mashed,
topped with grilled onions

Go here to make Himmel und Erde with step by step pictures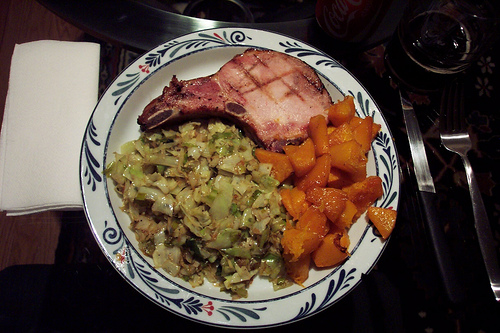 Here is another style from Barb Rokitka,
Kassler Ripchen or Smoked Pork with Braised Cabbage