While you read the newsletter here is some fun German Music

Westphalian Goodies, The True Pumpernickel and the Best Ham
My friend Sigfrid (Mother superior) that grew up in Münster...
you know the city famous for the cheese here in the states.

This place is the home of Pumpernickel and where it is still traditionally made in the original style. This traditonal style is one that we see most in our specialty deli's .

I remember years ago some really small litle loaves of brown bread that were called cocktail pumpernickel that was average tasting at best. It tasted like dry wheat bread that had black food coloring added to it. That is not the good stuff.
The good stuff is square loaf pan and about 3 to 4 inch square , something you would make with a Pullman Loaf pan.
Münster has an interesting history as this is where the treaty was drawn up for the 30 years war in the 17th century. This bread was a local thing then but really didn't get noticed until delegates from different countries came for the first time to Westphalia. In fact many of them didn't really know how to appreciate it's dense dark sweet flavor, and Sigfrid says that when she was growing up and traveled to Bavara you couldn't even find it.
Now as it has become more popular It is imported all over and you can get it easily.
Since this is such a hard style of bread to make like they do in Münster, as it is baked in steam ovens for 16 to 20 hours I didn't want to tackle trying to make it.
I am providing some nice recipes that you can use it for .
| | |
| --- | --- |
| This is the good stuff. I really enjoy this, for appetizers, topped with an egg for breakfast , or with Westphalian ham for appetizers. | The state of Westphalia is located in Northdern Germany |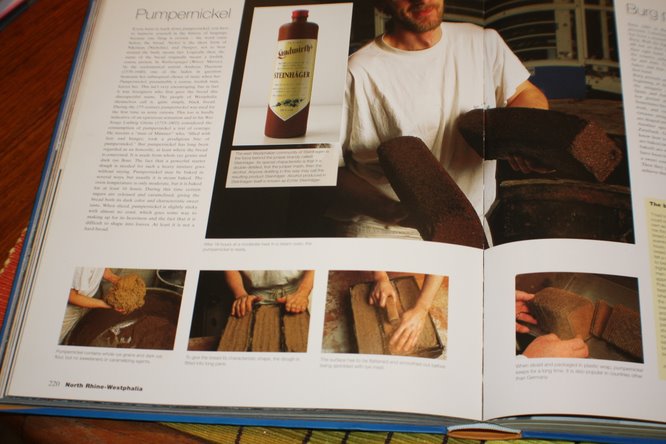 This wonderful book called Culinaria Germany
shows how it is made in Westphalia, The man is holding a very gooey looking dough and then it is put in square pans like a Pullman loaf pan. Then baked in a steam oven for a very long time. In the 16 to 20 hours the deep dark color is formed and many of the starches turn sweet due to the Maillard reaction.
However Rye has very little gluten so it is very hard to get any structure in your bread, and even shape it.
Pictures are courtesy of

Culinaria Germany


This is the best German Culinary and history coffee table book
you can buy.
~~~~~~~~~~~~~~~~~~~~~~~~~~~~~~~~~
Where you can buy Real Westphalian Pumpernickel
From the German Deli
Germandeli.com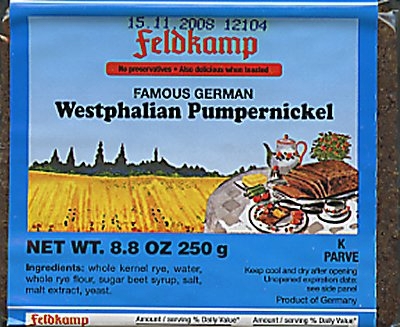 Go here to get yourself some
~~~~~~~~~~~~~~~~~~~~~~~~~~
Here are a few things that I do with Pumpernickel
Quarter a slice of Pumpernickel, or cut it in diagnols and put a little quark or cream cheese on a slice and top with some smoked salmon lox, purple onion slice, capers and a dill sprig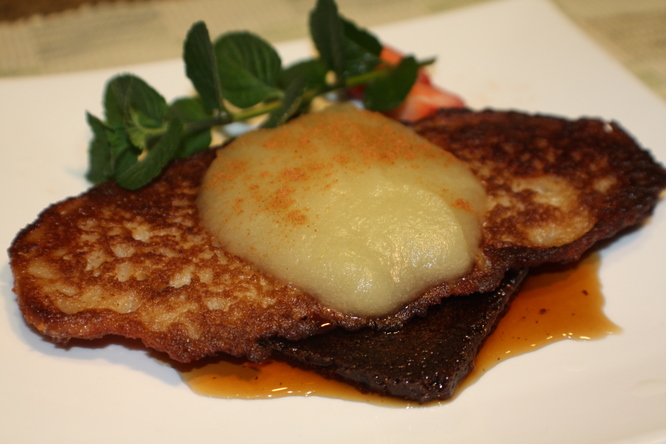 Another friend from Westphalia Dieter sent me some Zucherruebensirup ( a wonderful thin mild molases type syrup and said that they serve potato pancakes on a piece of toasted pumpernickel and top with Apfeflmus (fine pureed applesauce)
Here is the recipe for the potato pancakes
Here is the recipe for the Apfelmus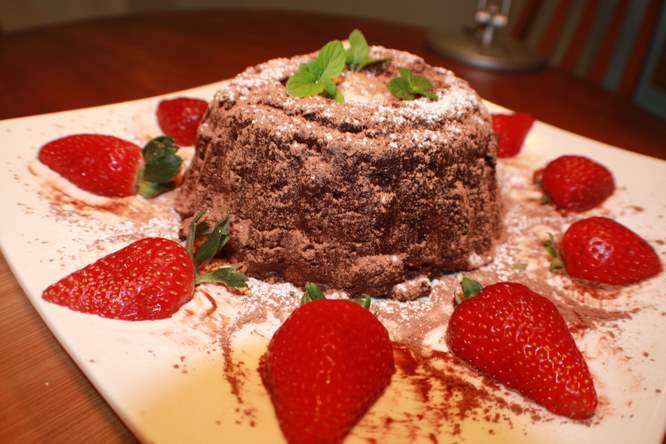 With some left over Pumpernickel I made a great steamed pudding
I really enjo thoroughly this dessert.
~~~~~~~~~~~~~~~~~~~~~~~~~~~~~
From the German Deli
Germandeli.com
You can buy already made
Zucherrübensirup here

~~~~~~~~~~~~~~~~~~~~~~~~~~
Below are a few of the Step by Step Recipes Featured

| | | | |
| --- | --- | --- | --- |
| Sauerbraten | Bratwurst | Pan fried Chicken Schnitzel | |
| Apfel Strudel | Old Fashioned Home Made Noodles | German Potato Salad | |

Buy Both
Recipes from a German Grandma

With Bonus CD |
with step by step pictures

and my new book

Get in a Pickle!

with pink curing salt, pickling spices and vanilla bean
Plus CD with bonus recipes.

Save 4 dollars and cut down your shipping cost
$30.00 plus 6 .00 shipping and handling
Regularly 42.44
(available in U.S. and Canada)

If you live in the outside U.S. and Canada,
It is just 4 dollars more for shipping,

GO HERE TO ORDER
~~~~~~~~~~~~~~~~~~~~~~~~~~
While we are on the topic of Westphalia, I had some wonderful Westphalian Ham and Emmantaler cheese after a party, If you have never had Westphalian ham, you should try it.
We have all heard of prosciutto but Westphalian ham arguably came first and
I enjoy much more with it's smoky flavor.

and wanted to do something fun with it. I have always early on in my chef carrer loved the Northern Italian dish that is also enjoyed in Switzerland called Saltimboca. It is often a chicken breast that has prociutto wrapped around it and stuffed with sage leaves. I wanted to add the Emmantaler cheese and
Come into my kitchen and let's make
Chicken Rouladen Westphalia
with Step by Step Pictures
From the German Deli
Germandeli.com
A Westphalian style ham available at the Germandeli.com
~~~~~~~~~~~~~~~~~~~~~~~~~~
German
Music
orig Ötztal Trio - zu Tirol gehört das Jodel
~~~~~~~~~~~~~~~~~~~~~~~~~~
~~~~~~~~~~~~~~~~~~~~~~~~~~
~~~~~~~~~~~~~~~~~~~~~~~~~~
Search Amazon for German Music
German songs available for immediate download
from Amazon.
Click on and listen to clips of each song.
~~~~~~~~~~~~~~~~~~~~~~~~~~
Angela Wiedl - Sonntag (1993)
~~~~~~~~~~~~~~~~~~~~~~~~~~