Pork Chops
with Apple Pumpernickel Dressing

Creamed Savoy Cabbage
Wirsing





Potato Dumplings
Kartoffel Knödel
Frankfurter Kranz Torte

Ohh the Joy of stuffing a lowly cutlet and bringing it to elegance.
The aroma of apples and onions filling the room with the pumpernickel and Westphalian ham, the surprise package inside the pork chop, are a symbol of what I like about winter!

a different kind of cabbage I saw on a menu in a German restaurant is perfect creamed with a light cheese sauce, Knödel and Frankfurter Kranz Torte that my friend Ann Moot just got done making for her mom's birthday!
~~~~~~~~~~~~~~~~~~~~~~~~~
~~~~~~~~~~~~~~~~~~~~~~~~~
Stuffed Pork Chops
with
Apple Pumpernickel Dressing
Since I have found these nice bone in Pork Loin roasts now in the supermarket, lots of ideas for how to use them come forth so I end up showing you and hope you are not getting tired of Pork Loin entrees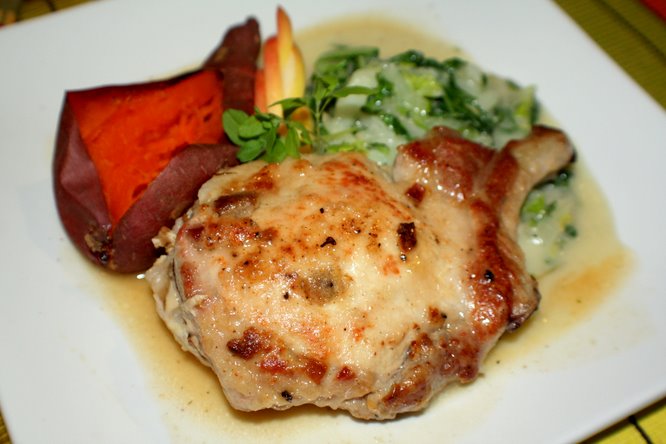 I remember as a young chef my first year in School, we learned how to bone a full chicken.
The breast portion was used for Chicken Cordon Bleu, that was the top dish in the country then and with the thigh part now with no bone, we put an apple-onion dressing in it.
I certainly fell in love with this flavor combo and I have always loved stuffing a cutlet with filling that gives great texture and flavor contrast to a mild flavored meat. So I used this base and added some Pumpernickel bread and Westphalian ham that I have been using a lot to give a German flavor to my dishes.
This dish brings back so many good memories !
The thick chops make a total difference and I wouldn't try this with thin 4 oz chops that you normally find pre sliced. Get your butcher to cut them 6- 8 oz , or use 2 chops and put the one on top of the other.

Come into my kitchen and let's make
Stuffed Pork Chops with Apple Pumpernickel Dressing
with Step by Step Pictures
~~~~~~~~~~~~~~~~~~~~~~~~~~~~~~~~~~~
. I served this with a sweet potato (yam) uncommon in Germany but I found these at the Farmers market and thought they would go well with the chop. Dumplings or spaetzles are also a good choice.
A few Dumpling and Spaetzle Recipes
~~~~~~~~~~~~~~~~~~~~~~~~~~~~~~~~~~
Below are a few of the Step by Step Recipes Featured

| | | | |
| --- | --- | --- | --- |
| Sauerbraten | Bratwurst | Pan fried Chicken Schnitzel | |
| Apfel Strudel | Old Fashioned Home Made Noodles | German Potato Salad | |

Buy Both
Recipes from a German Grandma

With Bonus CD |
with step by step pictures

and my new book

Get in a Pickle!

with pink curing salt, pickling spices and vanilla bean
Plus CD with bonus recipes.

Save 4 dollars and cut down your shipping cost
$30.00 plus 6 .00 shipping and handling
Regularly 42.44
(available in U.S. and Canada)

If you live in the outside U.S. and Canada,
It is just 4 dollars more for shipping,

GO HERE TO ORDER
~~~~~~~~~~~~~~~~~~~~~~~~~~~~~~~~~~

Savoy Cabbage
in Cream Sauce
called Wirsing in Germany
A great dish to serve with the Pork Chops
Savoy Cabbage is a thinner leaf cabbage and is harvested early in Spring.
I had it at Haus Murphy near Phoenix in Arizona. I asked what the heck that is, and
it was this nice crispy cabbage texture that was not heavy and flavored with a
thin cheese sauce. On the menu it said "Wirsing" The perfect accompaniment to serving a roast or
meat that doesn't have a thick sauce.
I used this recipe for creamed cabbage but substituted this nice Savoy Cabbage.
Napa Cabbage works for this as well.
Here is the recipe for Creamed Cabbage
where I substituted the Savoy Cabbage
~~~~~~~~~~~~~~~~~~~~~~~~~~~~~~~~~~
Frankfurter Kranz Cake
My Granda use to make this cake for special occasions.
It also is sometimes called Queens Torte or Geburstag Torte .
The Torte got it's name Frankfurter Kranz Torte , Kranz meaning "crown" in this case because the
cake was designed by a well known pastry chef in Frankfurt where the emprorer was crowned.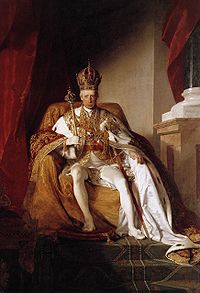 Franz 11 Emporer crowned in 1792
Originally it was baked in a ring shaped cake mold that would resemble a crown, and the nuts would resemble jewels
as would cherries resemble the rubies. Grandma left the cherries off of our cake and baked it in a large Spring form pan.
Come into my family's kitchen in Reno Nevada to make
Frankfurter Kranz Cake
with Steph by Step Pictures
~~~~~~~~~~~~~~~~~~~~~~~~~~~~~~~~~
Over 50 great pickle recipes for all
kinds of vegetables, fruit and even eggs.
My new book to celebrate pickling season.
Get it now for 16.95

~~~~~~~~~~~~~~~~~~~~~~~~~~~~~~~~