While reading the newsletter listen to some German Music
Radish Salad
with Onion Vinaigrette
(Radieschensalat)

Schwenkbraten
Marinated pork steak sandwich
The Best Technique for Cole Slaw (Kohlsalat) as far as I'm concerned.

Cabbage Apple Slaw
Kohlsalat mit Apfel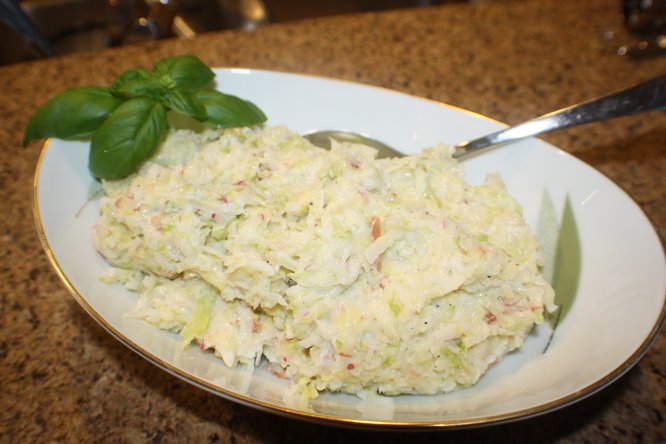 Cole slaw or Kohlsalat was a necessary evil growing up and in the first kitchen I worked in, I remember 9 out of 10 plates of fish and chips that were served never had anyone touch their globby mayo cabbage shreds we called cole slaw. I never thought I would actually come to
LOVE this salad.

Years ago I heard from Corliss Cogan who was a chef in
a German deli talk about the way that they made cole slaw.

She called it Gestampfe Salad. Gestampfe in German means stamping. Working some salt into the cabbage with your hands and lightly bruising the shreds makes it lose excess liquid and tenderizes it.

I am astounded that more chefs don't use this technique becauseIt not only gives this very nice "crisp-tender" texture but it lasts for days in the fridge without weeping and turning nasty.



Go Here to make Cabbage Apple Slaw with Step by Step Pictures
~~~~~~~~~~~~~~~~~~~~~~~~~~
Our Family
Cookbook

Comes with over 50 Bonus recipes with Step by Step color pictures.


16.97
I include
Over 50 Bonus Recipes with Step by Step Pictures

On CD
I am very proud of these recipes as they take a lot of the
guess work out of making these fabulous German specialties.

Simply open up the recipes with step by step pictures and print out the item you like. I keep mine in a notebook.
See the Whole List Here of Recipes Here
Berliners

Apple Kuchen

Apfel Strudel

Stollen

Pfeffernusse

Lebkuchen

Springerle

Zimmsterne

Bratwurst

Sauerbraten

Rouladen

Wienerschnitzel

Old Fashioned Home Made Noodles

German Potato Salad

Potato Dumplings
(Kartoffel Knödel)

Spätzle

Gefulte Nudeln

Chicken and Dumplings

Rotkohl
(Sweet and Sour Purple Cabbage)

Potato Pancakes
(Kartoffelpuffer)


See the Whole List Here of Recipes Here

From Germany with Love,
By Aileen Block

This is a nice companion book to Recipes from a German Grandma.
From Germany with Love tells the story of my grandma, Emma Block, growing up in a little town in Baden/ Würtemberg, Germany near Heidelberg named Steinsfurt. Then at the age of 15 immigrating to the United States, taking a train with one of her sisters and brothers to Hamburg and sailing the Atlantic with other hope filled Germans wanting to make a life in the "New World". It was not easy but with good values learned in her German upbringing made a full life, had a wonderful family with lots of fun and celebration including the great German meals.


Order Here
14.97
~~~~~~~~~~~~~~~~~~~~~~~~~~
Radish Salad
with Onion Vinaigrette
(Radieschensalat)
White Radishes ( Rettiche) and small red radishes (Radieschen) have been a staple in parts of Germany much more I would say than here in the states. For the most part in America they are used to color a green salad or make a nice rose for a vegetable tray. The other day my friend Roland form Bavaria was telling me that a popular snack at Haufbrau Haus and Biergartens is fresh bread, butter and sliced radish. I tried it and it's delicious!

Radishes are easy to grow in tough cold areas, a good choice for a country that has had many tough times and food shortages.
We got a request for this on our Facebook page so I found this recipe that Shirley Barnham donated.
~~~~~~~~~~~~~~~~~~~~~~~~~~~~~~~~~~~
Go here to make Radish Salad with Onion Vinaigrette with
Step by Step Pictures
~~~~~~~~~~~~~~~~~~~~~~~~~~
This is a nice marinated steak that is uniquely marinated with spices
and "smashed onions" pressed into the meat.
I want to cover this much more in an upcoming newsletter but it
would be a great choice to celebrate Independence Day in the states
this week.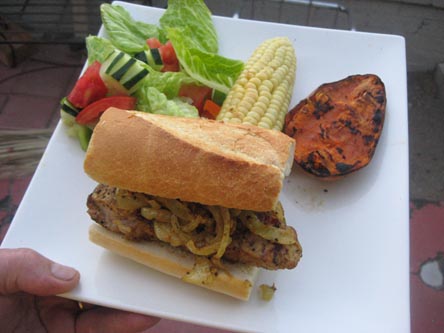 Go Here to Make Schwenkbraten with Step by Step Pictures
~~~~~~~~~~~~~~~~~~~~~~~~~~
German Music
Music this week from Leah Knockturnal Smith
In den Tiroler Bergen Mit Andreas As
chaber (Auner Andi) aus Westendorf Tirol
~~~~~~~~~~~~~~~~~~~~~~~~~~~
Geschwister Niederbacher - Ein Lied für Mama - Grand Prix der Volksmusik 2010
~~~~~~~~~~~~~~~~~~~~~~~
~~~~~~~~~~~~~~~~~~~~~~~
Oesch's die Dritten - Jodeltime