Turn on some fun German Music!
| | | |
| --- | --- | --- |
| Potato Pancakes | Wurstsalat | I added salmon to the Potato pancake recipe |
Some Recipes from Annette Engols that owns
The German Cafe in Sierra Vista, Arizona
Annette is from Fulda, Germany in Hesse
~~~~~~~~~~~~~~~~~~~~~~~~~
Here is a Video of the Cafe that" Arizona Highways Magazine" made
I asked Annette what kind of meals do you sell in the hot summers of Southern Arizona?
She wrote back that her customers even in the heat still want Schnitzel, Rouladen,
and Spaetzle. She said they often make a chilled Wurstsalat ( German sausage Salad)
with potato pancakes or as they say in German Kartoffelpuffer.
Wurstsalat
(German Sausage Salad)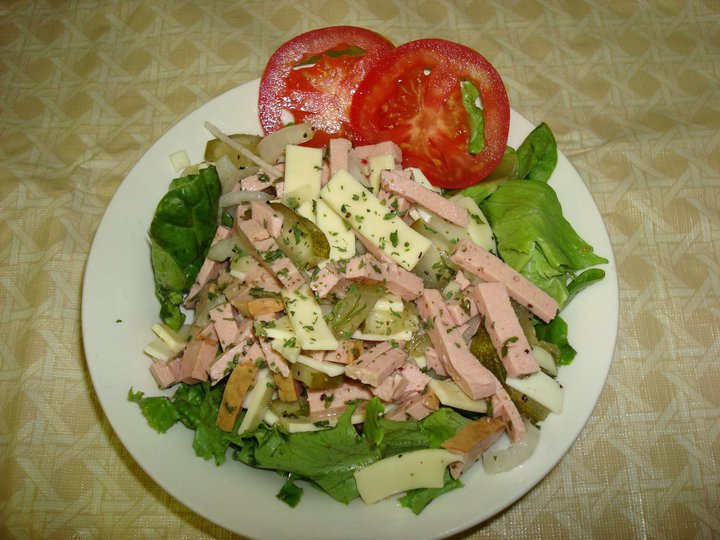 Wurstsalat is to my mind a fore runner of the American "Chef Salad" that you could order in
most every cafe in the 50's through the 80's that had ham and turkey and cheese cut into strips
and placed on top of a bowl of lettuce. Dressing was served on the side.
Go here for the recipe for
The German Cafe's Wurstsalat
~~~~~~~~~~~~~~~~~~~~~~~~~~
To go with the Wurstsalat how about
The German Cafe's Potato Pancakes?
Go here for Annette's Recipe for Potato Pancakes
~~~~~~~~~~~~~~~~~~~~~~~~~~
Our Family
Cookbook

Comes with over 50 Bonus recipes with Step by Step color pictures.


16.97
I include
Over 50 Bonus Recipes with Step by Step Pictures

On CD
I am very proud of these recipes as they take a lot of the
guess work out of making these fabulous German specialties.

Simply open up the recipes with step by step pictures and print out the item you like. I keep mine in a notebook.
See the Whole List Here of Recipes Here
Berliners

Apple Kuchen

Apfel Strudel

Stollen

Pfeffernusse

Lebkuchen

Springerle

Zimmsterne

Bratwurst

Sauerbraten

Rouladen

Wienerschnitzel

Old Fashioned Home Made Noodles

German Potato Salad

Potato Dumplings
(Kartoffel Knödel)

Spätzle

Gefulte Nudeln

Chicken and Dumplings

Rotkohl
(Sweet and Sour Purple Cabbage)

Potato Pancakes
(Kartoffelpuffer)


See the Whole List Here of Recipes Here

From Germany with Love,
By Aileen Block

This is a nice companion book to Recipes from a German Grandma.
From Germany with Love tells the story of my grandma, Emma Block, growing up in a little town in Baden/ Würtemberg, Germany near Heidelberg named Steinsfurt. Then at the age of 15 immigrating to the United States, taking a train with one of her sisters and brothers to Hamburg and sailing the Atlantic with other hope filled Germans wanting to make a life in the "New World". It was not easy but with good values learned in her German upbringing made a full life, had a wonderful family with lots of fun and celebration including the great German meals.


Order Here
14.97
~~~~~~~~~~~~~~~~~~~~~~~~~~
I made some Copper River Salmon last night
and for lunch I made some
Salmon Potato Pancakes by just flaking some cooked salmon into this recipe.
Annette Engols would love to hear from you.
She has become a really nice friend, and I look forward
to eating at The German Cafe soon.
~~~~~~~~~~~~~~~~~~~~~~~~~~
~~~~~~~~~~~~~~~~~~~~~~~~~~
From the German Deli
Germandeli.com
Annabell's Laugenbrezeln
(Pretzels) 10pck
By Brinker Bakery in Germany
From Germany imported soft Pretzels are baked in the old Pretzel tradition with a top quality recipe. They are then frozen to lock in flavor and moisture. Thaw and enjoy or bake frozen in preheated oven for 2-4 minutes for a fresh baked taste.
Roggenbrot
1000g (Old Rye Bread)
This item has 22 number 5 star reviews!
I loved it when I got mine. I was amazed that a loaf of bread can be made thousands
of miles away in the Fatherland and taste like it was made next door.
Hand Made in Germany, deep-frozen and shipped to the US in a deep freeze container. This bread has a strong Rye taste. A 90% rye and 10% wheat flour combination bread with a biological 3 stage natural sour dough. A very moist center with a very crisp, flavorful crust. It's all about the crust with this bread. It's a real winner. You simply defrost and heat through. Outrageously delicious by our German staffs' standards.
~~~~~~~~~~~~~~~~~~~~~~~~~~
~~~~~~~~~~~~~~~
Anni Erler - Zillertaler Bravour Jodler
~~~~~~~~~~~~~~~~~~
~~~~~~~~~~~~~~~~~~
Die 3 Zwiedern - Stampfen mit den Haxen
~~~~~~~~~~~~~~~~~~
~~~~~~~~~~~~~~~~~~~~~~~~~~~~~~~~~~~~~~