Pennsylvania Dutch Chicken Pot Pie
My friend George Moser sent me some Pot Pie Noodles that he made from a recipe from his childhood growing up on Cabbage Hill in Lancaster, Pennsylvania, some say the heart of the Pennsylvania Dutch Country.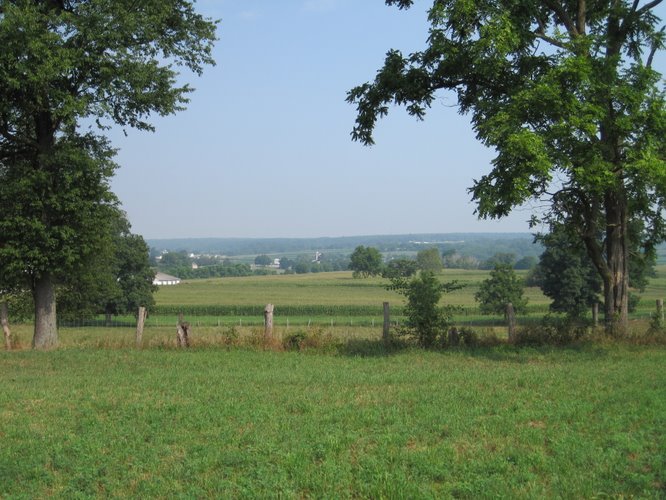 Lancaster, Pennsylvania
Rich with good farm country and German immigrants the Penn Dutch developed their own unique culture. I have read some books and always find neat stuff.
In Edna Eby Heller's book "The Art of Pennsylvania Dutch Cooking
" she talks about her family
that had several different traditions , one, they had fruit pies not just for evening dessert but for nearly every meal on the table, and 7 sweet and sours, meaning different types of pickles and relishes.
So I have always wanted to make a Penn Dutch special they are famous for called Chicken Pot Pie, but it is different than the Pot Pie we are use to in the States. It has large squares of noodles simmered in a rich chicken stew instead of the pastry crust.
I wondered how it got this name because it really isn't a "Pie". I had also seen the same dish in Penn Dutch cookbooks called Bot Boi? That sounded ...so odd to me. With some research it seems to be an old German word for "Potpourri" The word Potpourri origionally meant a mixed stew in French , litterally the word Pot and pourri meant something like rotten pot but obviously rotten had a different meaning.

Truth be known some say that Bot Boi was just transformed to Pot Pie because they sounded so similar.
Another name for this Dish is called "Slippery Stew" . I find this very appropriate because that is what these big noodle squares remind me of. Once you eat them this big you realize why they are cut so big, cause it is a really cool the slippery slickery sensation of this big noodle with thin succulent broth glaze.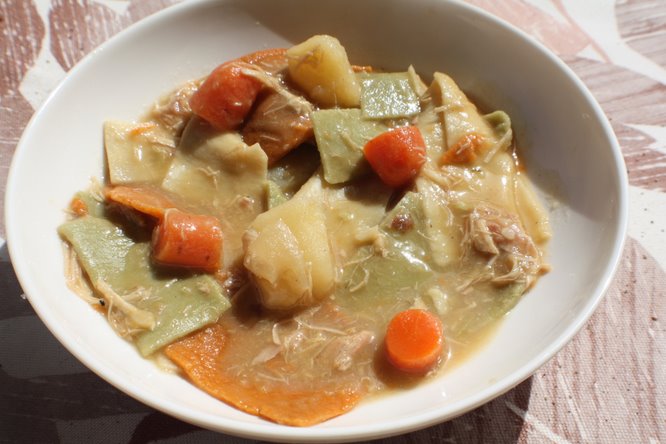 George one upped his mom and made a contemporary noodles, along with the plain flour squares he made some tomato noodles and green spinach noodles. Cabbage Hill would be proud. They were excellent.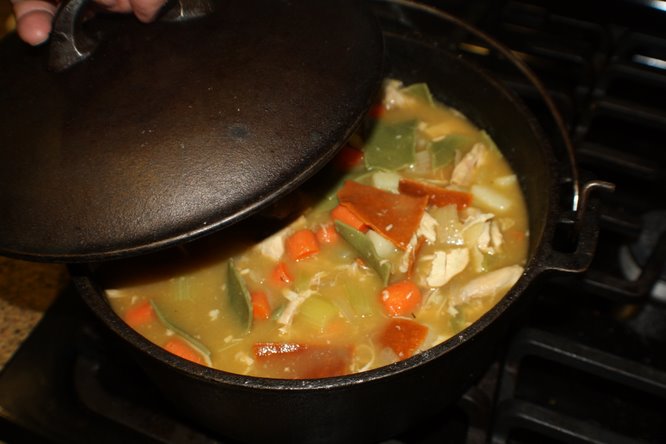 I am always looking for an excuse to get my Dutch oven out so this was as good as any.

One interesting thing about some of the Penn Dutch is that they like to use Saffron. How did that Spanish fusion get in there???? I don't know but I love it. George said they would use it when they could get it, but it wasn't all the time. George told me to
get annato seeds and just put them in a bottle with some oil. You get the most beautiful
yellow coloring that you can use for this or a rice dish.
Back then he said a large 6-8 lb Stewing Hen was used and that had a lot more flavor and and color. Now most of us only have the Frying Chickens 4 lb or so and they don't make nearly as good a broth. You can find lots of tricks on the net for making a more flavorful broth but I find that with the noodles and the vegetables it is excellent.
This recipe is dedicated to making the plain flour noodles but you can easily
make the colored noodles by adding spinach powder or tomato powder.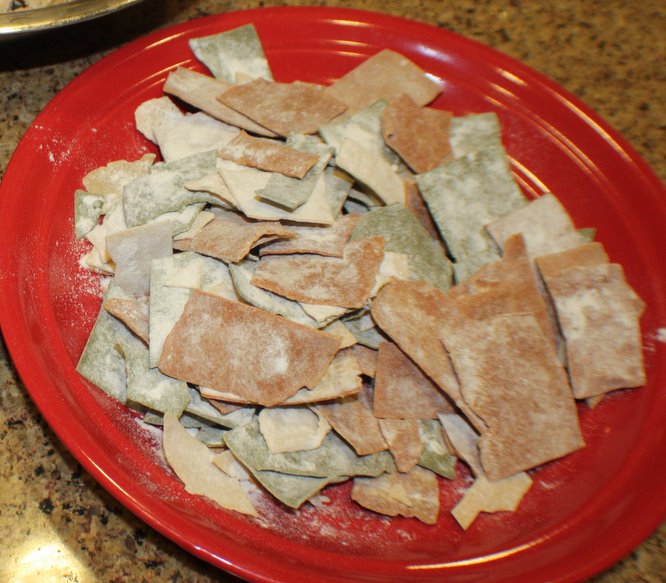 George dried these noodles on a board and then stored them in a plastic storage bag with some flour.
Here is a good place to shope for the powders and spices used.
Come into my kitchen and let's make
Chicken Pot Pie
with Step by Step Pictures
But WAIT that's not all....
You get TWO dishes in one
Fried Pot Pie ..
..I know strange but ...I was amazed it was as good as the Pot Pie.
I ate 3 of them!