While you read the newsletter listen to some nice German Music , Einz, Zwei, Zuffa!
German Style Hash and Skillet Fry's
Introduction to German Breakfast
We don't often talk about breakfast
because most of Germany doesn't eat dishes like bacon and eggs, omelets or pancakes as we do in the United States. Breakfast in Germany is called Frühstück,
don't ask me to pronounce it.
When I try to talk to our German guests
at the hotel they can't understand me. Those umlaut letters ü
just seem to make my tongue trip over itself.
Listen to how to pronounce Frühstück


This is suppose to read Frühstück but I couldn't
get the code for this player to write properly.
But it pronounces it nicely!
I mean if your not from the Vaterland ....try making the ü sound!
I was really laughing at myself. check out this video.
Eggs and pancakes are often served for dinner, although a German pancake is not the "Hot Cake" we have in the states.
A typical German breakfast (Frühstück) that I see our German guests eat falls somewhere between what we'd call a deli platter and a continental breakfast. Cold meats (including their famous sausages) and cheeses are served along side a variety of breads and sweet toppings like jam, marmalade and honey. Soft-boiled eggs, sometimes cereal and fruit and yogurt.

These are some dishes though that resemble a lot of what we serve for breakfast in the states, we would call them a "Breakfast Skillet" or a "Hash" or something similar.
~~~~~~~~~~~~~~~~~~~~~~~~~~
~~~~~~~~~~~~~~~~~~~~~~~~~~
Like a Corned Beef Hash with Beets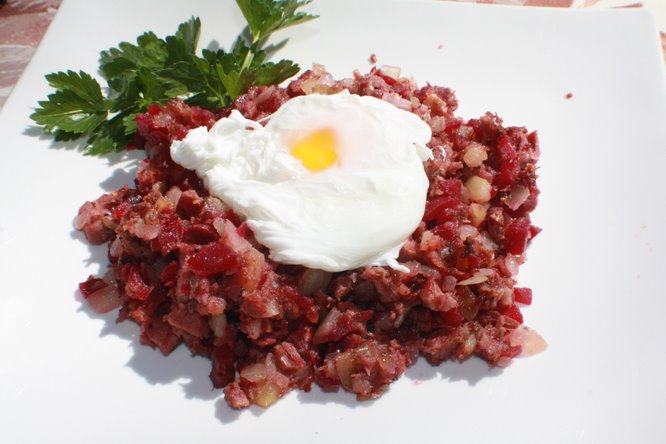 The name sounds a bit strange and the origin is uncertain...
The word comes from lobscouse (originally lob's course) or lapskaus, Norwegian (just north of Germany) for "stew" and refers to a meat based stew commonly eaten by sailors throughout Northern Europe, which became popular in seaports such as Hamburg, Germany.
To most of us in the states this is an interesting take on Hash or Corned Beef Hash
in that it uses beets to not only flavor it but give it a nice color. Barbara Schmidt from our Facebook page said that this dish came with some immigrants from Germany to the Northeast U.S. where she lives and they call it Red Flannel Hash.
This dish was popular for the sailors and dock workers around the seaport city of Hamburg and remains to this day. My grandmother spent a night in Bremen (near Hamburg) the night before she immigrated to America from the port in Hamburg in 1904, she was 14. I wonder if she had Labskaus for breakfast?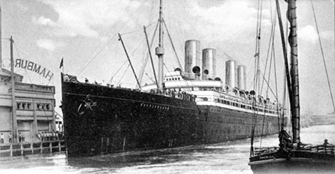 This
travel blog
photo's source is TravelPod page:
Farvel Kobenhavn... Guten Tag Hamburg
It is often served with roll mop ( Herring stuffed with a pickle) and spears of pickles
I also see pickled beets being served with it.
Come into my kitchen and let's make
Labskaus
with step by step pictures
~~~~~~~~~~~~~~~~~~~~~~~~~~
Like our German Recipes and Newsletter?
You might like our Cookbook
Our Family
Cookbook

Only
16.97

Comes with
28 Bonus Recipes
with Step by Step color Pictures

(See below)
| | |
| --- | --- |
| Below are a few of the Step by Step Recipes Featured | |
Sauerbraten

Bratwurst

Pan fried Chicken Schnitzel

Apfel Strudel

Old Fashioned Home Made Noodles

German Potato Salad

Springerle

Spätzle

Gefulte Nudeln
~~~~~~~~~~~~~~~~~~~~~~~~~~
If you missed the Intro to this newsletter Bauernfrühstuck , Bauer = farmer and Früstück = Breakfast. There are many recipes for this, and usually contain at least potatoes, eggs and bacon or ham. This is one version I made as an example of using what I had on hand.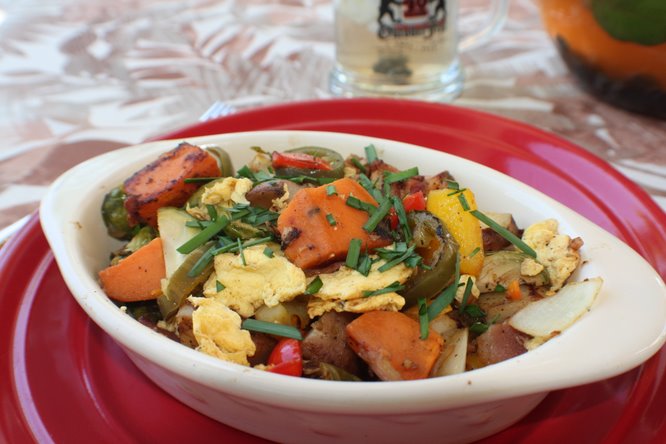 I have seen this dish both as a "Skillet Fry" or as we would say in the U.S. a Hash. I have also seen it baked like a Quiche or a Frittata not scrambling the eggs , but pouring the beaten eggs over everything, then finishing it in an oven.
I will put on the coffee and come into my kitchen
and let's make
Baurenfrüstück
with
Step by Step Pictures.
~~~~~~~~~~~~~~~~~~~~~~~~~~
Hoppel Poppel
Roy Dennman sent me this recipe and said it is one of his favorite breakfasts to fix.
This is very similar to the other two Skillet Fry's but is mainly a specialty in
Berlin. It also appears in restaurants in the Milwaukee, Wisconsin area. The idea is the same as Bauernfrüstück, but the name is too much fun for me to leave this dish out.

According to Wikipedia the term comes from a German contraction of 2 words roughly the sense that popelige (meager) leftovers and hopsgehen before (spoil).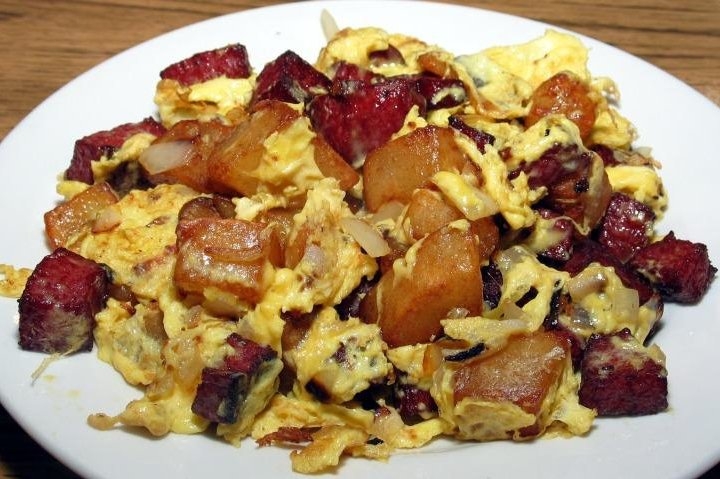 I didn't do a recipe for this as it is very much the same as the Bauernfrüstück. However I have read that chopped pickles go well in it and to season it the herbs, caraway, marjoram, nutmeg and parsley.
~~~~~~~~~~~~~~~~~~~~~~~~~~
Order online from the German Deli
Germandeli.com
One of the things that are hard to duplicate are the seasonings of some dishes used in
Germany. These packets would be a great way to quicken the process of making the breakfasts up
above.
| | | |
| --- | --- | --- |
| Good reviews on these | These are interesting because they have a nice seasoning with them and no oil or water is needed when you cook. | |
Spring Vanilla Bean Sale!
~~~~~~~~~~~~~~~~~~~~~~~~~~
~~~~~~~~~~~~~~~~~~~~~~~~~~~~~~~~~
German Heritage Festival
My friend Rolf Erhard, of Kartoffelpuffer fame
told me about this one!
The 12th Annual Tomball German Heritage Festival will be March 30, 31, & April 1

located on the Old Downtown Streets of Tomball Texas near 201 S. Elm Street, Main Street (FM 2920), and Market Street. It is a Music/Street festival celebrating German and ethnic heritage with 4 stages of live music entertainment "happy music for happy people", ethnic and festival food, beer, wine, 150 street vendors, all kinds of German souvenirs and clothing, arts crafts, antiques, Heritage Center, German church service, fireworks, carnival, pony ride, petting zoo, strolling music makers, street performers, and much more. Like Oktoberfest in March! Huge fun for the whole family! You do not have to be German to enjoy this festival. It is fun for everyone, and there is no admission or parking fees.
More info here
~~~~~~~~~~~~~~~~~~~~~~~~~~
German Music
In München Steht ein Haufbräuhaus
Franzl Lang
~~~~~~~~~~~~~~~~~~~~
Lynn Marie and the Box Hounds

The Happy Wanderer Polka
~~~~~~~~~~~~~~~~~~~~~~~~~~~~~~~~~~~~~~