German style meatballs in a succulent sour cream sauce.
Served with Boiled firm white potatoes.
My friend George Keiper asked about this dish,
that he use to eat it at one of his favorite German restaurants in
New Jersey called the Dutchman's Brauhaus.
There is something more to this dish than just meatballs in sour cream gravy.
If you have never tried this blend of meats to make the most succulent meat balls or meat dumplings you really ought to. It is not just German
but all over Europe. The key is ground pork, beef and veal. If you can't find the veal then substitute equal parts of beef and pork.
Anette Holmes says the sauce her mother made
is one of her very fond memories growing up in Germany, that
you always needed bread to get the last drop.
What the heck is a KLOPSE! and where is Königsberger.
Here is some background......

The city of Könisberg is located now right north of the Polish border,
it is now called Kalingrad.
König means King in German and berg is mountain
It was part of the Prussian empire.
Prussia was a state of old Germany. Being a port much of their
cuisine is based around fish.
(Königsberg) Kalingrad is located right above Poland)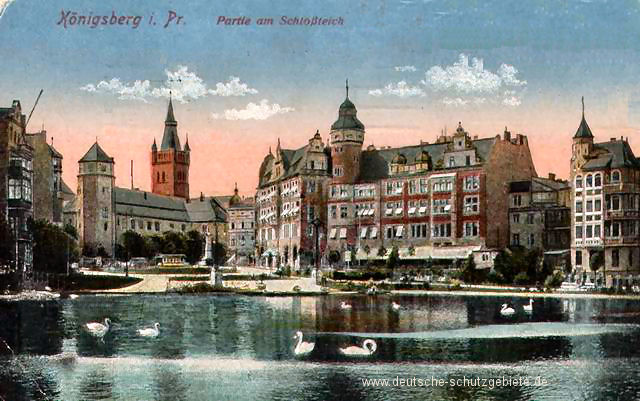 These meatballs do have just a bit of fish in them but you could never tell.
Another interesting note is that minced meat , what we call
say ground beef in the states, was also popular along ports,
like Hamburg, Germany. For some reason the little meat patties,
often somewhat salted, were easy to eat for the busy port workers and
the sailors. This would be some way similar to Jerky that hunters and campers
carry, that are preserved. This is of course the birthplace of the Hamburger.

So one the popular dishes of this area became, these meatballs called
"Klopse". They are not your average chef Boy R Dee either. These are
very tender , moist and have a succulent flavor, spiced with a sauce that
has sour cream, a bit of lemon, capers and some add a bit of sugar to balance it.
They also are seasoned with one of all the Food Network chefs like to use
and that is Anchovies. Don't turn me off yet...you don't taste the anchovies,
They have an interesting way of adding flavor to something, whether it is a salad
dressing or a meatball
Heidi Boepple-Nikolaidis and Anette Holmes brought up this dish after
Lee Ewald had emailed me wondering about a good traditional recipe
for a dish his mother made called German Klomps.
I posted it on Facebook and no one from Germany had ever heard the term "KLomps"
Finally Hedwig Piacetino suggested they may be talking about Klopse or meatballs.
Come into my kitchen and let's make
Königsberger Klopse
with
Step by Step Pictures