Listen to some Music by Udo Jürgens I love his "crooner" style
2 more Schaschliks!
This time for the BBQ, and great for
celebrating Memorial Day this weekend.
My friend Dieter Monka told me about how good Chicken Schaschlik was. He is from the North Rhine / Westphalia area of Germany in the city of Gelsenkirchen. Kirche means church and Kirchen is more like churches. I get it mixed up with Kirsch which means cherry.

He has sent me some fun foods from Germany like Zuckerrübensirup, (a light sugar beet molasses) that is wonderful on potato pancakes.

I sent him something that I thought was truly American which was Frank's Hot Sauce that is the choice for Buffalo Wings in Buffalo, New York.

He liked it and added a bit to his marinade for Chicken Schaschlik.
Chicken Schaschlik
Chicken Skewers in Tangy Marinade with Onions and Peppers
These are often served with Pomme Fritts (French Fries) at the food stands in Germany.
Instead I baked the potato, wedged it, tossed them with a little olive oil and seasoning salt, then lined
them up on the grill on a lower heat while I cooked the chicken skewers.
~~~~~~~~~~~~~~~~~~~~~~~~~~~~
Our Family
Cookbook

Comes with over 50 Bonus recipes with Step by Step color pictures.


16.97
I include
Over 50 Bonus Recipes with Step by Step Pictures

On CD
I am very proud of these recipes as they take a lot of the
guess work out of making these fabulous German specialties.

Simply open up the recipes with step by step pictures and print out the item you like. I keep mine in a notebook.
See the Whole List Here of Recipes Here
Berliners

Apple Kuchen

Apfel Strudel

Stollen

Pfeffernusse

Lebkuchen

Springerle

Zimmsterne

Bratwurst

Sauerbraten

Rouladen

Wienerschnitzel

Old Fashioned Home Made Noodles

German Potato Salad

Potato Dumplings
(Kartoffel Knödel)

Spätzle

Gefulte Nudeln

Chicken and Dumplings

Rotkohl
(Sweet and Sour Purple Cabbage)

Potato Pancakes
(Kartoffelpuffer)


See the Whole List Here of Recipes Here

From Germany with Love,
By Aileen Block

This is a nice companion book to Recipes from a German Grandma.
From Germany with Love tells the story of my grandma, Emma Block, growing up in a little town in Baden/ Würtemberg, Germany near Heidelberg named Steinsfurt. Then at the age of 15 immigrating to the United States, taking a train with one of her sisters and brothers to Hamburg and sailing the Atlantic with other hope filled Germans wanting to make a life in the "New World". It was not easy but with good values learned in her German upbringing made a full life, had a wonderful family with lots of fun and celebration including the great German meals.


Order Here
14.97
Pork Schaschlik
Pork Loin Skewers in Tangy Marinade
with Bacon, Peppers, Onion and Cucumber
I thought maybe Dieter was mistaking cucumber for zucchini when he talked to me about his
Schaschliks, but I tried it anyway and loved it! Hot off the BBQ cucumber tastes like a cross between zucchini and melon.
A nice contrast with the meat and peppers.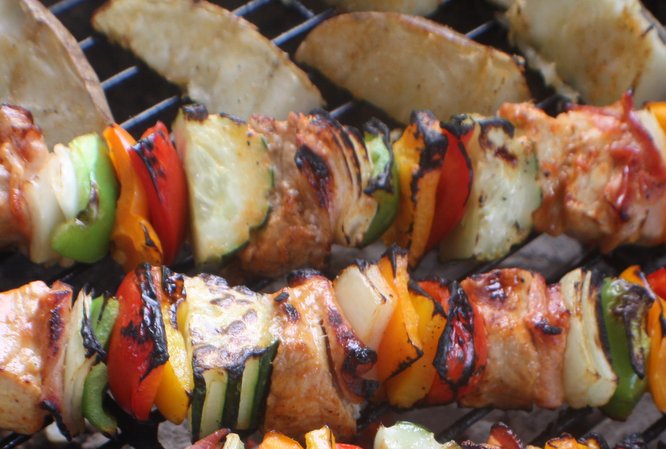 I love to use Charcoal when I can.
~~~~~~~~~~~~~~~~~~~~~~~~~~
From the German Deli
Germandeli.com
Here are some fun Schaschlick seasonings
~~~~~~~~~~~~~~~~~~~~~~~~~~
German Music
Udo Jürgens & die Fußballnationalmannschaft -
Buenos Dias Argentina - 1978
This song was written by Udo Jurgen for the world cup in 1978
hosted by Argentina and it was sung by the German National Team when entering the Stadium .
Unfortunately Germany did very poor and Argentina won for the first time
the world cup against Netherlands .
~~~~~~~~~~~~~~~~
~~~~~~~~~~~~~~~~
Udo Jürgens - Schenk mir noch eine Stunde 1998
~~~~~~~~~~~~~~~~~~~~~~~~~~~~~~~~~~~~~~