Next I experimented with different amounts of cooked potatoes with the raw potatoes. Most of the recipes that you see for Thuringia dumplings use about 1/3 mashed potatoes, which is a good rule of thumb I felt for my taste, although I think it should be more of a feel. Although potato dumplings appear in many cultures around the world, The Germans to my knowledge are the only ones I know of that like to blend the raw and the cooked potatoes together. I LOVE this flavor and texture. The texture reminds me of properly cooked al dente pasta that has a bit of a chew to it.
photo credit Weimarer Land

One last detail, worth noting is that the croutons used in the large potato dumplings that are there primarily because the center won't get cooked properly. I found that I want GREAT tasting croutons and not just stale bread or crap tasting old stale store bought ones.

So I make them with day old rolls and fry them in oil and butter YUM.
Which Potato to Use?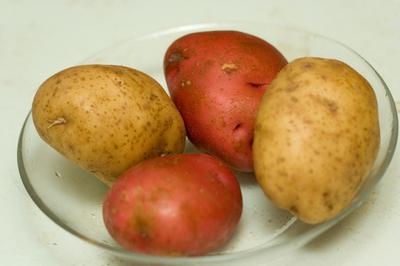 For this kind of dumpling yoiu want a Starchy potato so use the Russet and not the Red Skin or Yukon
I was wondering why from German pictures so many of the potato dumplings had such a pretty yellow hue to them,
Trudy Maynard answered my question......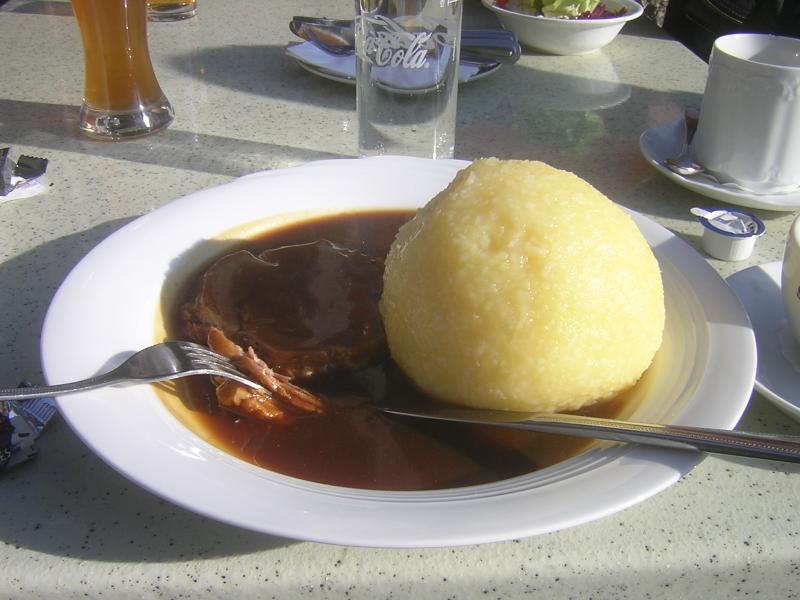 "All types have girls names like Annabella, Celina, Sieglinde, etc. Depending on the type, they have yellow or dark yellow flesh. And then there are Laura, Victoria or Agria, that are used exclusively for knoedel dough. Like our Russet, but with yellow flesh. Note: Yukon Gold, the only potato ever bred in Canada, is not recommended, as they contain too much water. What to use: Russet potatoes and "Omega Gold" eggs, with the dark yellow yolk. These eggs are a bit more costly, but taste better. If you add a couple of these to your knoedel dough, you'll get a nice light yellow color. Not like in the picture, but not anorexic ("blass" in German) either. Germans are very serious about their produce......and continue breeding more potato types. In Canada, I've planted the imported "Sieglinde", available as a seed potato in some upscale nurseries. None of our North American potatoes beats "Sieglinde"
Thank you Trudy.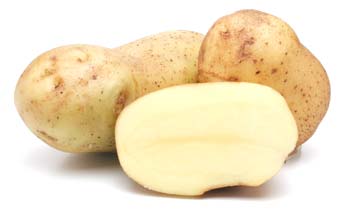 Seiglinde Potato.

I am going to seek out and see if I can buy some starts for these.
~~~~~~~~~~~~~♥♥♥~~~♥♥♥~~~~~~~~~~~~~
Thuringia Kartoffel Klöße,
(Potato Dumplings),
Grüne Klöß (Green or Raw Potato Dumplings)
Go here to make the Thuringia Kartoffel Klöße or Grüne Klöße
with Step by Step Pictures
(Potato Dumplings or Green or Raw Potato Dumplings)

~~~~~~~~~~~~~♥♥♥~~~♥♥♥~~~~~~~~~~~~~