Guten Tag
Welcome to the Oct 30, 2012 Newsletter !

One Recipe Leads to Another......
Just wanted to share some of the recipes that have come through the forum when a simple topic is brought up. Lo and behold one recipe leads to another and new dishes I have never heard of pop up that are unique and there are new challenges in my kitchen and I am sure others.

I was given a ham hock and so I simmered it with sauerkraut , fresh apples, onions, beer and some potatoes.
I asked in our forum what others would have done with the ham hock and several said Lentil soup. I said ahh that sounds great! So I had always wanted to make a Lentil or Pea soup in it that Lori Ebner had at he Eltz Castle in Germany , that was served with a whole frankfurter resting on top, so you ate this with a knife and fork and not just a spoon.

Anette also helped solve an issue with what a strange German kitchen container given to Risa Harman called a Brotkessel. (Bread Vessel ) It turns out it was and only for bread storage and not for cooking soup. Remy Sage found Suppen aus dem Brotkessel though. However Anette found that was a term for hollowed out loaf of bread that you serve a hearty soup or stew in. That will be my next challenge. ....So this is just a newsletter with some of the fun recipes that were shared, I hope you visit the forum and post some of your special German recipes.


Brotkessel

~~~~~~~~~~~~~♥♥♥~~~♥♥♥~~~~~~~~~~~~~


Crock Pot German Style Sauerkraut

I started out posting this recipe and it led to some of the others.
I love that and love to hear your ideas too!

This is a simple recipe where you put all the ingredients in the pot and then let it simmer all day till dinner. A salad and some good German Rye bread and you have a whole meal.

~~~~~~~~~~~~~♥♥♥~~~♥♥♥~~~~~~~~~~~~~

Lentil soup with Frankfurter
Linsensuppe mit Frankfurter

This novel way of serving a Lentil or Pea soup caught my attention when a friend Lori Ebner last year sent me a picture of the pea soup that she had visiting the Eltz castle on the Mosel river.

Read a little more about the Eltz Castle here and pea soup here.


You can use Lentils or dried peas for this recipe for Lentil soup

another interesting recipe is Lentil Soup with Rhubarb
The Rhubarb is a nice flavor additive.


~~~~~~~~~~~~~♥♥♥~~~♥♥♥~~~~~~~~~~~~~

Our Cookbooks only 40 dollars for the set.
save 9 dollars plus shipping costs by ordering all 3 books at once.
Makes a nice gift... order the complete set here


Recipes from a German Grandma
Our cookbook with over

Get in a Pickle

Over 50 pickle recipes plus spices to make your first pickles and your own corned beef

From Germany with Love

Dieter's Goulash

This is inspired by my friend Dieter in Gelsenkirchen Germany. I added a few things to Dieter's recipe, but I think you will like it.

I tried it 2 ways, one with sour cream mixed into it
and one with it just on top. Go here for the recipe!

~~~~~~~~~~~~~♥♥♥~~~♥♥♥~~~~~~~~~~~~~

This is what a Brotkesselsuppe ( bread-vessel-soup) would look like, that I referenced in the intro.
Thank you Anette Holmes for finding this!

You can make a round loaf or buy your own to make this.
It is a novel way to serve The Lentil Soup, Dieter's Goulash, any thick soup, or stew.

Anette also posted a recipe for this unusual Jam
that is a German treat. It is made from Rose Hips.
It is called Haggebutte Konfitüre. It is a delicious new flavor, not overly sweet too.

Here is the recipe for Rose Hip Jam

You can purchase Rose Hip Jam or Haggebutte Konfitüre here

~~~~~~~~~~~~~♥♥♥~~~♥♥♥~~~~~~~~~~~~~

This dish is made with Fränkishe Sausages Generally 6 -8 inches long, a coarse sausage and generally pan roasted or done in a broth of vinegar, wine and onions, called "Blaue Zipfel" ( blue corner) leaving sometimes a bluish tint on the sausage.
~~~~~~~~~~~~~♥♥♥~~~♥♥♥~~~~~~~~~~~~~
Our Family
Cookbook

Comes with over 50 Bonus recipes with Step by Step color pictures.


16.97
I include
Over 50 Bonus Recipes with Step by Step Pictures

On CD
I am very proud of these recipes as they take a lot of the
guess work out of making these fabulous German specialties.

Simply open up the recipes with step by step pictures and print out the item you like. I keep mine in a notebook.
See the Whole List Here of Recipes Here
Berliners

Apple Kuchen

Apfel Strudel

Stollen

Pfeffernusse

Lebkuchen

Springerle

Zimmsterne

Bratwurst

Sauerbraten

Rouladen

Wienerschnitzel

Old Fashioned Home Made Noodles

German Potato Salad

Potato Dumplings
(Kartoffel Knödel)

Spätzle

Gefulte Nudeln

Chicken and Dumplings

Rotkohl
(Sweet and Sour Purple Cabbage)

Potato Pancakes
(Kartoffelpuffer)


See the Whole List Here of Recipes Here

~~~~~~~~~~~~~♥♥♥~~~♥♥♥~~~~~~~~~~~~~

If you liked Recipes from a German Grandma...

From Germany with Love,
By Aileen Block

This is a nice companion book to Recipes from a German Grandma.
From Germany with Love tells more about the story of my grandma, Emma Block, growing up in a little town in Baden/ Würtemberg, Germany near Heidelberg named Steinsfurt. Then at the age of 15 immigrating to the United States, taking a train with one of her sisters and brothers to Hamburg and sailing the Atlantic with other hope filled Germans wanting to make a life in the "New World". It was not easy but with good values learned in her German upbringing made a full life, had a wonderful family with lots of fun and celebration including great German meals.


Order Here
14.97
~~~~~~~~~~~~~♥♥♥~~~♥♥♥~~~~~~~~~~~~~
Big Bear Oktoberfest Has Started
Every weekend through October in Southern California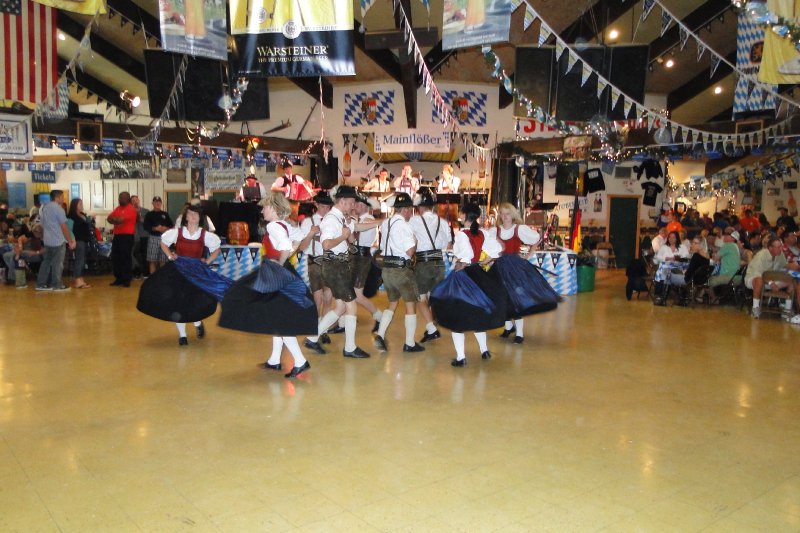 Helen, Georgia Octoberfest Festival
this weekend and through October

From the German Deli
Germandeli.com
Grünkohl mit Pinkel
Green kale simmered with Pinkelwurst (special Sausage)
Read more about Pinkelwurst here
This specialty of Northern Germany is a tradition. Pinkelwurst is a special sausage unlike any other.
Check it out the sale prices here
Get the recipe for Grünkohl mit Pinkel here
~~~~~~~~~~~~~~~~~~~~~~~~~~
Plus 6 extra beans

25.97
19.97
More of my Vanilla Bean Specials for Fall here
~~~~~~~~~~~~~~~~~~~~~~~~~~
German Music
In München steht ein Hofbräuhaus
~~~♫~~~♫~~~
~~~♫~~~♫~~~
Oktoberfest Beer Drinking Song
~~~♫~~~♫~~~
Die Kirmesmusikanten - Jeder Tag ist ein schöner Tag


~~~♫~~~♫~~~
Wiesn Hit 2010 "Kühe machen Mühe" (Powerziach)
~~~♫~~~♫~~~
~~~~~~~~~~~~~~~~~~~~~~~~~~~~~~~~~~~~~~~~~~~~~~~
Over 50 great pickle recipes for all
kinds of vegetables, fruit and even eggs.
My new book to celebrate pickling season.
Get it now for 16.95

~~~~~~~~~~~~~~~~~~~~~~~~~~~~~~~~~~~~~~~~~~~~~~~
Where do we share our German recipes and heritage?
The German Goodies Facebook Page
Also place recipe requests

Join our discussion of German recipes on Facebook
Just hit the "Like" button and you can start posting.
~~~~~~~~~~~~~~~~~~~~~~~~~~~~~~~~~~~~~~~~~~~~~~~
Want to receive our
German Goodies Newsletter?

Alles Gute!
Stephen Block