A Little Oktoberfest History, Recipes
and
Some Tips for Having your own Oktoberfest
from Frank Reiter
and all over the world
Why not have your own Oktoberfest !
My Friend and inspiration,Frank Reiter from Joplin Missouri is having his second Oktoberfest this weekend in his back yard. Last year was a huge success and all 40 or so had tons of fun, good food, beer and community! I asked Frank what are some of your suggestions to folks that would like to have one themselves.

• This year, I bought a Bavarian flag, and a German flag... normally do plastic table cloths... blue and white... last year, did blue cloths, with white dishes and silverware... it was time/money save last year. This year, going to have both colors, again. Usually blue and white balloons and streamers.

• Use beer mugs to put the silverware in... a central area to get beer out of cooler... DONT FORGET BOTTLE OPENERS in that area... and milk crates for the recycling of botttles...

• I bought 3 bottles of German wine for those that don't like beer. A dry Riesling, a sweet Riesling, and a Gewurztraminer II usually make some tea, have a variety of bottles of soda... also, juice pouches for the kids.




• Also, I do a kids table... as much as I want my own son to try everything, and not have to have his own food, not everyone wants to deal with that. So, I have cheap Jeno pizzas, hot dogs, mac n cheese, etc. and baby carrots and ranch.

Frank is cooking Bratwurst, Rouladen, Sauerkraut and Rotkohl, (Sweet and Sour Red Cabbage) along with German potato salad.

Frank Reiter from Joplin MO.

Frank says he is looking into doing some different games like a Stein holding contest. He has downloaded about 40-50 Oktoberfest tunes and does the Ein Prosit, and the Eins, zwei, drei, g'suffa; Zicke-Zacke-Zicke-Zacke Hoy, Hoy, Toast.

This Zicky Zacky Toast that is shown half way into the video is from Frank's little get together last year. :-)
Recipes
Another Oktoberfest Favorite
Obatzda
German Cheese Dip for Pretzels
What I will serve with my pretzels this Oktoberfest
Obatzda
German Cheese Dip
with step by step pictures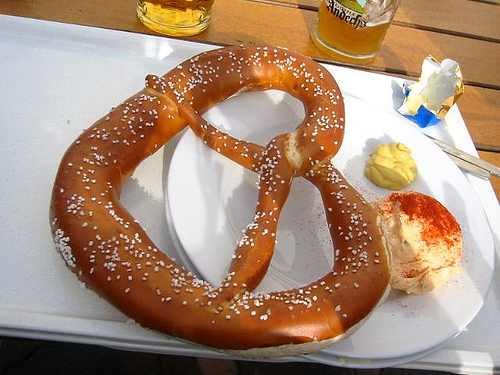 ~~~~~~~~~~~~~♥♥♥~~~♥♥♥~~~~~~~~~~~~~
A little Oktoberfest History
The first Oktoberfest in 1810.. If you look close in the center it is a
horse race that was the main event.
They stopped the races in 1960.
It starts always with the Mayor of Munich tapping the keg and saying
"O'zapft is"
meaning it is tapped.
Then the first beer is given to Minister-President of the State of Bavaria

Here is a great video of the tapping of the first beer
in the 2007 Munich Oktoberfest.
Now there is a parade of the "Landlords and the Breweries" , music, and rides,
and food booths and every 4th year an agricultural show.
One dish that is not commonly talked about in the Munich Oktoberfest is
Steckerlfisch (Fish on a stick).The fish (usually Mackerel) is skewered on a stick lengthwise so it
can be tilted over the fire and the fat runs down the stick instead of into the fire.
Still is a very popular food at the Oktoberfest, they are put the fish (usually Mackerel)
on a stick lengthwise so that it can be angled over the fire and the fat
will run down the stick instead of over the fire.
One thing that hasn't changed is
"Man Down"
Especially drunk patrons are known as "Bierleichen" ,
or beer corpses.
~~~~~~~~~~~~~♥♥♥~~~♥♥♥~~~~~~~~~~~~~
Our Family
Cookbook

Comes with over 50 Bonus recipes with Step by Step color pictures.


16.97
I include
Over 50 Bonus Recipes with Step by Step Pictures

On CD
I am very proud of these recipes as they take a lot of the
guess work out of making these fabulous German specialties.

Simply open up the recipes with step by step pictures and print out the item you like. I keep mine in a notebook.
See the Whole List Here of Recipes Here
Berliners

Apple Kuchen

Apfel Strudel

Stollen

Pfeffernusse

Lebkuchen

Springerle

Zimmsterne

Bratwurst

Sauerbraten

Rouladen

Wienerschnitzel

Old Fashioned Home Made Noodles

German Potato Salad

Potato Dumplings
(Kartoffel Knödel)

Spätzle

Gefulte Nudeln

Chicken and Dumplings

Rotkohl
(Sweet and Sour Purple Cabbage)

Potato Pancakes
(Kartoffelpuffer)


See the Whole List Here of Recipes Here

~~~~~~~~~~~~~♥♥♥~~~♥♥♥~~~~~~~~~~~~~

If you liked Recipes from a German Grandma...

From Germany with Love,
By Aileen Block

This is a nice companion book to Recipes from a German Grandma.
From Germany with Love tells more about the story of my grandma, Emma Block, growing up in a little town in Baden/ Würtemberg, Germany near Heidelberg named Steinsfurt. Then at the age of 15 immigrating to the United States, taking a train with one of her sisters and brothers to Hamburg and sailing the Atlantic with other hope filled Germans wanting to make a life in the "New World". It was not easy but with good values learned in her German upbringing made a full life, had a wonderful family with lots of fun and celebration including great German meals.


Order Here
14.97
~~~~~~~~~~~~~♥♥♥~~~♥♥♥~~~~~~~~~~~~~
Helen, Georgia Octoberfest Festival
this weekend and through October