Blaubeeren Kenebble

Plachenda

Fleischkeuchle

Weizenmischbrot
Happy Spring to Everyone !
(Happy Fall in the Southern Hemisphere)

I hope that you in the Northern Hemisphere are experiencing the signs of Spring. Wonderful foods, Rhubarb, Asparagus, Dandelion greens are part of the special season. For our German heritage friends in the southern Hemisphere like Australia, South Africa, Argentina, where there were lots of Germans who immigrated are experiencing my other favorite season Fall.

While I am finishing up some Rhubarb recipes I wanted to share about this interesting topic that is not of my heritage but has always really interested me. The heritage of the Germans from Russia, and their unique German cuisine. I also wanted to share an easy German bread to make that Roy Denman who was raised in Germany taught me. It becomes easier and easier if you get in the habit of making fresh bread.

Lawrence Welk's
father was a German from Russia that homesteaded
in North Dakota. They were farmers but Lawrence convinced his father to buy him an expensive accordian
That he worked for years on the farm to pay off.

Many times I make reference to Germans from Russia. For years I wondered were they Russian or were they German? Were they more one than the other? They settled here in the United States mainly around the Plains states, like the Dakotas, Illinois, Nebraska, Kansas, as well as the Saskatchewan, Manitoba area of Canada. and and have developed a distinctive German style cuisine.

They were first invited to Russia in the late 1700's by the Czar Catherine the Great (Who was German herself) to help Russians with their farm expertise. Many of them settled around the Volga River. (They are often called Volga Germans) They kept their same language and customs. Due to emerging political battles in the late 1800's they immigrated to farming areas like the Great plains instead of industrialized cities, because of their expertise. Read more here. More history of the Volga Germans

Karen Bursaw sent me a request from her Aunt Clara whose heritage was obviously a Kansas Germans from Russian for a dish called Schwartzberren Knebble. The real significance I think is that these unusual berries were brought over from the Volga river area and kept the traditional dessert alive to this day.

With the help of our German Goodies Facebook community I was directed to what a Schwartzbeeren was. I thought at first it would be the same as a Blackberry, as that is the literal meaning in German.

They sort of look like Blue berries but they weren't that either. Instead it is from the nightshade family but the berries are edible and have a unique acidic but wonderful flavor when sweetend

More about Schwartzbeeren here

More about the Kansas Germans from Russia

Wondeful Video Documentary about the Volga Germans

You can fast forward to about 35 minutes in some ladies that had lived through the depression
in Karlsruhe, North Dakota show how to make a German Dish Blotchenda
(Pumpkin Turnover) It is really endearing to watch

~☼~☼~☼~☼~




The Complete Collection of Our Cookbooks

Recipes from a German Grandma
go here for more details
with bonus CD with
most of the recipes with step by step pcitures.

Get in a Pickle

Over 50 pickle recipes plus spices to make your first pickles and your own corned beef
more details on this book

also with CD with step by step pictures of how to make your own corned beef.


From Germany with Love

This is a follow up to "Recipes from a German Grandma' a full biography of Emma Block from growing up in Germany to coming over here as a young adult and living as a German-American in the early and mid 1900's.

Our Cookbooks only 40.00 dollars for the set.
Makes a nice gift... order the complete set here

~☼~☼~☼~☼~

Schwartzbeeren Knebble

The dessert is fun and interesting and has shades of being from austere times.
Using simple flour egg dumplings, cream, sugar and berries. There were 2 ways to do this so I did both. One is to make baby size spoon dumplings and the other is

to stuff the dumpling dough with some of the berries.

I used a blue berry to make this dessert because I didn't have any Schwartzberren and it worked well.

Come into my kitchen and let's make some
Blaubeeren, blueberry Knebble
with step by step pictures
~☼~☼~☼~☼~
This is another famous Germans from Russia Dish,
a delicious meat pie, so popular in some areas of the Dakotas they
serve it at the local Dairy Queens. One young person told me
that it was more popular than a hamburger.

~☼~☼~☼~☼~
Mixed grain Bread, with thanks to Roy Denman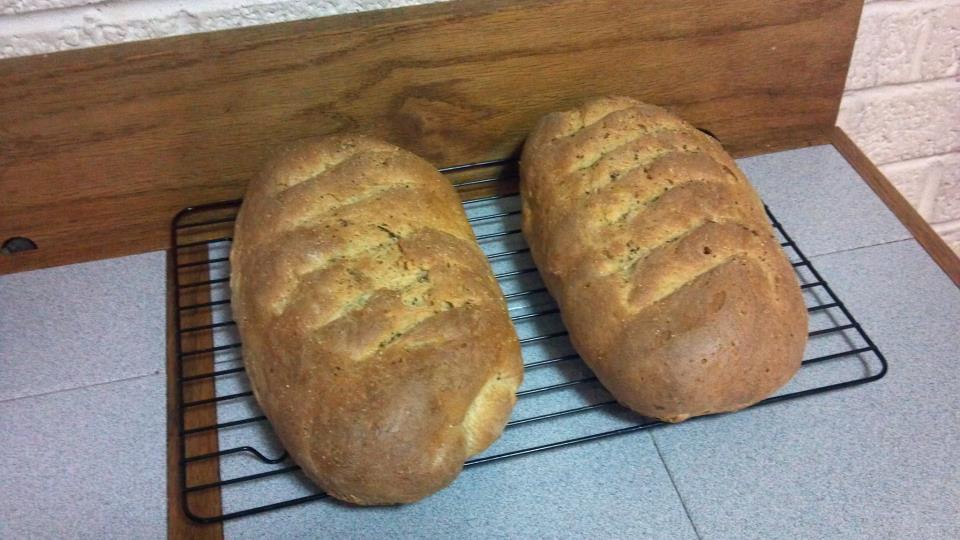 Roy Denman sent me this recipe for a mixed grain bread. It features rye and white whole wheat grains..
This is a very simple bread to make and very flavorful. It is hard to replace good home baked bread for the flavor and goodness. The real work is just getting yourself to do it.
Come into my little home bakery and let's make
delicious Weizenmischbrot
with step by step pictures
~☼~☼~☼~☼~
Like our German Recipes and Newsletter?
You might like our Cookbooks
Our Family
Cookbook

Only
16.97

Comes with
28 Bonus Recipes
with Step by Step color Pictures

(See below)
| | |
| --- | --- |
| Below are a few of the Step by Step Recipes Featured | |
Sauerbraten

Bratwurst

Pan fried Chicken Schnitzel

Apfel Strudel

Old Fashioned Home Made Noodles

German Potato Salad

Springerle

Spätzle

Gefulte Nudeln
From the German Deli
Germandeli.com
"HoWe"
Nuremberg Bratwurst
$4.99 On Sale! $3.74
7oz (8 links)
For the first time EVER we have authentic German Bratwurst actually made in Nürnberg and imported fresh from Germany. Produced under the highest quality standards and USDA approved. These sausages are made from a traditional 1313 recipe (which would make it a 698 year old recipe). It doesn't get any better than this. It's so delicious you won't need to add mustard. This Nürnberger Bratwurst is fully cooked just heat and serve. Can be pan fried or grilled. Each package contains eight (8) small Bratwurst similar in size to American breakfast sausages. Each sausage measures approx. 3.5" in length.
Storage: Refrigeration recommended but can be frozen too.

How was the size of the Nuremberg Sausage created?
According to legend, Hans IV. Stromer (1517-1592), a judge in the medieval times, was imprisoned for life for revealing an important political secret. In those days, life-term in prison meant that once the dungeon doors were shut, you never again left your cell. Prisoners depended on family members for their food. Since he was a high ranking prisoner, Stromer was granted one reasonable wish. That wish was to be allowed 2 Bratwursts daily until the end of his days. So, his family made a Bratwurst so small that it could be passed through the keyhole of the prison door. In deference to the legend, all "Nürnberger Bratwurst" now made in Germany are required, by German law, to include certain ingredients in specific proportions. The law specifies that the sausages must be a certain length and diameter, and must be produced within the city limits of Nürnberg.
Order Nuremberg Bratwurst here
~~~~~~~~~~~~~♪♪♪~~~♪♪♪~~~~~~~~~~~~~
German Music
Lawrence Welk
Beer Barrel Polka
~~~ ♪♪♪~~~
~~~ ♪♪♪~~~
The Happy Wanderer
~~~ ♪♪♪~~~
Three Volga German Songs Soldatentod
~~~ ♪♪♪~~~
Zweifel Lissje - Volga German Music at the AHSGR Convention in 2008
~~~ ♪♪♪~~~
~~~~~~~~~~~~~♪♪♪~~~♪♪♪~~~~~~~~~~~~~