The Sweeter Side of Dumplings
Spring is here in the Northern Hemisphere and soon we will be wanting to cook cooler things. So I wanted to finish up playing with your dumplings. Not that you can't make them in spring because you need to keep your skills sharp and there is a dumpling for every season.
In time my hope is that you can wing it and put together a nice dumpling on a spur of the moment to keep your heritage as a frequent guest at your dinner table or picnic. Here are a few of the sweet dumpling recipes in the past we have done, I don't remember my grandma making sweet dumplings so thanks to all you that sent me recipes and gave me tips!
Pflaumenknödel
Potato dumpling with plum, stuffed with raspberry jelly with brown butter crumb sauce


Pflaumenknödel 2
Sour cream pastry wrapped around a plum stuffed with a sugar cube.

Black Forest Cherry Soup

Black Forest Cherry Soup with Egg White Dumplings.

Dampfnudel with Vanilla Sauce

Apple Maultaschen
Pflaumenknödel
or
MarillenKnödel
if apricots are used
Potato dumpling with plum, stuffed with raspberry jelly with brown butter crumb sauce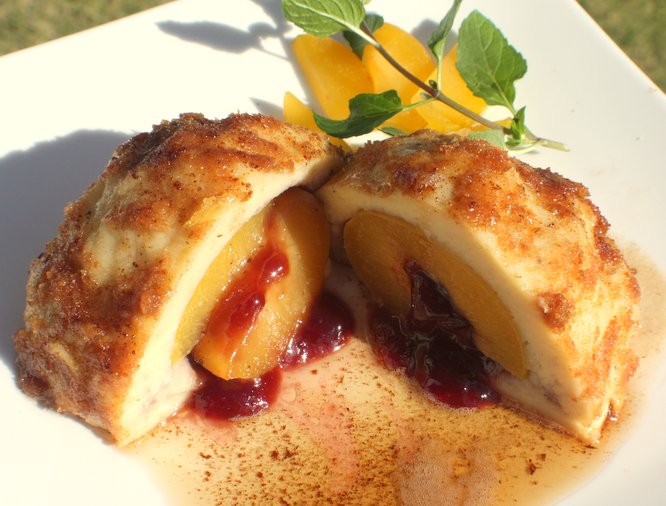 Anette Holmes shared this fun recipe that is made from a potato dough and stuffed with either her favorite an apricot or a plum works well. I used a yellow plum for this. One of the options is to stuff it with raspberry jelly. where the pit was.
Come into my kitchen and let's make
Pflaumenknödel.
~☼~☼~☼~☼~
Plum Dumplings
(Pflaumenknödel)
made with Sour Cream pastry
~☼~☼~☼~☼~
with
Egg White Dumplings
(Schwartzwalder Kirschsuppe mit Schneeknockerl)
This is a nice sweet and tart soup that has the coolest little
egg white dumplings called Schneeknockerl.
Let's Make some Black Forest Cherry Soup
with Egg White Dumplings with Step by Step Pictures
~☼~☼~☼~☼~
Dampfnudel
mit Vanillesosse
(Steamed dumpling with Vanilla Sauce)
Over the years I have received so many requests for this dish starting with one saying that her mother would
would make a meal of savory Dampfnudel with potato soup and then finish with a sweet dessert style dampfnudel,
like the one above with the vanilla sauce I experimented many times with different recipes, to achieve success.
It is easy to burn these puffed pillows of goodness and ruin all your hard work.

This dumpling is distinguished by being a yeast dumpling and first steamed in a pan with a small amount of water
then bottom gets a nice browning making a delectable crust that also soaks up the pan drippings. The vanilla
sauce is a perfect topping for the tender steamed bun that almost doesn't need anything else.
Come into my kitchen and let's make some
Dampfnudel mit Vanillesosse
with some pictures to help.
There is a lot of history behind the Dampfnudel
This archway called the Dampfnudeltor, with
1286 little bumps that represent the dampfnudel are a tribute to this famous event in Feckenfeild, in the
Palantine area of Germany where the city produced 1286 Dampfnudel to feed a hungry Swedish
army bent on destroying the city if they weren't fed.
More about the history of Dampfnudel here
~☼~☼~☼~☼~
Rather than give an apple dumpling, which is similar to the plum dumpling
Here is a technique that is much like an apfelstrudel and baked similar to the
Dampfnudel. Many would say that this doesn't qualify as a Knödel or Kloße
I won't quibble but just want to show you this cool dish.
You could use any fruit with this.
Let's make some Apfel Maultaschen with pic's
~☼~☼~☼~☼~
The Complete Collection of Out Cookbooks
Our Cookbooks only 40.00 dollars for the set.
Makes a nice gift... order the complete set here

Recipes from a German Grandma
go here for more details
with bonus CD with
most of the recipes with step by step pcitures.

Get in a Pickle

Over 50 pickle recipes plus spices to make your first pickles and your own corned beef
more details on this book

also with CD with step by step pictures of how to make your own corned beef.


From Germany with Love

This is a follow up to "Recipes from a German Grandma' a full biography of Emma Block from growing up in Germany to coming over here as a young adult and living as a German-American in the early and mid 1900's.
Like our German Recipes and Newsletter?
You might like our Cookbooks
Our Family
Cookbook

Only
16.97

Comes with
28 Bonus Recipes
with Step by Step color Pictures

(See below)
| | |
| --- | --- |
| Below are a few of the Step by Step Recipes Featured | |
Sauerbraten

Bratwurst

Pan fried Chicken Schnitzel

Apfel Strudel

Old Fashioned Home Made Noodles

German Potato Salad

Springerle

Spätzle

Gefulte Nudeln
From the German Deli
Germandeli.com
"HoWe"
Nuremberg Bratwurst
$4.99 On Sale! $3.74
7oz (8 links)
For the first time EVER we have authentic German Bratwurst actually made in Nürnberg and imported fresh from Germany. Produced under the highest quality standards and USDA approved. These sausages are made from a traditional 1313 recipe (which would make it a 698 year old recipe). It doesn't get any better than this. It's so delicious you won't need to add mustard. This Nürnberger Bratwurst is fully cooked just heat and serve. Can be pan fried or grilled. Each package contains eight (8) small Bratwurst similar in size to American breakfast sausages. Each sausage measures approx. 3.5" in length.
Storage: Refrigeration recommended but can be frozen too.

How was the size of the Nuremberg Sausage created?
According to legend, Hans IV. Stromer (1517-1592), a judge in the medieval times, was imprisoned for life for revealing an important political secret. In those days, life-term in prison meant that once the dungeon doors were shut, you never again left your cell. Prisoners depended on family members for their food. Since he was a high ranking prisoner, Stromer was granted one reasonable wish. That wish was to be allowed 2 Bratwursts daily until the end of his days. So, his family made a Bratwurst so small that it could be passed through the keyhole of the prison door. In deference to the legend, all "Nürnberger Bratwurst" now made in Germany are required, by German law, to include certain ingredients in specific proportions. The law specifies that the sausages must be a certain length and diameter, and must be produced within the city limits of Nürnberg.
Order Nuremberg Bratwurst here
~~~~~~~~~~~~~♪♪♪~~~♪♪♪~~~~~~~~~~~~~
German Music
Margret Almer - Jodelliebe
~~~ ♪♪♪~~~
~~~ ♪♪♪~~~
Margret Almer - Kuckucks-Jodler (HQ)
~~~ ♪♪♪~~~
Margret Almer - Mein Schatz Bläst Die Posaune
~~~ ♪♪♪~~~
~~~~~~~~~~~~~♪♪♪~~~♪♪♪~~~~~~~~~~~~~