German Style Baked Beans

Drei Bohnensalat
(3 bean salad)

Apfel Mürbeteig


Chicken Roulade


Brewmeister's Chicken
(left)

Soon apples will be ripe and ready for great desserts, sauce and even savory foods.

I wanted to share some recipes and I
and look forward to any you might want to share as well.

A favorite herb in the kitchen that is not found much in the U.S. is Bohnenkraut (Summer Savory). It is an herb I am growing to love and finding myself reaching for it more and more. Oregano is too strong generally for me and sweet basil does not quite have the full on herb flavor that I like for not just bean dishes like the name Bohnenkraut implies but for stocks, soups, and potato dishes even.
~☼~☼~☼~☼~
Getting Ready for Apples
We just got back from visiting the apple country in Southern California in Julian, CA. It is one of my favorite delights to look forward to in the fall. I grew up near apple orchards and remember the smell of fresh cider pressed in the orchard, and climbing apple trees and getting the nicest juiciest fruit.

I also remember our favorite dessert, Apfelkuchen and Apfelstrudel. I wondered But Apfelkuchen was much different than the all-american apple pie. I wondered if there was a crust that was similar to this in Germany. Enizi Johnson who grew up in Germany and a great cook shared with me what they call Mürbeteig.
Mürbe = short or crumbly and teig = dough. Unlike in the U.S. an egg is often a part of the recipe.


Einzi taught me a great rule of thumb recipe for this called a 1-2-3 Mürbeteig. 1 part sugar , 2 parts butter and 3 parts flour. To this you add an egg. this is enough dough for a pie , or shortbread or to wrap an apple dumpling.
Go here to make Apfelmürbeteig
with step by step pictures
Serve the pie with whipped cream (Schlagsahne)
My dad always called it Schlag!

Roy Denman made his open face with the Mürbeteig in the springform pan.
~☼~☼~☼~☼~

Some other German Apple Recipes
German Apple Cake
( Versunkener Apfelkuchen)

This is a dessert that is baked in sweet vanilla flavored milk so the pastry is infused.

This is the way that my grandma always made it.
This would be waiting for us when we came for a
visit.
~☼~☼~☼~☼~
Pennsylvania Dutch Style
Pork Spareribs with Apples and Squash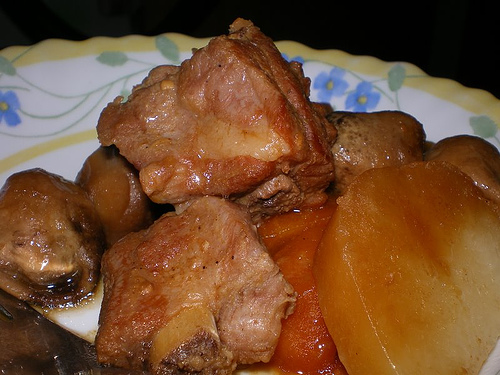 ~☼~☼~☼~☼~
Our Goulash spice blend features 3 different paprikas, (Hungarian Sweet, Smoked Paprika,
just a tiny amount of Medium Spicy Hungarian Paprika) toasted Caraway and Cumin seeds, Bay Leaves.
Great German flavor for stews and soups comes from the right spice.
This Summer Special Incudes:
A recipe book and short biography of my Grandmother Emma Block. Her recipes, culture and cooking styles that were brought over from Germany. How they evolved when she came to America in the early 1900s and settled in Portland, Oregon on the west coast of the United States. Over 100 recipes

Bonus Recipe CD with the Ebook and recipes with step by step pictures

Goulash Ebook
10 Goulash recipes

1.5 oz package (1/3 cup)
of Goulash Spice Mix
enough to make most of the recipes.
Order the Summer Special Here
16.97
plus S/H
2.97
plus S/H
~☼~☼~☼~☼~
Bohnenkraut
The Bean Herb

This is a favorite for Bean dishes in Germany. both fresh green beans and a pot of dried bean soup or lentils.
The flavor is somewhere between thyme and Oregano if you are in the U.S..

Years ago the name through me for a loop. I thought it had something to do with Sauerkraut. The word Kraut I am told means a seasoning....Bohnen = bean and Kraut =Seasoning. Krauterbutter = seasoned butter.

I am always fascinated with words, and it sounds as if the word Kraut has several meanings in Germany

Weißkraut = white cabbage (also called Weißkohl)
Blaukraut or Rotkraut = red cabbage (also called Rotkohl)
Sauerkraut = fermented white cabbage
Unkraut = Weed
Bohnenkraut = Savory
Rübenkraut = thick sugar beet syrup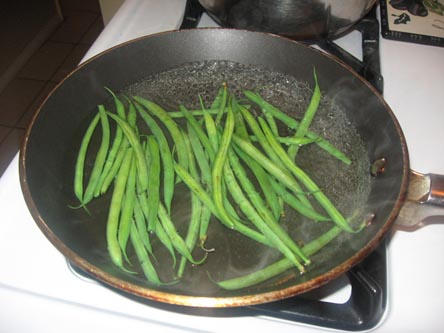 When using Bohnensalat to cook green beans
add them too the water or stock that you cook them
in. If you use fresh summer savory tie in a bundle and cook with the beans
then you can remove it easily. This keeps it from getting too strong a flavor.
Bohnensalats
3 Bean Salad
(Drei Bohnensalat)
| | |
| --- | --- |
| The simple addition of potatoes gives Bohnensalata new dimension Follow the 3 bean salat recipe and add diced potato instead of the other beans , and some sliced radish. | A simple Bohnensalat with radish and toasted almonds |
~☼~☼~☼~☼~
Grüner Bohnen Braten mit Speck
This dish is a great side dish for any roast or entree.
The Bohnenkraut adds great flavor as well as the bacon and onions.
~☼~☼~☼~☼~
German Style Baked Beans
(Weiss Bohnen braten)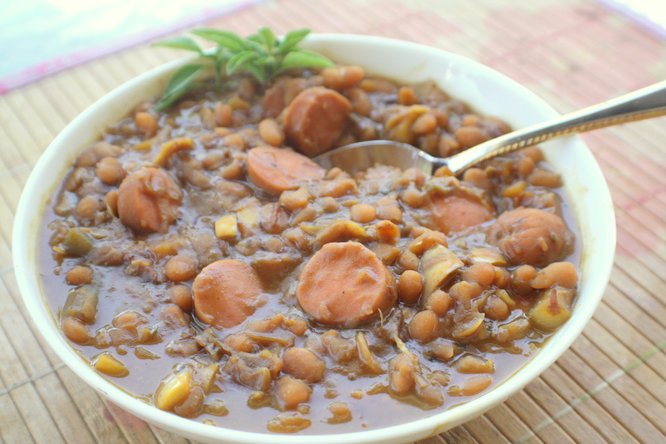 I asked my German chef friend Roy Denman who is from Rottenburg if he knew any
good recipes for a German baked bean using Bohnenkraut that was similar to an
American baked bean that is a common side to any BBQ.
He shared with me this recipe that uses sauerkraut and applesauce or apples.
Go here for the recipe with step by step pictures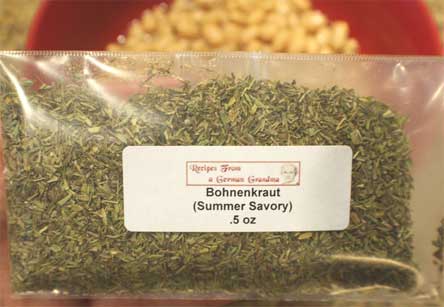 Bohnenkraut .5 oz package
2.97
~☼~☼~☼~☼~
What Summery things to serve with your Green Beans
Like our German Recipes and Newsletter?
You might like our Cookbooks
Our Family
Cookbook

Only
16.97

Comes with
28 Bonus Recipes
with Step by Step color Pictures

(See below)
| | |
| --- | --- |
| Below are a few of the Step by Step Recipes Featured | |
Sauerbraten

Bratwurst

Pan fried Chicken Schnitzel

Apfel Strudel

Old Fashioned Home Made Noodles

German Potato Salad

Springerle

Spätzle

Gefulte Nudeln
~☼~☼~☼~☼~
Fleischsalat and Wurstsalat fixings From the
Germandeli.com
~☼~☼~☼~☼~
German Music
Angela Wiedl & Melanie Oesch & Herlinde Lindner
Great Fun Yodeling!
~~~ ♪♪♪~~~
~~~ ♪♪♪~~~
Angela Wiedl, Melanie Oesch, Herlinde Lindner - Erzherzog Johann
~~~ ♪♪♪~~~
Die Westfälischen Nachtigallen -
Ein Jäger aus Kurpfalz
~~~ ♪♪♪~~~
Die Stockmihli Musikanten - Schwarzwalder Hochzeit
~~~ ♪♪♪~~~
Hansi Hinterseer - Im siebten Himmel 2012 HQ
~~~ ♪♪♪~~~
~~~~~~~~~~~~~~~~~~~~~~~~~~~~~~~~~~~~~~