Kalter Hund
(translates to cold dog)

This is a simple chocolate filling layered with
butter cookies and chilled.

Kalte Ente
(translates to cold duck)

This is a nice summer refreshing cocktail that originated in Germany. It consists of a Mosel wine and a sparkling wine, lemon and mint
As the summer days linger on, anything to eat chilled sounds good. . Every year Germans and different German-U.S folks tell me about a childhood favorite called Kalter Hund,. or they ask where they can get the coconut shortening, (Palmin brand) that is used. I finally got around to making it this year and it won't be the last time! Our whole household loved it! Natural Coconut oil is now a healthy food too!

I had no idea that back in the 70's when Cold Duck champagne was popular in my neck of the woods, that it was based on a popular German summer beverage recipe using the famous Riesling wines that come from the Mosel region in Germay. We decided to do this on a day off and we LOVED it. We certainly will be doing it more often now!

~☼~☼~☼~☼~
Kalter Hund

(A simple no bake cake made from butter cookies and chocolate)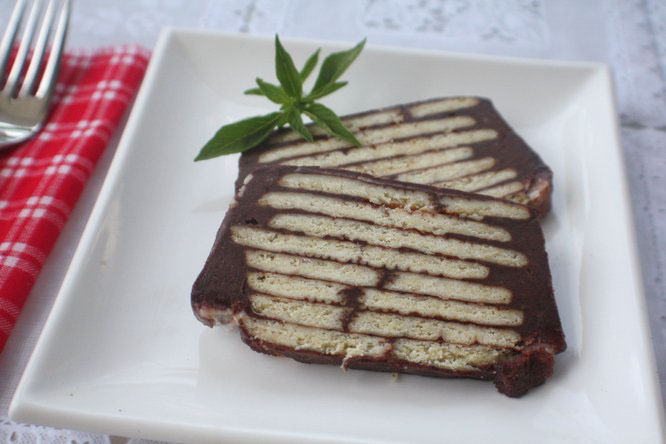 Translated it means "cold dog" but this classic treat is sometimes
referred to as "Kalte Schnauze" (cold snout),"Schwarzer Peter" (Black Peter) or
"Kellerkuchen" (celler cake). There's no agreement on how the name originated
but the name "Kalter Hund" or "Kalte Schnautze" may have derived because the confection,
which was typically stored in a cold place like the celler or refrigerator,tended
to get a layer of condensation on it when served in a warm room, reminding people of the dark,
cold, wet nose of a dog.
courtesy of Germandeli.com
Go here to make Kalter Hund with step by step pictures
~☼~☼~☼~☼~
Our Goulash spice blend features 3 different paprikas (Hungarian Sweet, Smoked Paprika,
just a tiny amount of Medium Spicy Hungarian Paprika, toasted Caraway and Cumin seeds, Bay Leaves.
Great German flavor for stews and soups comes from the right spice.
This Summer Special Includes:
A recipe book and short biography of my Grandmother Emma Block. Her recipes, culture and cooking styles that were brought over from Germany. How they evolved when she came to America in the early 1900s and settled in Portland, Oregon on the west coast of the United States. Over 100 recipes

Bonus Recipe CD with the Ebook and recipes with step by step pictures

Goulash Ebook
10 Goulash recipes

1.5 oz package (1/3 cup)
of Goulash Spice Mix
enough to make most of the recipes.
Order the Summer Special Here
16.97
plus S/H
2.97
plus S/H
~~~~~~~~~~~~~~~~~~~~~~~``
~☼~☼~☼~☼~
(Cold Duck)
Mosel Riesling with Sparkling wine
lemon, and mint
This is a refreshing German beverage or I would call it more like a cocktail even though no spirits are used.
Anette Holmes who grew up in Germany told me about it and I remember Barb Rokitka sending me a recipe.
Anette said however that you really need to use a Mosel Riesling. I thought maybe this was a
"German thing" and I am not a fan of sweet wines much. There are sweet Rieslings then there are
"NOBLE" sweet Rieslings. One gets it's sweetness from adding sugar .
I urge you to try this, it is soooo good !
Go Here to make Kalte Ente , or Cold Duck with Step by Step pictures
Why do they call this Kaltes Ente or Cold Duck?

According to the legend Prince Clemens Wenceslaus, the last Archbishop and Elector of Trier for a feast on the terrace of the Koblenz castle ordered all the ends of the wines to be combined with champagne which they flavored with lemon and mint and served it at the end of the meal so they called it Kaltes Ende or Cold End. Usually a hot coffee or mocha was served. At some point in time the name was altered to Kaltes Ente or cold duck.


Prince Clemens Wenceslaus of Saxony

Some of you may remember a sparkling wine called "Cold Duck" a

The wine was invented by Harold Borgman, the owner of Pontchartrain Wine Cellars in Detroit, in 1937

Why do German's Grow and Make Riesling ?

The planting of Riesling in Germany was originally almost an accident. It had been brought into Germany in the Middle Ages by the monks, who traded varieties across t areas covered by their efforts at viticulture. Just as Pinot Noir (or Spätburgunder) was dispersed eastward from Burgundy to the Mosel and Rhine basins, Riesling came northwestward from Austria (it is thought, under the influence of the Church) to the Mosel.

Riesling seems to positively thrive on poor soil. Simple crumbled slates, sandstones, calcareous marls, volcanic tuffs, and other lean root environments seem to bring out a kind of elegant style in the grape. If it's planted in excessively loamy soil, it can lose that elegance.

Riesling wines get the bad rap of always being sweet. And it is true that modern trends have assigned this role to Riesling in certain production areas. However, we know that this sweetness is optional and not at all necessary for the wine if it is made from grapes of good quality. Germans drink their Riesling usually quite dry, and if the grapes are ripe, this dryness is not unpleasantly sharp. I'd like to distinguish between sweet Riesling and noble sweet Riesling. In the former, the sugar is often produced by beets or canes and is added to the must. As necessary as this may be in less successful vintages, it cannot produce great wines.

When Riesling is allowed to ripen slowly in the foggy river valleys of the Mosel or Rhine, sometimes it's benefited by an outbreak of the noble rot Botrytis cinerea. The tiny mycelia of this fungus pierce the grape skin and allow water to escape during the warm, sunny autumn days, and assist in acquiring further concentration, both of sugars and acids. Then it's up to the vintner whether to leave some of this sugar in the wine or ferment it to dryness. A little extra sulfite seems to be all that's required to stop fermentation, if that's what the choice is.

Then in the 19th century a disastrous series of deep winter freezes killed most of the Pinot Noir roots but left the Riesling plantations healthy. After this experience the authorities encouraged replanting the freeze-ravaged areas with Riesling. Today it is successfully grown in some of the more severe climates where Vitis vinifera has been able to survive, including my own home state of Michigan.

In the German-speaking world (Germany itself, Austria, and Alsace) Riesling takes center stage and is the grape from which all the greatest wines are made. In these northerly latitudes, Riesling must be planted to the best sites if it is to ripen predictably, and takes a full two weeks longer to come to harvest than other grapes grown here. Why plant a grape with the disadvantage of slow ripening in a cool climate?

As centuries of winemaking history have shown, this disadvantage can be converted into an advantage under the right conditions. In the best years, Riesling is hanging on the vines well past Allerheiligentag; the first day of November's All Saints vineyard worker's holiday. Its property of positively requiring a long, slow, cool ripening means that it can acquire the most refreshing, cool, and complex acid structure of any variety. It's this fruity tartness that focuses the wine's other taste elements and invites sip after sip. Although all winegrowers anxiously watch the sugar levels in their ripening grapes, the Germans are just as conscious of the falling acidity and its change from the sharp malic to the rich, round tartaric variety.

More about this from Grapeseek.org
~☼~☼~☼~☼~
Like our German Recipes and Newsletter?
You might like our Cookbooks
Our Family
Cookbook

Only
16.97

Comes with
28 Bonus Recipes
with Step by Step color Pictures

(See below)
| | |
| --- | --- |
| Below are a few of the Step by Step Recipes Featured | |
Sauerbraten

Bratwurst

Pan fried Chicken Schnitzel

Apfel Strudel

Old Fashioned Home Made Noodles

German Potato Salad

Springerle

Spätzle

Gefulte Nudeln
~☼~☼~☼~☼~
Items to make your own Kalter Hund


Fleischsalat and Wurstsalat fixings From the
Germandeli.com
~☼~☼~☼~☼~
German Music
Zillertaler Schürzenjäger - Zillertaler Hochzeitsmarsch HQ
~~~ ♪♪♪~~~
~~~ ♪♪♪~~~

Schürzenjäger Hinter dem Horizont Live Köln-arena 2005
~~~ ♪♪♪~~~
Great Fun Yodeling!
Oesch's die Dritten - Wir sind eine Jodelfamilie
~~~ ♪♪♪~~~
Die Westfälischen Nachtigallen -
Ein Jäger aus Kurpfalz
~~~ ♪♪♪~~~
Die Stockmihli Musikanten - Schwarzwalder Hochzeit
~~~ ♪♪♪~~~
Hansi Hinterseer - Im siebten Himmel 2012 HQ
~~~ ♪♪♪~~~
~~~~~~~~~~~~~~~~~~~~~~~~~~~~~~~~~~~~~~