Spargelzeit Info

Spargel History in Germany

Spargelfests ( Spargel Festivals )

Spargel Tours
How to Cook Spargel (Asparagus)
It is almost to the end of the Spargel (Asparagus ) season
and I have been busy this May and am late to the plate
with telling you about this special time.

Spargels are not eaten year around in Germany, the season is special
and runs from early april to June 24 .


Wooden Spargel Huts Shoot up all over Germany
,but particularly in the regions that raise it so it can be
cut fresh and taken to market that day
However particularly white asparagus (Weisse Spargel) is sold.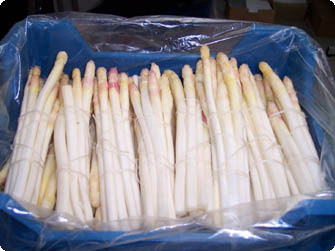 On my Eimer Liste (Bucket List) is to go on a "Tour de Spargel"
on a bicycle. There are several Spargel routes you can take
the Baden and the Lower Saxon.
Spargelzeit Info

Spargel History in Germany

Spargelfests ( Spargel Festivals )

Spargel Tours
How to Cook Spargel (Asparagus)
~☼~☼~☼~☼~
The Complete Collection of Out Cookbooks
Our Cookbooks only 40.00 dollars for the set.
Makes a nice gift... order the complete set here

Recipes from a German Grandma
go here for more details
with bonus CD with
most of the recipes with step by step pcitures.

Get in a Pickle

Over 50 pickle recipes plus spices to make your first pickles and your own corned beef
more details on this book

also with CD with step by step pictures of how to make your own corned beef.


From Germany with Love

This is a follow up to "Recipes from a German Grandma' a full biography of Emma Block from growing up in Germany to coming over here as a young adult and living as a German-American in the early and mid 1900's.
Like our German Recipes and Newsletter?
You might like our Cookbooks
Our Family
Cookbook

Only
16.97

Comes with
28 Bonus Recipes
with Step by Step color Pictures

(See below)
| | |
| --- | --- |
| Below are a few of the Step by Step Recipes Featured | |
Sauerbraten

Bratwurst

Pan fried Chicken Schnitzel

Apfel Strudel

Old Fashioned Home Made Noodles

German Potato Salad

Springerle

Spätzle

Gefulte Nudeln
From the German Deli
Germandeli.com
"HoWe"
Nuremberg Bratwurst
$4.99 On Sale! $3.74
7oz (8 links)
For the first time EVER we have authentic German Bratwurst actually made in Nürnberg and imported fresh from Germany. Produced under the highest quality standards and USDA approved. These sausages are made from a traditional 1313 recipe (which would make it a 698 year old recipe). It doesn't get any better than this. It's so delicious you won't need to add mustard. This Nürnberger Bratwurst is fully cooked just heat and serve. Can be pan fried or grilled. Each package contains eight (8) small Bratwurst similar in size to American breakfast sausages. Each sausage measures approx. 3.5" in length.
Storage: Refrigeration recommended but can be frozen too.

How was the size of the Nuremberg Sausage created?
According to legend, Hans IV. Stromer (1517-1592), a judge in the medieval times, was imprisoned for life for revealing an important political secret. In those days, life-term in prison meant that once the dungeon doors were shut, you never again left your cell. Prisoners depended on family members for their food. Since he was a high ranking prisoner, Stromer was granted one reasonable wish. That wish was to be allowed 2 Bratwursts daily until the end of his days. So, his family made a Bratwurst so small that it could be passed through the keyhole of the prison door. In deference to the legend, all "Nürnberger Bratwurst" now made in Germany are required, by German law, to include certain ingredients in specific proportions. The law specifies that the sausages must be a certain length and diameter, and must be produced within the city limits of Nürnberg.
Order Nuremberg Bratwurst here
~~~~~~~~~~~~~♪♪♪~~~♪♪♪~~~~~~~~~~~~~
German Music
I was lucky enough to host my dear friend Oliver Mühling and his son
Daniel from Sinsheim in Baden, Germany for the last few weeks.
We found a Pub in San Diego where we could watch the Soccer (fußball) championships where his beloved team Bayern München defeated another German team Borussia Dortmund.
Olli wanted to share some of his favorite songs that are played at
Bayern München Soccer matches.
Here is a Bayern München theme song
~~~ ♪♪♪~~~
~~~ ♪♪♪~~~
Deutsches Showballett Berlin
mit dem Zillertaler Hochzeitsmarsch
This is the song that is played after Bayern München scores a goal, although if a player
that is on the team but not from Germany sometimes a different song is played.
~~~ ♪♪♪~~~
Borussia Dortmund Song - Heja BVB
The rival team in the chamionships Borussia Dortmund BVB theme song
~~~ ♪♪♪~~~
~~~~~~~~~~~~~♪♪♪~~~♪♪♪~~~~~~~~~~~~~