Idar-Oberstein
Home of the Rock Church.

Spiessbraten
Spit Roasted Pork Roast




Beef Schwenkbraten
August Goerg Steak

Rettichsalat
Goes well with the steak and is traditional
Ever wondered if they do Steaks in Germany? The answer is yes! When I first heard about the Schwenker style of cooking steaks in this part of Germany I was very interested, and every year I learn a bit more to add to my repertoire.

Idar-Oberstein in the Rhineland is where precious gems have been mined for centuries. When the mines were sparse they traveled all the way to Argentina and brought back more than gems, knowledge from the Gauchos their techniques for cooking steak.

They are also famous for roasting on a spit or rotisserie making Spiessbraten. Trudy Maynard that lived nearby told me about how this is so popular you can get your meat prepared by the butcher and you stuff it with onions salt and pepper before you secure it onto your spit.

The centerpiece of the this town of 30,000 is a church built into a Huge Rock wall called Felsenkirche. Doll Alexander who was a tour guide in Idar-Oberstein told me about the interesting real life legend around how this was built that you will never forget. Now next time I write about Idar-Oberstein hopefully I can tell you first hand!



~☼~☼~☼~☼~
Idar Oberstein
and
The legend of the Felsenkirche (Rock Church)
Last year I wrote about an area in Germany that fascinates me in the Rhineland called Idar Oberstein
Because of their history they developed a wonderful method of cooking steaks and roasts both
pork and beef. Read more about the history of Idar Oberstein here.
.
Actually not a legend but true! At least probably most of it. The idea for the Felsenkirche (Felsen = Rocks Kirche = Church)
started with 2 brothers that loved the same woman living in the Castle Bosselstein in Oberstein, Germany in the 15th century.
Felsenkirche
Literally means Rock Church

All that remains today of "Castle Bosselstein" as the home of Wyrich and Emich was once known. It was erected around 1196.

The church is the centerpiece of the town. What other city has a church built into a large rock formation and you enter through a tunnel, and the houses are built into the rock?

High above the city of Oberstein, above the church, stands the ruin of what was once the seat of the Lords of Oberstein.

In the middle of the 14th century, two brothers lived there: Wyrich, the oldest, and young Emich. Unbeknownst to each other, they both loved the beautiful maiden Bertha, a Lady of Castle Lichtenburg (not too far away from Oberstein). She, in turn, had lost her heart to Emich (and vice versa) and consented to become his wife. Wyrich was absent from the castle as the engagement took place.

Learning of this upon his return, he felt betrayed and being quite hot-tempered, he attacked his brother and threw him out of a window; the young man plummeted to his death on the rocks some 450 feet below (death by defenestration!).

When he realized what he had done, Wyrich was overcome with remorse and fled the castle, traveling for long years, in vain seeking his own death in battle until one day he decided to return home.

Bertha had died in the meantime ... presumably of a broken heart. At her grave- side, Wyrich confessed his horrible deed to the abbot. For a penance, this abbot bade him to build a chapel on the place where his brother's broken body had been found, build it with his own two hands. Wyrich went to work like a man possessed, all the time praying that he might find forgiveness.

When this lab our was completed, it was taken as a sign that his penance was complete also, his sin forgiven, as a spring opened up within the chapel (a spring which remains active today).

Wyrich himself died at the steps of the altar as the chapel was being consecrated. He was buried in the same tomb that he had hewn out of the hard rock for Emich -- the two brothers united, at last, in death.

Thank you to Doll Alexander


The Spring inside the Felsenkirche
~☼~☼~☼~☼~
Spiess means, like a spit or skewer and braten means roasted. I finally got the picture this year and got a rotisserie. My German friends
from Idar Oberstein suggested it, and they cook this way all the time. Trudy Maynard says that this roast can be done regular or stuffed
with onions, salt and pepper. I will try that next, I love the spices of the Schwenkbraten and decided to do that instead, though the
traditional Idar Oberstein way is just onions and salt and pepper.
Come into our kitchen
and let's prepare and
spit roast a Spiessbraten with step by step pictures.
~☼~☼~☼~☼~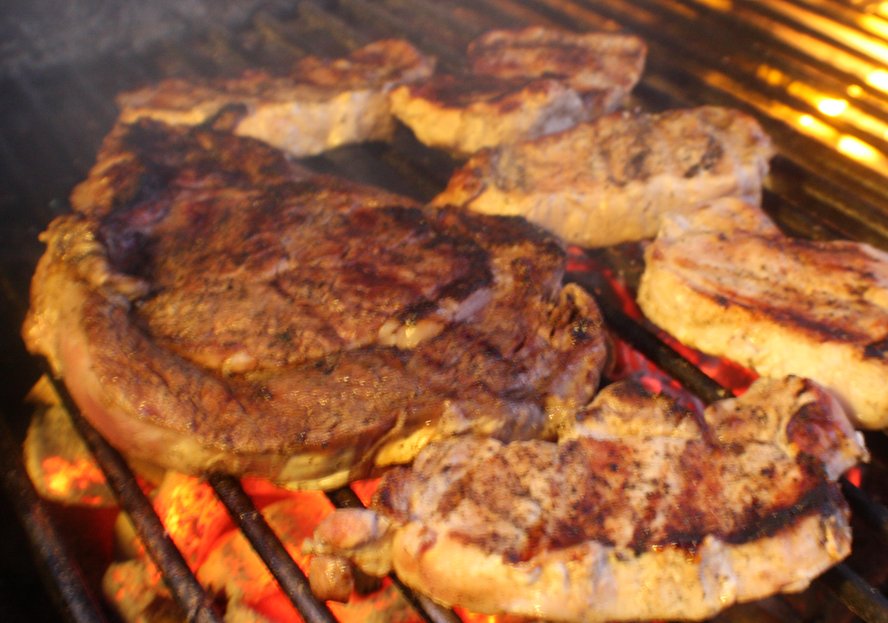 Probably Idar Oberstein is the steak place of Germany, as maybe Texas might be in the U.S. Although steaks are everywhere now,
at one time you think Texas you think beef. The Rib Steak is definitely the choice of the Steak Schwenkers in Idar Oberstein.


I know an Argentinean Chef Hector Salvatierra that taught a class in Argentina steak cooking and said this beef in his home country is plentiful and a pound of beef a day per person is not unusual. I got the idea they knew something about cooking steak.

I also found a similar recipe in "The Cuisines of Germany ". The author Horst Scharfenberg talked about the history of Idar Oberstein,
and his friend August Görg refined the techniques for cooking steak that the Hünsruck prospectors learned in Argentina from the Gauchos.
We sliced the meat and laid it on the onions, along with a pork loin steak that we marinated the
same way.
Come out to our grill and even though
we don't have a Schwenker grill yet
let's make this great Steak Schwenkbraten
~☼~☼~☼~☼~
Rettichsalat
Radish Salad
in this case a white radish, not a red radish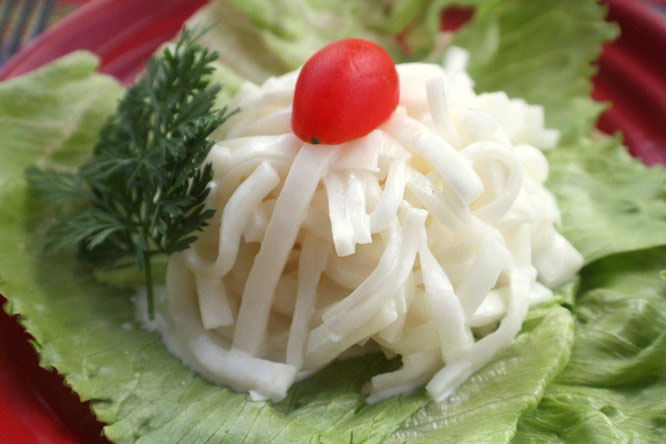 I served it with Rettichsalat German potato salad, but grilled potato wedges are excellent as well.
Another tradition is to serve a slice of Baurenbrot with it.
Come into my kitchen and
let's make a Rettichsalat !

~☼~☼~☼~☼~
Our Goulash spice blend features 3 different paprikas (Hungarian Sweet, Smoked Paprika,
just a tiny amount of Medium Spicy Hungarian Paprika, toasted Caraway and Cumin seeds, Bay Leaves.
Great German flavor for stews and soups comes from the right spice.
This Summer Special Includes:
A recipe book and short biography of my Grandmother Emma Block. Her recipes, culture and cooking styles that were brought over from Germany. How they evolved when she came to America in the early 1900s and settled in Portland, Oregon on the west coast of the United States. Over 100 recipes

Bonus Recipe CD with the Ebook and recipes with step by step pictures

Goulash Ebook
10 Goulash recipes

1.5 oz package (1/3 cup)
of Goulash Spice Mix
enough to make most of the recipes.
Order the Summer Special Here
16.97
plus S/H
2.97
plus S/H
~~~~~~~~~~~~~~~~~~~~~~~``
~☼~☼~☼~☼~
Like our German Recipes and Newsletter?
You might like our Cookbooks
Our Family
Cookbook

Only
16.97

Comes with
28 Bonus Recipes
with Step by Step color Pictures

(See below)
| | |
| --- | --- |
| Below are a few of the Step by Step Recipes Featured | |
Sauerbraten

Bratwurst

Pan fried Chicken Schnitzel

Apfel Strudel

Old Fashioned Home Made Noodles

German Potato Salad

Springerle

Spätzle

Gefulte Nudeln
~☼~☼~☼~☼~
~☼~☼~☼~☼~
Oktoberfest Hits
donated by Gert Retner
I am From Bavaria
Jürgen Birlinger
~~~ ♪♪♪~~~
~~~ ♪♪♪~~~
Best of Oktoberfest -
Die schönsten Oktoberfest Hits 2013 | WIESN HITS
~~~ ♪♪♪~~~
OKTOBERFEST WIESN-HIT 2013 -
ZASCHA "SAUF MA NO A MASS
~~~ ♪♪♪~~~
WIESN HITS 2013 | Oktoberfest Hits 2013 - Wiesn Musik - Wiesn P
~~~ ♪♪♪~~~
~~~ ♪♪♪~~~
~~~~~~~~~~~~~~~~~~~~~~~~~~~~~~~~~~~~~~