The German Influence of Corned Beef and Cabbage

Corned Beef, Sauerkraut and Potato Auflauf (casserole)

Corned Beef Salat

(Corned Beef Swiss and Pickles)

Labskaus
Very traditional Northern German dish with Beets, and pickled herring

Corned Beef Kohlrouladen
A cabbage Roll is the perfect way to express your fillings.

Dublin Coddle
Could easily be a German Dish
Scroll down for the Newsletter
The German Influence of Corned Beef and Cabbage
~~~~~~~~~~~~~ ♣♣♣~~~♣♣♣~~~~~~~~~~~~~
I know St. paddy's is come and gone, so I thought maybe you might have some Corned Beef left over. I have found over the years writing about Corned Beef that many folks cook corned beef for a delayed St. Patrick's Day celebration so they can have the brined brisket special that pairs so well with cabbage at least once a year.

I often try to share the German influence in many of our food traditions and I think that there is certainly some with this dish. Especially using the Brisket....

John King my chef friend and food historian of sorts wrote and talked about the German influence on Corned Beef Brisket and Cabbage. I thought it was interesting enough to share.

The popularity of Corned Beef and Cabbage in the United States is due most likely with the German Jews that migrated to the US. In Ireland you would generally make a Bacon Joint and cabbage, which is a cut of pork that isn't like our bacon at all but more like Canadian bacon. This cut was hard to find outside of Ireland. They found a Corned Beef Brisket in the German Jewish deli's that worked well.. Cattle ranching was very popular in the vast young United States, so the availability was easier. Brisket was the favorite of German Jewish Deli owners and they loved to corn it and also make pastrami.
If you are still planning to make Corned Beef and Cabbage soon
here are some tips on cooking corned beef the way our family loves it.
~~~~~~~~~~~~~ ♣♣♣~~~♣♣♣~~~~~~~~~~~~~
Corned Beef, Sauerkraut, Potato Auflauf
( Casserole)
This is a nice layered dish that you can use all kinds of different baking vessels and create
different layers with corned beef, seasoned sauerkraut, Emmentaler cheese and cream sauce
that is like a great Reuben sandwich filling casserole with a potato topping.
| | |
| --- | --- |
| You can also use sliced potatoes as a topping for the Auflauf. | A crumb and cheese topping are my choice as a wonderful crunchy finish. |
Even though Sauerkraut and Emmentaler cheese are certainly German the
Reuben sandwich isn't. But with the rye bread this United States invention
must have had some German influence somewhere.

Go here for the recipe for Corned Beef,
Sauerkraut, and Potato Auflauf
~~~~~~~~~~~~~ ♣♣♣~~~♣♣♣~~~~~~~~~~~~~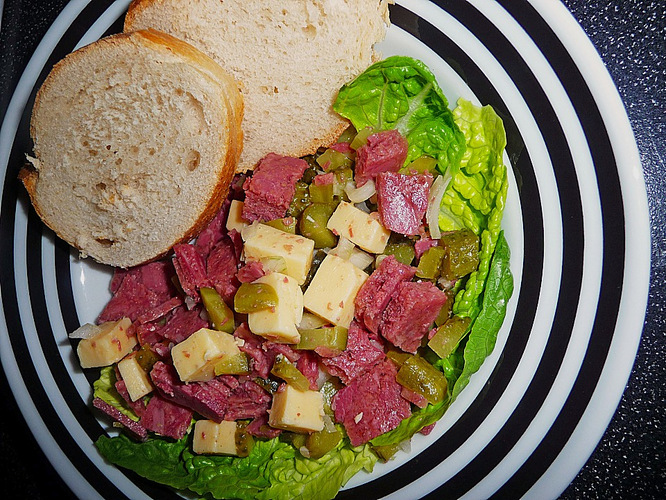 This salat is simple and easy to make and a refreshing lunch or lite supper.

You can of course add different vegetables like tomato, asparagus tips, etc but
I suggest to keep it simple. One or two more items can be good, but too many can become confusing.
and with the dressing as well.
Go Here for the Recipe for Corned Beef Salat
~~~~~~~~~~~~~ ♣♣♣~~~♣♣♣~~~~~~~~~~~~~
This is basically a Corned Beef Hash with beets added.

The name sounds a bit strange and the origin is uncertain...
The word comes from lobscouse (originally lob's course) or lapskaus, Norwegian (just north of Germany) for "stew" and refers to a meat based stew commonly eaten by sailors throughout Northern Europe, which became popular in seaports such as Hamburg, Germany.
To most of us in the states this is an interesting take on Hash or Corned Beef Hash
in that it uses beets to not only flavor it but give it a nice color. Barbara Schmidt from our Facebook page said that this dish came with some immigrants from Germany to the Northeast U.S. where she lives and they call it Red Flannel Hash.
This dish was popular for the sailors and dock workers around the seaport city of Hamburg and remains to this day. My grandmother spent a night in Bremen (near Hamburg) the night before she immigrated to America from the port in Hamburg in 1904, she was 14. I wonder if she had Labskaus for breakfast?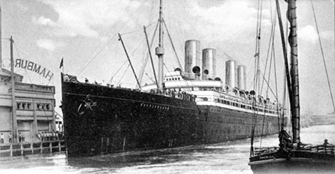 It is often served with roll mop ( Herring stuffed with a pickle) and spears of pickles
I also see pickled beets being served with it.
Come into my kitchen and let's make
Labskaus
with step by step pictures
~~~~~~~~~~~~~ ♣♣♣~~~♣♣♣~~~~~~~~~~~~~
Thank you to Sylvia Norris for this recipe
The Cabbage leaf is a perfect device to show off a nice filling.
Braised low and slow, the cabbage doesn't disintegrate but becomes
tender and one with the filling.
Looking for a good way to use up your corned beef?
Try this one.

Sylvia Norris sent me this recipe from
Whole Foods website
Called
Corned Beef Kohlrouladen
that I modified slightly,

If you want some pictures to show you how to cook and blanch cabbage
Leaves and stuff them. Also how to make a nice sauce for cabbage rills

Come into my kitchen and let's make
Kohlrouladen
With Step by Step Pictures
~~~~~~~~~~~~~ ♣♣♣~~~♣♣♣~~~~~~~~~~~~~
Dublin Coddle
Layered Stew of Potatoes, Bacon , Onions, Bratwurst
My Friend Allan Marcotte who is German American told me last year he was making this Irish dish on St. Patrick's Day. Potatoes and suggested it's German like qualities. There are several things that
really seem German to me. Bratwurst, Potatoes and and a layered stew are all things I see in German
I really endorse this dish, what a great flavor.
Come into my Kitchen and let's make
Dublin Coddle
with Step by Step Pictures
~~~~~~~~~~~~~ ♣♣♣~~~♣♣♣~~~~~~~~~~~~~
Like our German Recipes and Newsletter?
You might like our Cookbooks
Our Cookbooks only 40 dollars for the set.
save 9 dollars plus shipping costs by ordering all 3 books at once.
Makes a nice gift... order the complete set here

Recipes from a German Grandma
Our cookbook with over

Get in a Pickle

Over 50 pickle recipes plus spices to make your first pickles and your own corned beef

From Germany with Love
Our Family
Cookbook

Only
16.97

Comes with
28 Bonus Recipes
with Step by Step color Pictures

(See below)
| | |
| --- | --- |
| Below are a few of the Step by Step Recipes Featured | |
Sauerbraten

Bratwurst

Pan fried Chicken Schnitzel

Apfel Strudel

Old Fashioned Home Made Noodles

German Potato Salad

Springerle

Spätzle

Gefulte Nudeln
~~~~~~~~~~~~~ ♣♣♣~~~♣♣♣~~~~~~~~~~~~~
From the German Deli
Germandeli.com
| | | |
| --- | --- | --- |
| | | |
~~~~~~~~~~~~~~~~~~~~~~~~~~~~~~~~~
German Heritage Festival
My friend Rolf Erhard, of Kartoffelpuffer fame
told me about this one!
The 12th Annual Tomball German Heritage Festival will be March 30, 31, & April 1

located on the Old Downtown Streets of Tomball Texas near 201 S. Elm Street, Main Street (FM 2920), and Market Street. It is a Music/Street festival celebrating German and ethnic heritage with 4 stages of live music entertainment "happy music for happy people", ethnic and festival food, beer, wine, 150 street vendors, all kinds of German souvenirs and clothing, arts crafts, antiques, Heritage Center, German church service, fireworks, carnival, pony ride, petting zoo, strolling music makers, street performers, and much more. Like Oktoberfest in March! Huge fun for the whole family! You do not have to be German to enjoy this festival. It is fun for everyone, and there is no admission or parking fees.
I love the Brat on a Stick with the Brotchen!
More info here
~~~~~~~~~~~~~♪♪♪~~~♪♪♪~~~~~~~~~~~~~
~~~~~~~~~~~~~♪♪♪~~~♪♪♪~~~~~~~~~~~~~
German Music
Kirsti Sparboe , Ich hab `in Essen mein Herz vergessen
~~~~~~~~~~~~~♪♪♪~~~♪♪♪~~~~~~~~~~~~~
~~~~~~~~~~~~~♪♪♪~~~♪♪♪~~~~~~~~~~~~~
Kirsti Sparboe - En Sommer Er Over (1972)
~~~~~~~~~~~~~♪♪♪~~~♪♪♪~~~~~~~~~~~~~
KIRSTI - UND DIE SONNE GEHT AUF
~~~~~~~~~~~~~♪♪♪~~~♪♪♪~~~~~~~~~~~~~
Ein Student aus Uppsala - Kirsti
~~~~~~~~~~~~~♪♪♪~~~♪♪♪~~~~~~~~~~~~~
Kirsti Sparboe - Hjem (Home On The Range)
~~~~~~~~~~~~~♪♪♪~~~♪♪♪~~~~~~~~~~~~~