One of the signs of Spring ages ago in Germany was dandelions pushing their way up through the soil. Since folks had no supermarket to go to they spent the winter eating pickled or jarred vegetables, and maybe some root vegetables that were in the cellar. Sauerkraut is wonderful but you get a hankering for anything fresh being cooped up for months.

Leave it to the Germans to learn how to make dandelion greens delicious! Though there is a slight bitterness like Radichio, kale and other artisan greens that are so popular now you can add other flavors that round out that sharpness and you have a dish with a splendid dimension of tastes.

They also made syrup and wine from the flowers, and even a coffee like beverage from the roots. There are even festivals to celebrate this welcome weed. We don't have many here where I live so I had to buy them at the Farmers market. Who would have thought I would pay 4 bucks for a small bunch dandelion leaves! I want to show you how to make a few salads with them. Burr Fischer also shares his Spring Tonic meal that was traditional in the Pennsylvania Dutch country.


Recently at my Dad's house my father got to see his first great grandchild that was born in January this year.

Here we are 5 generations, ..the 1st being the street in the
picture where my grandma in Germany grew up. Me, Dad, little Dash Derrick Ihander and my daughter Sarah Ihander.

We celebrated by having a dish to celebrate the Spring, and long awaited sun,. Hawaiian Schnitzel. We also made some of the dishes that Grandma always made, Rouladen, Spaetzle, Red Cabbage (Rotkohl) and Kartoffelpuffer. (German potato pancakes)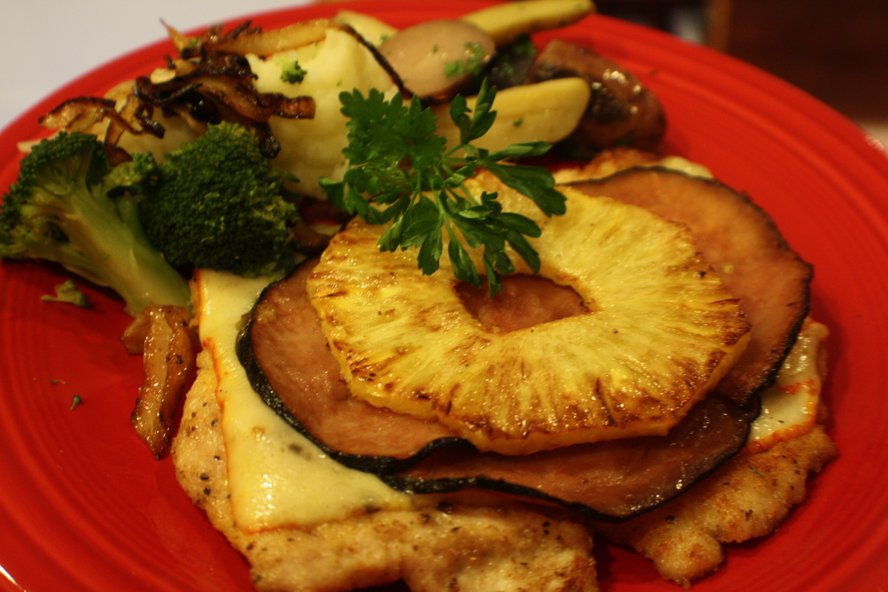 Precise Germanic Fusion is this dish! The crispy thin Schnitzel,
with a Cordon Bleu topping and the fresh grilled pineapple ring gives a nice sweet contrast.
Go here to make Hawaiian Schnitzel with step by step pictures
~☼~☼~☼~☼~
Our Family
Cookbook

Only
16.97

Comes with
28 Bonus Recipes
with Step by Step color Pictures

(See below)
| | |
| --- | --- |
| Below are a few of the Step by Step Recipes Featured | |
Sauerbraten

Bratwurst

Pan fried Chicken Schnitzel

Apfel Strudel

Old Fashioned Home Made Noodles

German Potato Salad

Springerle

Spätzle

Gefulte Nudeln
~☼~☼~☼~☼~
Dandelions, a German sign of Spring
Those Pesky Dandelions....
At the Dandelion Festival in Dover Ohio they say , don't kill the dandelions in your yard,
embrace them and eat them! In fact you can make all kinds of things from them.
Before the age of high tech distribution in Germany they often went without fresh vegetables
all winter. Often one of the first things to pop up in Spring were Dandelions. As you know they
don't need much coaxing to grow. In fact in Europe and in some parts of America they have a
festival to celebrate dandelion season.
Read more about dandelion festivals and other foods you can make from them
German Goodies Newsletter All About Dandelion Issue


Now it is very healthy to eat some of these dark greens that are packed with nutrients and phyto chemicals.
So along with that Kale maybe pick up some dandelion greens.
I made a couple salads this year out of dandelion greens
Dandelion Green Salad
with Vinaigrette and chopped egg
(Löwenzahnsalat mit Eier Salatsosse)
This one is has a vinaigrette dressing with hard cooked eggs and mustard
~~☺~~
This one blends a hot German potato salad with the greens.
Go Here for Dandelion Green Salad Recipes
with Step by Step Pictures
~~☺~~
Here is the salad we made with baby kale with my grandma's Hot Bacon Dressing
Here is the Recipe for Hot Bacon Dressing
~~~☺~~~☺~~~☺~~~☺~~~
Spring Tonic
for the Pennsylvania Dutch

Burr Fischer sent me a picture of a meal that was a tradition in the Pennsylvania Dutch area where he grew up. The onset of a fresh vegetable was like a tonic to the Winter weary German soul, in Lancaster, Pennsylvania.
Here is Burr Fischer's "Spring Tonic" Meal
Fresh dandelion greens on top of a smashed potato
and topped with hot bacon dressing with hard boiled eggs.
Go here for the Recipe
~~~☺~~~☺~~~☺~~~☺~~~