A "Toast' and a "Schmeer", which means a paste but also a mix .. .and the way my mind works for some of my newsletters, So here are some goodies and recipes that are somewhat tied together and what has been going on in me and my friends kitchens... .

I have for quite sometime now been intrigued with the food from the Saarland and nearby Idar-Oberstein. It's on my list to go see in Germany. My friends Trudy Maynard, and Pattie Abbot, who grew up or spent a lot of time there are sharing with me some of the Unique German culture and foodways.

I got a request from Tony about an egg mix that was scrambled and served on toast his German grandma use to do and I thought, so why would that be hard? Intrigued if I was missing something I posted it on our Facebook page and got some great answers from Hannelore and others to this colloquial dish that they grew up with called Eierschmeer, that is an (Egg Spread) and served on toast, however it uses bacon, and was designed to expand the eggs with milk and flour because food was scarce.


I also have seen some other great open face snacks or light meals served on toast so I am begining to think this is a truly German thing, So I Toast this newsletter to Eierschmeer, Toast Hawaii, and Strammer Max ... Also Plum Kuchen and Bohnensuppe a great combination!
Saarländische Eierschmeer
Eggs and bacon scramble on toast
Saarland style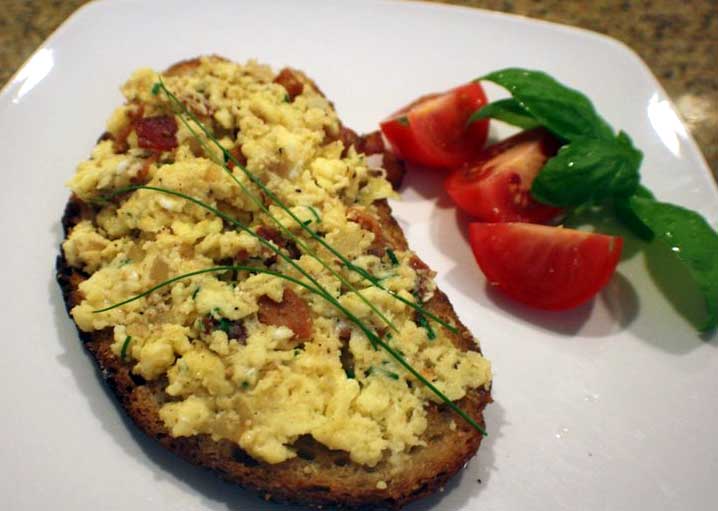 The dish comes from the Saarland area which is one of the states in Germany. Saarland is also known for the famous dishes Spiessbraten and Schwenkbraten. The word Eierschmeer is roughly translated as Egg Spread. Eier = egg and Schmeer (A mixed paste) is where we get the word smear in English.

This simple recipe was originally designed to extend your eggs, which has been important down through the tough times in Germany's history. You can wing this by adjusting the milk and flour depending on how many eggs you have. Some of the recipes used water when you didn't even have enough milk to go around.

The texture is interesting and different than scrambled eggs and will of course change depending on the ratio of milk , eggs and flour.

This is a typical Saarland dish created by Hausfraus trying to feed a working class folk of miners and farmers.

An interesting tradition in the Saarland is to serve a sweet and savory together such as a potato soup(kartoffelsuppe) or a Bean soup with a Plum cake
Zwetchgenkuchen. Although the colloquial name for them though is Grumbeersupp mit Quetschkuche

So below I include recipes for Plum Kuchen and Bohnensuppe mit Buttermilch (green bean soup with buttermilk)
Gourmet Cycling in the Saarland

Cycle through gentle rolling hills, nestled in the border triangle France, Luxembourg and Rhineland-Palatinate, and enjoy first-class cuisine and selected wines. On a 7-day bike ride to the Saarland experience the diversity of a region with boundless charm. Look forward to your fun-filled tour to vast forests, orchards, vineyards, idyllic rivers and lakes. You will be rewarded every day with a great menu, and you can stay in a bike-friendly hotel. Enjoy typical Saarland dishes or enjoy extensive gourmet menus.

~~~~~~~~~~~~~~~~~~~~~~~~~~~~
Our Family
Cookbook

Only
16.97

Comes with
28 Bonus Recipes
with Step by Step color Pictures

(See below)
| | |
| --- | --- |
| Below are a few of the Step by Step Recipes Featured | |
Sauerbraten

Bratwurst

Pan fried Chicken Schnitzel

Apfel Strudel

Old Fashioned Home Made Noodles

German Potato Salad

Springerle

Spätzle

Gefullte Nudeln
Toast Hawaii
This was invented by a famous German TV chef in the late 50's
named Clemens Wilmenrod. He was famous for creating simple dishes that a Hausfrau would have the ingredients already on the shelf. Wilmenrod's "Toast Hawaii" used sliced ham, canned pineapple and sliced cheese and in a manner of minutes you could put an exotic dish
to your dinner table.

Clemens Wilmenrod
Clemens Wilmenrod with another signature dish
Gefüllte Erdbeeren
( Stuffed Strawberries)

The recipe is simple you hull the straw
berries and stuff them with peeled and blanched almonds
Here is the simple recipe for Toast Hawaii
4 Slices good white bread
8 slices of canned pineapple
which is a traditional from the 50's
You can also use fresh pineapple if you want.
4 nice slices of ham
4 slices of Emmentaler cheese
2 tablespoons butter
2 tablespoons sugar
8 maraschino cherries with stems



1. Melt 1 tablespoon of the butter in a pan and add the sugar then the pineapple rings.
Cook for a few minutes to brown the rings and caramelize the sugar.

2. Toast the bread then butter each slice of toast, then put on a slice of ham, 2 pineapple rings and top with a slice of cheese.

3. Place under a broiler to melt the cheese and lightly brown.

4. Place finished toast on plate and top with 2 cherries in the centers of the pineapple.

Some Germans will refine this dish bringing it from the 50's into the present by substituting pears and camembert , cranberries.

The simplicity of this is very elegant to me.
From this web site

~~~~~~~~~~~~~~~~~~~~~~~~~~~~
Here is another German specialty served on toast
Strammer Max
Leberkase on Toast with Grilled Onions
and a Fried Egg
Here is another German specialty served on toast. It consists of slices of Leberkäse (a
German style meatloaf) and onions fried in a skillet, then placed on buttered toast
then topped off with a sunny side up fried egg.
It will put hair on your chest, I am told that is somewhat the meaning of
"Strammer Max".
Go here to make Strammer Max
and also will show you how to make
Leberkäse
~~~~~~~~~~~~~~~~~~~~~~~~~
Pflaumenkuchen or Zwetschgenkuchen
| | |
| --- | --- |
| Pflaumen | Zwetschgen |
Plums are coming into season in the northern hemisphere. ( remember that so many with German heritage are in countries like Australia, South Africa and South American countries like Argentina and Brazil where it is winter right now.) There are 2 different types the Pflaumen which has a clingier pit and what I see most often in the supermarket. The Zwetschgen is a darker plum with a non cling pit that has a rich flavor and the choice of my grandma for plum Kuchen.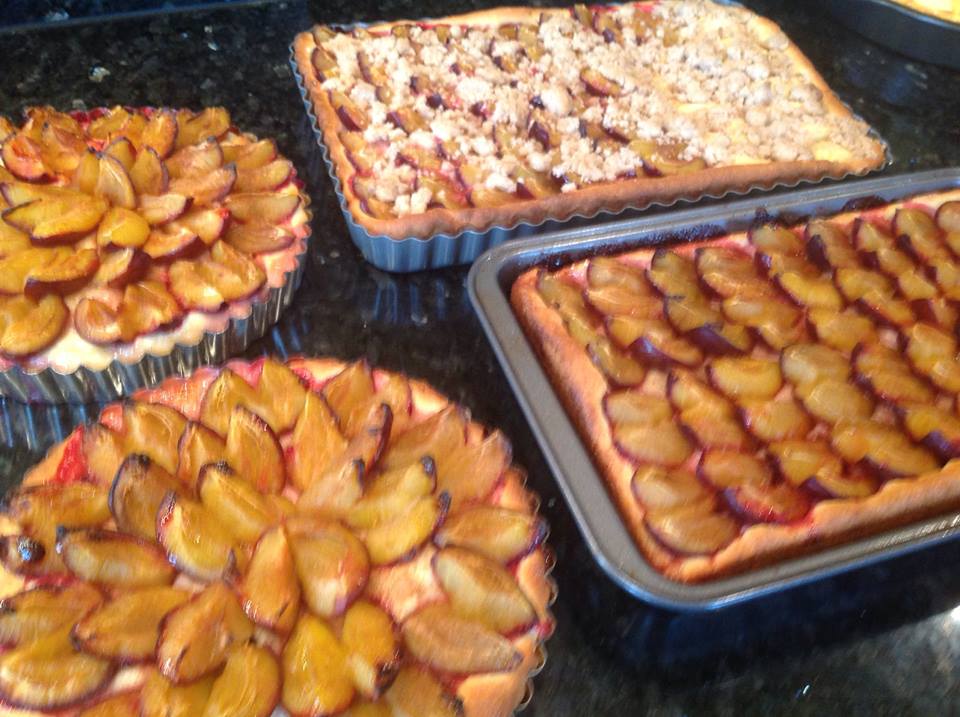 Trudy Maynard that has spent a great deal of time near the Saarland area sent me this picture
of her first Plum Kuchens of the season.

Go here to make the traditional Plum Kuchen
my German grandma taught me
Here is another style to make plum Kucken that is like
a pizza, and easy to eat with the hand, and goes well with the recipe
below.

This is a nice recipe that is simple in that it has a sheet of dough and folds over the sides to make a border.
Soup and Kuchen
A tradition in the Saarland is to serve a sweet and a savory together like this plum kuchen and a
potato soup. They call it Grumbeersupp mit Quetschkuche (Potato soup with plum cake).
You can see the different spellings for Kartoffelsuppe and Zwetschgenkuchen. This is often the case, different parts of Germany, different spellings.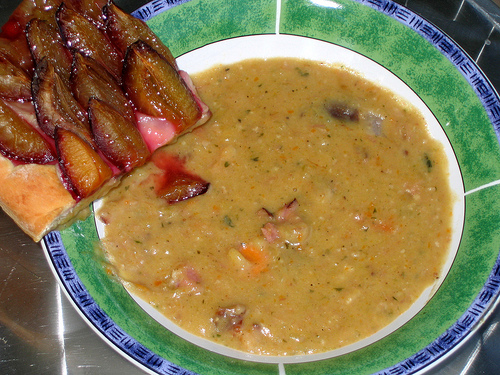 from this website
Grumbeersupp mit Quetschkuche (Potato soup with plum cake)
Gumbeere is a word for potato in Saarland. Normally we would say
Kartoffel. An interesting way of spelling Zwetschgenkuchen as well.
This Potato soup from the Saarland isn't light colored like most we think of.
That is because it has other goodies in it like carrots, celery and even sometimes
tomato.
Also a bean soup works well.
Sounds to me like a great summer dinner combination
Here are a few recipes
Bohnensuppe mit Buttermilch
German Green Bean and Buttermilk Soup


This is very typical of German creamy soups where the base is a potato soup,
then you add other vegetables.
The secret is in the way you Puree the potatoes.