While you read the newsletter here is some good Rosenmontag and Shunkeln music (linking arms and swaying back and forth)
Karneval and Fasching in Germany
(Like Mardi Gras)
While American's are celebrating Mardi Gras, the Germans call it ...Fastnacht, Fasching, or Karneval
depending on where you are in Germany.
| | | |
| --- | --- | --- |
| | | |
Today is called Rosenmontag
Rose Monday and there are parades in different parts of Germany.
Fasching and Karneval is a time when there are costumes, parades and all sorts of craziness. This climaxes on what is called Fastnacht, ( the night before the fast) which is called Mardi Gras in much of the world or Fat Tuesday. It's root's go way back to ancient Roman times.
The difference between Fasching and Karnevale

The History of Mardi Gras

Rome conquered Germany as far as the Elbe River , ( in the Rhineland area). The Romans took their beloved festival that they called Carnevale, wherever they went. It was accepted heartily, and to this day is still celebrated in the Catholic areas of Germany. This makes a lot of sense, because the people of the cities were ruled with an iron fist, and were couped up all winter, and needed a good release. No one understood this more than the ruling class.

So they had parades and costumes. They towns folk elected their own king and queen, and the rulers for this festival

waited on the peasants!

They object of the costumes was to mock the leaders and Church officials and embarrass them as much as possible. In the big halls people sit at long tables, eat and drink, sing and listen to clowns or jokers who again ridicule the whole establishment. The jokers are called "Buettenredner". The name derives from the fact that the joker often stands in a fat, (Buett) which was used to wash the dirty laundry in. This is their aim, to wash the "dirty laundry" of the community out in the open for everyone to see, hear and laugh about. In between there is plenty of music and dancing and schunkeln, (linking arms, moving from site to site and with the rhythm of the music).
Rosenmontag Parade Last Year in Dusseldorf
Beautiful spirit filled video of this event that starts with pre- parade preparation.
Advance it 15 minutes to see parade.


~~~~~~~~~~~~~~~~~~~~~~~~~~~~~~~~~~~~~~~~

Berliner Pfankuchen
Jelly or custard donuts
This is a yeast based raised donut that you sandwich jelly inside.
simple and wonderful flavor. This is a popular donut and comes with as many different fillings as it has names.

A similar pastry is also known as
Bismarck, Krepple, Grebble, Fastnacht kuchen or Fastnachtküchle.
Come into my kitchen and let's make some
Berliner Pfankuchen together with step by step pictures
~~~~~~~~~~~~~~~~~~~~~~~~~~
also known as Grebble
This is another version of the Berliner recipe
Go here to make Krepple
~~~~~~~~~~~~~~~~~~~~~~~~~~
Like our German Recipes and Newsletter?
You might like our Cookbook
Our Family
Cookbook

Only
16.97

Comes with
28 Bonus Recipes
with Step by Step color Pictures

(See below)
| | |
| --- | --- |
| Below are a few of the Step by Step Recipes Featured | |
Sauerbraten

Bratwurst

Pan fried Chicken Schnitzel

Apfel Strudel

Old Fashioned Home Made Noodles

German Potato Salad

Springerle

Spätzle

Gefulte Nudeln
~~~~~~~~~~~~~
Schneeballen
( Twisted Pastry )
Schneeballen has been made famous in Rothenburg, Germany
a city in Northern Bavaria.
Rothenburg also known as Rothenburg ob der Tauber
which means"Red Fortress above the Tauber" (a river)
Rothenburg is known for it's Schneeballen but also it's red roof skyline.

Recipes have been around for this pastry for 300 years now, so I suppose it has stood the test of time.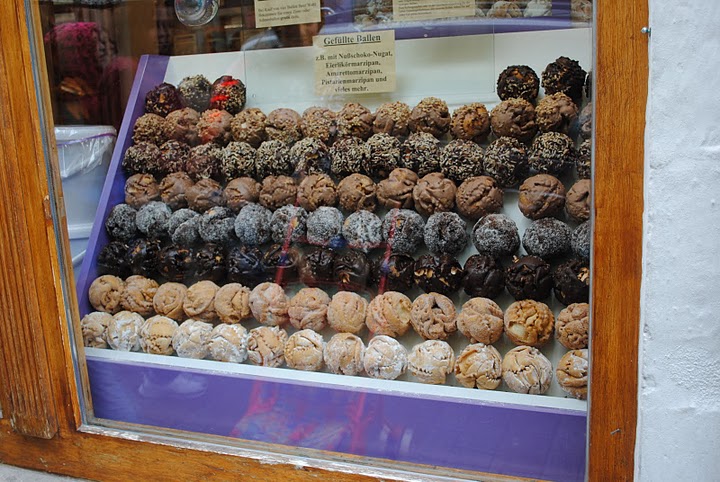 This is a Bakery window in Rothenburg and as you can see there is more flavors that just powdered sugar.
You can put marzipan in them as well.
Come into my kitchen and let's make some
Schneeballen
with Step by Step Pictures
~~~~~~~~~~~~~~~~~~~~~~~~~~
~~~~~~~~~~~~~~~~~~~~~~~~~~
This is a fun donut to make that is popular during Fasching and
made from a potato dough.
~~~~~~~~~~~~~~~~~~~~~~~~~~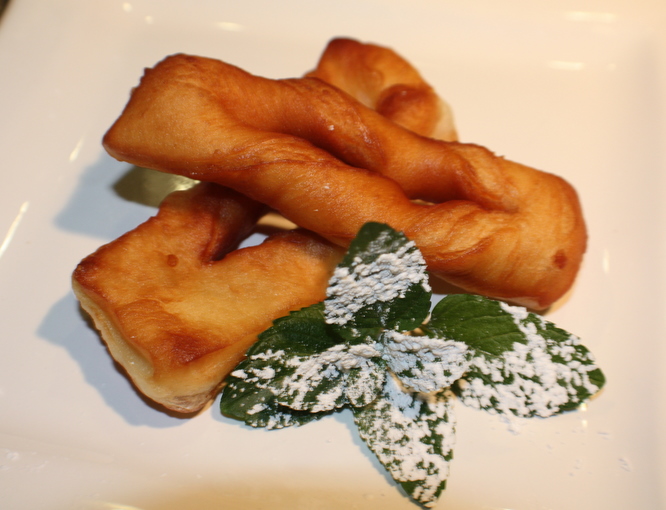 This is a cool shape with a similar dough as the Schneeballen and Angel Wings that I showed in
last weeks newsletter
Come into my kitchen and let's make some
Fasching Bow Ties
with Step by Step Pictures
~~~~~~~~~~~~~~~~~~~~~~~~~~
German Music
~~~~~~~~~~~~~~~~~~~~~~~~~~~~~
WDR Arkaden Rosenmontag 2011
Funky Mary's singing

Ich brauch kein Cabrio

Cowboys in Lederhosen
Lustige Musikanten - Schunkel-Potpourri
~~~~~~~~~~~~~~~~~~~~~~~~~~~~~
~~~~~~~~~~~~~~~~~~~~~~~~~~~~~
Maria & Margot Hellwig - Das Kufsteinlied 2003
~~~~~~~~~~~~~~~~~~~~~~~~~~~~~~~
Schneewalzer / Snow Waltz
by Peter Alexander
~~~~~~~~~~~~~~~~~~~~~~~~~~~~~~~~~~~~~~