Mother's Day started as a national holiday in the U.S. in 1914, and since 1923 it has been a national holiday in Germany as well.

The national holiday in the United States called Mother's Day was spearheaded by one woman in particular that dearly loved and respected her mother who devoted most of her life to great causes, named Anna Marie Jarvis

Muttertagsherz Kuchen

Frankfurter Kranz Cake

Schwarzwälder Kirschtorte
Black Forest Cherry Torte

Erdbeer Tortenboden
German Style Strawberry Torte

Remembrances of my German Grandma
(Emma Block)
Above is a photo of young Emma Block

(right) The home from the farm in Steinsfurt, Germany in Baden.

My Grandmother at 15 years of age left from her home in Steinsfurt, Germany early January 1904, with her older sister Sophie, and older brother Heinrich,




Here is the train station they left from in Steinsfurt. It was a long journey , going first by train North to Hamburg.
they boarded this
Ship, The Deutschland, from Hamburg and sailed to Ellis Island, New York, arriving in January 22.

To see if your relatives came into Ellis Island there is more information here
Many of my memories were of her knitting or crocheting in her chair.

I learned so much from her about cooking most of which was after she had passed.

Here she is making Gefüllte Noodles which was one of our most favorite meals and her brothers for sure.

We make them to this day for a special celebration.

Make Gefüllte Noodles in my kitchen with me here
(this may take a minute to load)

Grandma Block making Gefulte Noodles
She taught me many wonderful things about cooking. Most of them
after she had passed, from my mother and father and the
memories of eating her wonderful meals.
Frankfurter Kranz Cake
My Granda use to make this cake for special occasions.
It also is sometimes called Queens Torte or Geburstag Torte .
The Torte got it's name Frankfurter Kranz Torte , Kranz meaning "crown" in this case because the
cake was designed by a well known pastry chef in Frankfurt where the emprorer was crowned.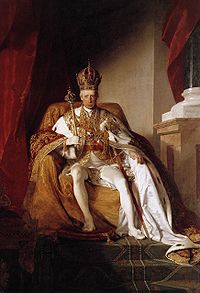 Franz 11 Emporer crowned in 1792
Originally it was baked in a ring shaped cake mold that would resemble a crown, and the nuts would resemble jewels
as would cherries resemble the rubies. Grandma left the cherries off of our cake and baked it in a large Spring form pan.
Come into my family's kitchen in Reno Nevada to make
Frankfurter Kranz Cake
with Steph by Step Pictures
~~~♥♥♥~~~♥♥♥~~~♥♥♥~~~
Like our German Recipes and Newsletter?
You might like our Cookbook
Our Family
Cookbook

Comes with over 50 Bonus recipes with Step by Step color pictures.


16.97
I include
Over 50 Bonus Recipes with Step by Step Pictures

On CD
I am very proud of these recipes as they take a lot of the
guess work out of making these fabulous German specialties.

Simply open up the recipes with step by step pictures and print out the item you like. I keep mine in a notebook.
See the Whole List Here of Recipes Here
Berliners

Apple Kuchen

Apfel Strudel

Stollen

Pfeffernusse

Lebkuchen

Springerle

Zimmsterne

Bratwurst

Sauerbraten

Rouladen

Wienerschnitzel

Old Fashioned Home Made Noodles

German Potato Salad

Potato Dumplings
(Kartoffel Knödel)

Spätzle

Gefulte Nudeln

Chicken and Dumplings

Rotkohl
(Sweet and Sour Purple Cabbage)

Potato Pancakes
(Kartoffelpuffer)
Written by my Mother, Aileen Block that patiently took time to record all the events of my grandma's (Oma) life growing up in Germany and immigrating to the United States like so many did to build a new life. Also my dad who has such a good memory helped recall many events of this wonderful story that could have been lost in time.
From Germany with Love
By Aileen Block
From Germany with Love,
This is a nice companion book to Recipes from a German Grandma
From Germany with Love tells the story of my grandma, Emma Block, from growing up in a little town in Baden/ Würtemberg, Germany near Heidelberg named Steinsfurt. Then at the age of 15 immigrating to the United States at the age of 15 taking a train with one of her sisters and brothers to Hamburg and sailing the Atlantic with other hope filled Germans wanting to make a new life in the "New World". Life was not easy but with good values she learned in her German upbringing made a full life and wonderful family with celebration including the great German meals that led us to write the book Recipes from a German Grandma.

I have enjoyed reliving this story over and over to get in touch with my German roots and I feel many of you will feel the same, as you had a beautiful loving German Grandma like we did.
Order Here
14.97
The Profiteroles (Cream Puffs) stack on top of the a puff pastry heart with a cream cheese filling.
I found this on the Essen und Trinken German Cooking Website
and thought I would make this for my wife this year.
Come into my kitchen and let's make
Muttertagsherz Kuchen with step by step pictures
~~~♥♥♥~~~♥♥♥~~~♥♥♥~~~
In Memory of my Mom
Her Favorite Cake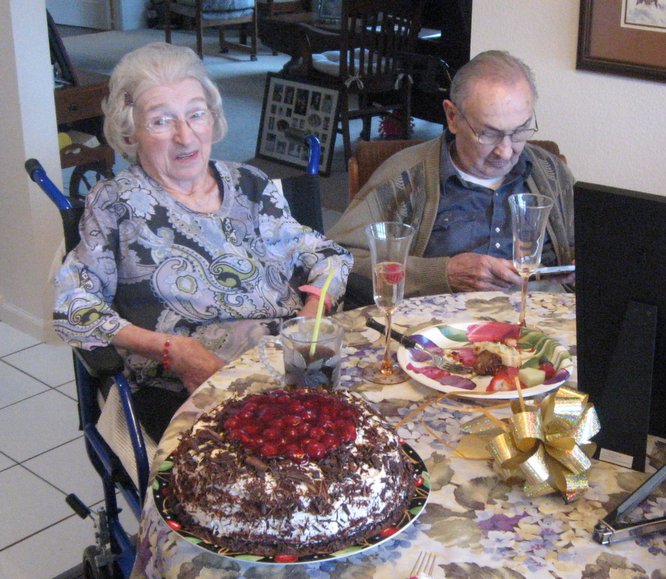 Schwarzwälder Kirschtorte
Black Forest Cherry Torte
I always think if making this cake for my mom for a special
occasion. The rest of the family loves the cake as well.
The kirschwässer (cherry brandy) gives that special flavor and moistness
to the chocolaty cake and whipped cream beats gooky powdered sugar frosting
anyday for our family. (nothing against gooky frosting)
Come into the kitchen and let's make
Black Forest Cherry Torte with step by step pictures
~~~♥♥♥~~~♥♥♥~~~♥♥♥~~~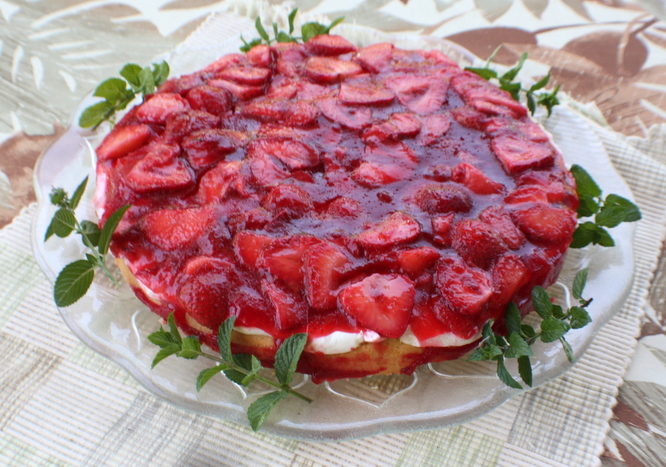 This is a great way to celebrate Mother's Day, Spring and Strawberries.

The torte has a nice layer of whipped cream and strawberries with a glaze that sets on top making a nice finish.

With a heart shapped cake mold you can make this nice style for Muttertag!
Come into my kitchen and let's make
Erdbeer tortenboden with step by step pictures
~~~♥♥♥~~~♥♥♥~~~♥♥♥~~~

Have a Wonderful Muttertag!!!!