Hefe =yeast Kranz= wreath Zopf = braided
The Hefekranz traditon of braiding goes back many years. The braiding of bread was
perhaps started as a symbolic tradition. Though it can not be fully coroborated, Max Höfer a bread researcher says that many years ago when a husband died the wife would sacrifice her life in his honor and follow him to in the grave. Later just a women's braid went into the grave and as time passed a braided loaf of bread went into the grave.
There were many ways to make a "Hair Sacrifice" be it the shaved monks head or giving a braid as the hair was
by some cultures considered the best part of you. It was also a way of honoring someone or giving a gift to
give a braided loaf to honor the deceased. It some areas it was given as a proposal of marriage.
Since then it also has been baked for many festivals, Christtmas, New Years and of course Easter.
Easter the shape is often in a circular wreath and called Hefekranz.
Some other historians claim that it was developed by the first bakers union in Switzerland started in 1256
in the middle ages. The first recorded braided loaf was in 1430.

Regardless it is nice to carry on centuries old traditions and make a braided loaf for Easter.
It is really fairly easy.
There are many ways to decorate your loaf and you can also add different fruits or nuts.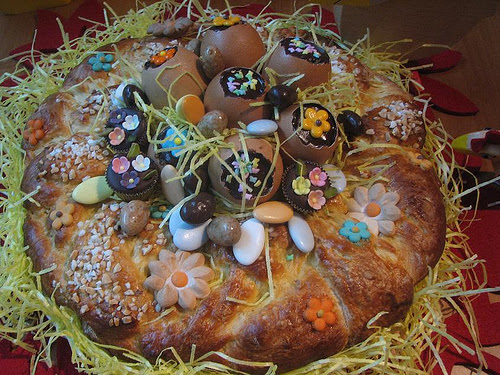 Go here to make Hefezopf and Hefekranz.
From Utta Gothardt
| | | |
| --- | --- | --- |
| | | |
Osterbrunen
(Easter Fountain)
Osterbrunen in Pottenstein, Bavaria
Osterbrunen is the tradition of decorating a well with eggs for Easter.
The well is a symbol that water is so important in life to drink and
also for crops.
The egg of course is a symbol of new life.
| | | |
| --- | --- | --- |
| | | |
German Osterfeuer
German Easter Bonfire
Upcoming
Easter Bonfire
In Frankenmuth Michigan

A German tradition is the Easter Fire (Osterfeuer)

n Germany, the Easter bonfires can trace their origin as a custom back to the 16th Century but probably date back to pre-Christian times. The light from the fire symbolically represents the driving-out of winter and the coming of warmth. The practice is also supposed to increase the fertility of fields. In the Christian tradition the Easter bonfire is a sign of the resurrection of Christ.

In Germany, each village collects their tree trimmings on Holy Saturday. As you can imagine, when a WHOLE village makes a brush pile, its pretty big! They make a flag and stick it on top of their brush pile, and then "guard" it Saturday night from neighboring village kids who would try and take it. They then burn the fire Easter Sunday.

Since many of our family and friends work on Easter Monday, we will have our fire the following Friday night, April 5th @ 7:30pm. (Weather Permitting!) Our fire will celebrate both the resurrection of our Lord and the coming of Spring!

We hope to see many of you, and yes, feel free to bring your brush to add to the pile...the site will be where the Frankenmuth Corn Maze is...across the road from Weiss Centennial Farm.
This is an osterfeuer from back in April 2001
| | | |
| --- | --- | --- |
| | | |
Gründonnerstag Suppe
Maundy Thursday Green Soup (Fresh Creamy Herb Soup)
I found it interesting reading about a tradition in Germany called
Gründonnerstagsuppe or Green Thursday which is served on Gründonnerstag or Maundy Thursday.

The tradition itself is more about the green being a symbol for new life,
after a long hard winter, the new green herbs give us enrichment for life.
I served these with Barb Rokitka's recipe for Kartoffelpuffer ( potato pancakes) that she sent me
You can also garnish the soup with other fresh Spring foods like some edible daisies