Unlike in the United States where you can get asparagus year around, in
Germany it is only for a season. While the quality varies in the United States the
German Spargel or asparagus is grown with techniques learned over centuries to
make the most luscious big but tender, mostly white stalks.
So the season starts in Spring with small roadside stands
and always ends on June 24 through the feast of John the Baptist.
~~~~~~~~~~~~~~~~~~~~~~~~~~~~~~~~~
2015 Spargel Season starts with a Bang!
Spargels delivered to a restaurant in a Drone right from the Spargel farm.
A helicopter drone carrying asparagus for a publicity stunt in the Netherlands has gone up in flames (YouTube below) A publicity stunt that involved using a consumer quadcopter drone to deliver vegetables to a restaurant in the Netherlands has literally crashed and burned. The De Zwann Michelin-starred restaurant in Etten-Leur, North Brabant in the Netherlands always puts on an exciting publicity stunt to mark the beginning of the asparagus season.
Learn more about how Germany takes special care to grow their asparagus
It helps to have a little background into why Germans love Spargel
or Asparagus so much.

Spargel History in Germany
It is probably no surprise that they have Spargel festivals in
Germany with a crowned Spargel queen
and asparagus peeling competitions.
More about Spargelfests here....

Spargelfests ( Spargel Festivals )
You can see the rows of spargels covered with soil so they keep white,
as you bicycle along. Someday I want to take a bike tour of the Spargel farms.
There are several called Tour de Spargel

Learn more about Spargel Tours here...
Spargel Tours
The Germans have some special ways of cooking Spargel. While we may put a bit of salt
in the water, German's like to put a bit of sugar as well. Also peeling the Spargel is important.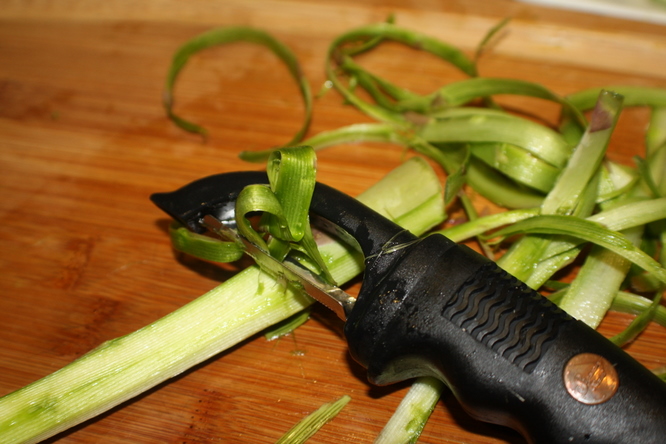 How to Cook Spargel (Asparagus)
There are different techniques to cook the Spargel (asparagus)
also from simmering in water, to pan roasting
to cooking on the BBQ
Spargels wrapped in Westphalian Ham
Westphalian Ham is very special, cured similar to prosciutto but
smoked over Beachwood coals. Generations of tradition have gone into
making this and growing the pork correctly. Even Thomas Jefferson
the 3rd president of the United States thought this meat was special.
~~~~~~~~~~~~~~~~~~~~~~~~~~
Like our German Recipes and Newsletter?
You might like our Cookbooks
Our Family
Cookbook

Only
16.97

Comes with
28 Bonus Recipes
with Step by Step color Pictures

(See below)
| | |
| --- | --- |
| Below are a few of the Step by Step Recipes Featured | |
Sauerbraten

Bratwurst

Pan fried Chicken Schnitzel

Apfel Strudel

Old Fashioned Home Made Noodles

German Potato Salad

Springerle

Spätzle

Gefulte Nudeln
~~~~~~~~~~~~~~~~~~~~~~~~~~