Osterbaum
(Easter Tree)


Karen Kinnane last year went to Kleinzerbst, Germany and talks about the German Osterbaums that decorate many villages
Karen writes...Germany is very festive, so many homes in the villages including Kleinzerbst have "Easter egg trees" inside and outside the houses. Inside they often use forsythia branches and in time the "trees" sprout yellow flowers, plus the blown out and decorated colored eggs.
Anne and her Mother used to dye the eggs with home made colors, blowing out the eggs for the shells for the Ostern tree decorations, and using the bent wood match with the string through the egg shell out the smaller hole at the top of the eggshell in order to hang them from the ostern tree after dyeing them with the natural dyes: purple red from beets, yellow from onion skins, green from the stinging nettles of which I don't know the German name or the American name as we have them here at the edge between the fields and the woods. You don't want to touch this plant because it stings your bare skin, makes it itch, NOT POISON IVY! They boiled the organic material and then boiled the eggs in the colored water.
Making Easter Eggs with Natural Dye
Here is a nice colored egg that I made by boiling yellow onion skins. I was very pleased with the nice goldish yellow color.


Simmer the onion skins in some water to get the nice color for the dye.

Wash the egg to get anything off that might keep the dye from setting. Use a small nail or needle and twist carefully till it goes through the shell.Turn the egg over and repeat.
Blow out one end of the shell over a bowl, and the egg will come out.

I put the egg in the simmering yellow dye. Add a little salt or a tablespoon of vinegar as a "mordant" which is something that will help set the dye.

Light Reddish Egg
Red Beets

Here is one made with Beets

Just chop up fresh beets and boil

Bright Purple Egg

Blueberry Dye

Put blueberries in a food processor

Yellow Egg

Ground Turmeric

Simmer 1 1/2 cups of water with turmeric for 2 minutes.

Light Tan Egg

Coffee Dye

Make very strong coffee about double strength




More descriptions of Natural dyes
| | | |
| --- | --- | --- |
| | | |
Osterräderlauf
(Easter Burning Rolling Wheel)
This tradition going back as far as 2000 years
celebrates the coming of Spring.
At 9 pm on the first Sunday after the first full moon of Spring or Easter
The burning wheels are stuffed with straw, set on fire and roll down the hills
symbolizes the sun.
It starts out with a parade drawing the wheels and straw by horse. A cannon fires setting off the celebration.
The wheels are set on fire and roll down the hill. A ritual that will bring good luck and a good harvest.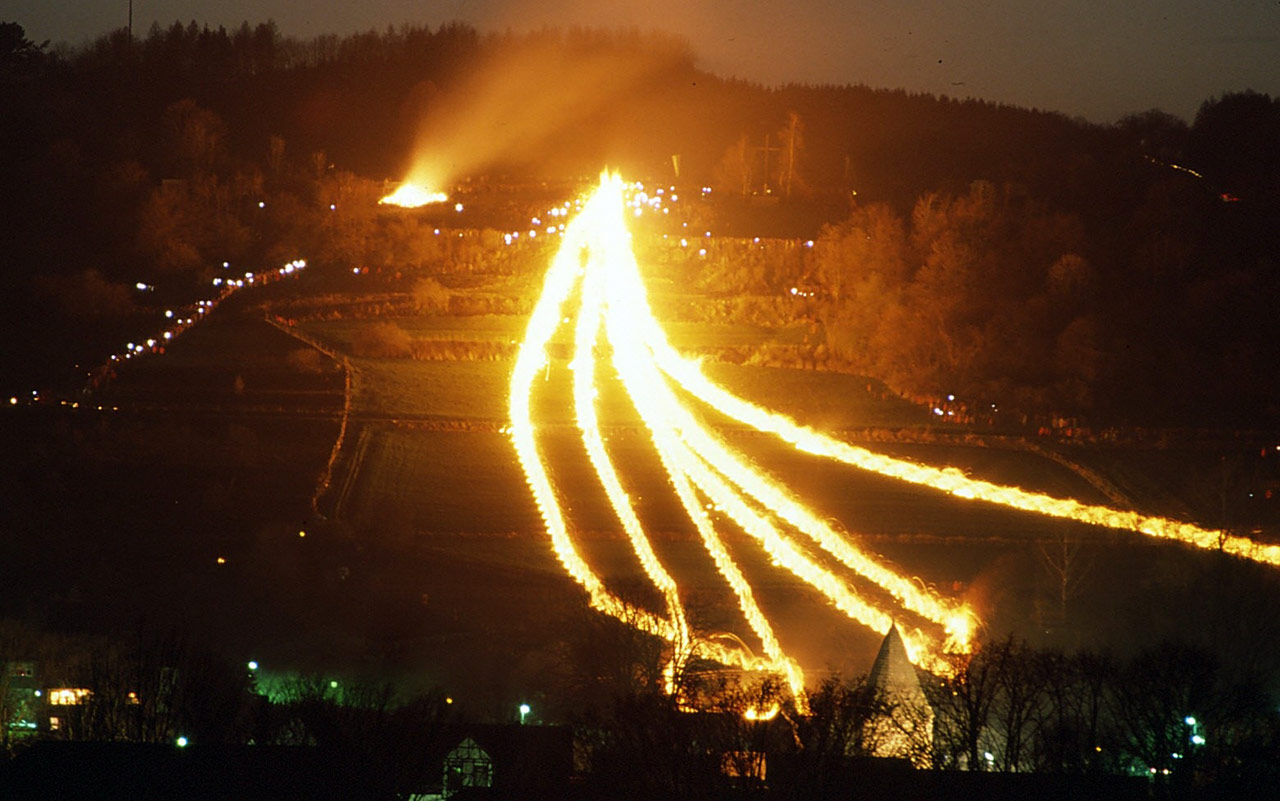 5 wheels in all are set in motion and they crash through hedges and fences like a firey commet leaving a burning path and good luck
where ever it crosses.
This video is a vintage one and in English that explains this custom
This video is about the whole festival in Lüdge, Germany from the parade, stuffing of the wheels, the flamming rolling wheels andf the fireworks afterward.

Here is the website that explains the whole tradition in Lüdge

| | | |
| --- | --- | --- |
| | | |
Our Goulash spice blend features 3 different paprikas, (Hungarian Sweet, Smoked Paprika,
just a tiny amount of Medium Spicy Hungarian Paprika) toasted Caraway and Cumin seeds, Bay Leaves.
Great German flavor for stews and soups comes from the right spice.
This Eintopf Special Includes:
A recipe book and short biography of my Grandmother Emma Block. Her recipes, culture and cooking styles that were brought over from Germany. How they evolved when she came to America in the early 1900s and settled in Portland, Oregon on the west coast of the United States. Over 100 recipes

Bonus Recipe CD with the Ebook and recipes with step by step pictures

Goulash Ebook
10 Goulash recipes

1.5 oz package (1/3 cup)
of Goulash Spice Mix
enough to make most of the recipes.
Order the Cookbook and Eintopf Special Here
16.97
plus S/H
2.97
plus S/H
| | | |
| --- | --- | --- |
| | | |
My Egg Dish for our
Easter (Ostern) Breakfast Tomorrow
The German Pancake called Apfelpfannkuchen in Germany is often known as a "Dutch Baby" in the states, popularized first by a small restaurant in Seattle named Manca's and then even more so by "The Original Pancake House" that started in Portland, Oregon. This was my first fascination as a chef and had to make a pilgrimage up to Portland to meet the owner and see how they did this first hand.
Sometimes this pancake comes up the sides and makes a nice bowl shape. This one we made at my sister's place for a brunch with my folks and we liked this shape better because the center seems to get browned better and not just the sides.
You can also do this in a square glass baking dish, watch the video..

I went to a class on cooking in stone ovens, but you can do this in any oven.
Come into my Sister's kitchen and let's make
German Pancake or Dutch Baby with Step by Step Pictures
| | | |
| --- | --- | --- |
| | | |
Oster Rosinebrot
German Easter Raisin Bread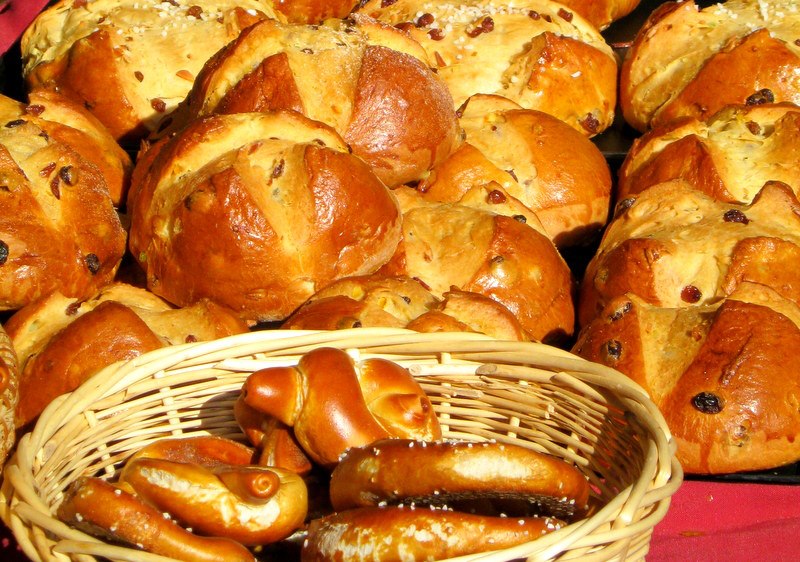 Joe Franklin posted this recipe on our Facebook community page, that you are all welcome to join.
About this special Easter treat Joe commented, German Easter raisin bread is not your ordinary raisin bread. It is flavored with orange and lemon zest. This is a fantastic bread to serve for Easter dinner and makes an incredible breakfast bread that can be toasted and served with butter.
My good friend Carl Crombach made this a week ago and said it was fantastic!
Go here for the recipe for Oster Rosinebrot
| | | |
| --- | --- | --- |
| | | |
The Block Family's recipe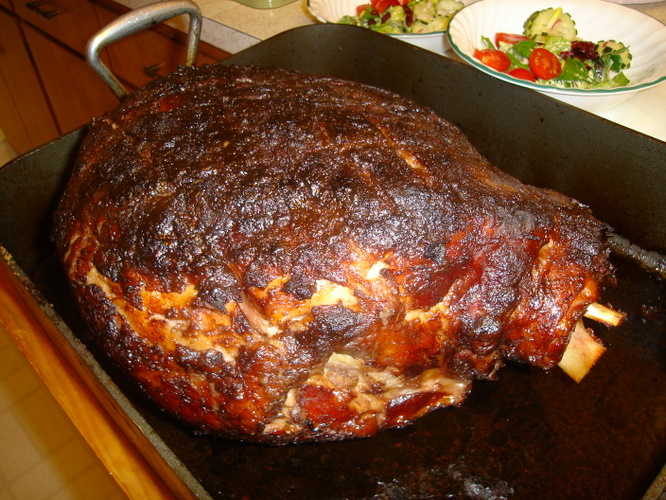 When Grandma took a notion to bake a ham, she used generous amounts of Grandpa's homemade wine to baste it with while it was cooking. The spicy aroma of the ham, wine, cloves, and brown sugar baking in the oven left no doubt about what was for dinner! In the old days, she'd buy a real smoked ham, with the bone in and skin on. After having the skin taken off, it was boiled to get some of the salt out of the meat, then covered with brown sugar and cloves, and baked in wine. Those hams were truly memorable!
Baked Ham Wrapped in Rye Bread Dough
Fran Augenstein requested this dish that she had in Germany,
and said oohhh the bread around the ham is so delicious.
It picks up the flavors and spices of a traditional roasted ham,
the cloves and the mustard as well as some of the juices.
I give a traditional German rye dough recipe, but if time is short,
you can use any dough or a store bought bread dough, and it will
still be "schmecht gut!"
Come into my kitchen and let's make
Baked Ham Wrapped in Rye Bread Dough
With Step by Step Pictures

| | | |
| --- | --- | --- |
| | | |
Karin Elliot
is a chef and wonderful friend giving me encouragement through the years here and donatedher recipes for our newsletter.
She also does wonderful volunteer work like providing meals for school children in need in Tuscon, Arizona.

Many German-Americans and German immigrants are interested in Native American items from books and movies to jewelry and arts and craft supplies. Karin will take care of you personally with her online store Native Rainbows
~~~~~~~~~~~~~~~~~~~~~~~~~~