Pea Soup
Erbsensuppe

Hackfleisch Tartare

Karpfen Blau
Carp in special sauce

Braised Pork Chop with Sauerkraut

Vanilla Kipferl
Almond Crecents

Crockpot Sauerkraut
with Schinken
Ich möchte Dir ein frohes Neues Jahr"
and einen guten Rutsch für 2011 wünschen
und Dir weiterhin viel Glück und Spaß
To all of you ....
I would like to wish you all a happy , fun and
prosperous new year in 2016
from the German Goodies Newsletter
Frohe Silvester

New Years celebration is often called Silvester
in Germany after Saint Silvester who died on Dec 31.

Guten Rutsch
This phrase means to have a good "slid"e or "jump" into the new year.
pronounced Guten RO0-utsch not ROO-tch ....not Rutch like crutch. but more
like a combo of the 2.
More about this and Listen to Guten Rutsch pronounced here
Some More New Years Eve German Cooking Traditions

Watch ..."Dinner for One"
a German New Years Eve Movie Tradition
"The same procedure as last year, madam?"
"The same procedure as every year, James."
This Sketch is a New Years Eve Tradition in German and some other European countries,
and is the most repeatedly shown TV program in the world according to the Guiness Book of Records

Learn more of the mystery of why this is so popular in Germany
~~~~~~~~~~~~~~~~~~~~~~~~~
Vanilla Kipferl
Almond Crecents
Nothing to do with New Years but a nice Holiday German Cookie an ancient symbol.

The Vanilla Kipferl or Crecent is

The crecent shape has been popular in baking since time began. Just as the Christmas tree was taken from a pagan symbol of a green tree in winter which was drawn and made a part of winter decoration in hope for a quick and warm Spring to that would make for good seed planting. Before we relied on science many folks relied on rituals and good luck symbols. 3 of the earliest were a circle: for the sun, and the crecent moons that were symbols for different gods and good luck.
What makes these cookies so good is the vanilla sugar that you make
~~~~~~~~~~~~~~~~~~~~~~~~~~~~~~
If you want a New Year's Eve Dip
that is similar but without The Herring
Try this one.
Meklenburg
Braunschweiger-Cheese Dip
Here is an exciting cheese dip that has German written all over it.
it makes a wonderful snack or appetizer for New years eve or New years day with football. The pickles mix delightfully with apples as I always try to tell people pickles are such a wonderful seasoning and NOT just a condiment.

It is very open to interpretation Stephen says you can add or subtract some of the components. any kind of liver sausage would work if you can't find braunschweiger.
By Stephen Loy ,
Stephen is a native from Meklenburg in Northern Germany
Ingredients:
1/2 cup minced onion,
1/2 cup chopped
scallions,
3 oz cream cheese,quark,gruyere,or brie,
2 tablespoons mayonnaise
1/2 tsp black
pepper,
1/4 tsp garlic powder or salt,
1/2 cup chopped pickles,
1/4 cup chopped apple or beet
1 finely chopped hard boiled egg
1 and 1/2 Lb. Braunschweiger
4 Strips of crisp bacon,crumbled
Directions:
Saute onions for 8-10 minutes
remove from heat and drain
Mix meat, cream cheese ,and other
ingredients until smooth
~~~~~~~~~~~~~~~~~~~~
Hackfleisch Tartare
This is another nice spread to have at New Years Eve about Midnight.
This is a true German treat.
I like using the best beef tenderloin for this. I lightly sear the outside edges for just a few seconds, to kill any harmful bacteria, although that is not the original way to do it.
If you have never had this your REALLY ought to try it.
It is the texture and delicate flavor that is sooo good.

Trudy Maynard who grew up in Germany says that they ate this on
New Years eve all the time. Her American husband thought at first ,
Yuck....raw beef...but now he and his family love it.
This is also a tribute to Germany that popularized the finely minced raw
beef dish. This dish that was developed likely by the Tartar's brought it to Russia. Russian ships came into the port at Hamburg, Germany and our
ancestors took a liking to it. Called Hackfleisch in Germany but the immigrants from Hamburg that came to America, were nicknamed "Hamburgers" because they loved these meat patties. ...cooked ones.
HackfleischTartare

by Trudy Maynard
HackfleischTartare Recipe serve 6
IF you feel squeamish about using raw beef , lightly sear the edges of the steak before you chop
Ingredients:
1 lb. sirloin or filet mignon
1 egg yolk
1 tsp mustard, Dijon mustard recommended
1 tb shallots or onions, finely chopped
2 teaspoons capers, drained
A few drops of Tabasco sauce
1 / 2 tsp Worcestershire sauce
1 tb olive oil
1 tsp parley, minced
Salt and pepper
Directions:

Step 1: Trim and grind the meat twice. Chop finely the onions and egg yolk.
If you want to just hand chop that works well also. It doesn't take that much time.
Step 2: In a bowl, mix the egg yolk, onions, capers, mustard, Worcestershire sauce, Tabasco sauce, salt and pepper.
Step 3: Add olive oil and beat lightly for a few seconds.
Step 4: Add meat and parsley. Season with salt and pepper. Beat lightly for a few seconds.
Step 5: Refrigerate or serve immediately.
Serving: Steak Tartare cannot be preserved more than 2 hours, even in a fridge
Serve on crackers or thin slices of toasted baugette or french bread (Crostini)
~~~~~~~~~~~~~~~~~~~~~~~~~~~~
Could be the
Perfect After or Late Christmas Gift?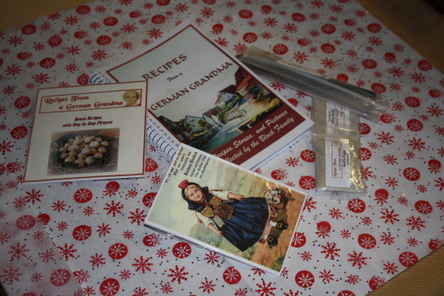 I would love to be a part of your Christmas with our Gift Wrapped Cookbook that includes or
Special Goodies Package seen above, (Bonus Recipes CD, postcards, vanilla beans and vanilla sugar),
Let me personalize it by signing it to you or someone special.
We send it out 2 day priority mail !
same day you order to get there for before Christmas.
There is still time, I get it out the same or next day!
We send it out 2 day priority mail !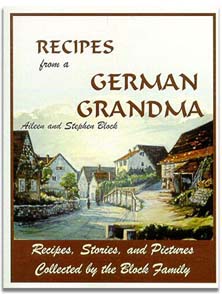 To order just the cookbook alone go here
~~~~~~~~~~~~~~~~~~~~~~~~~~~~
Seafood on New Years Eve
Seafood for dinner (evening meal) on New Year's Eve has been a long-standing tradition. Particularly popular is the New Year Eve Carp ( Silvesterkarpfen ). The carp can be baked, pan-fried, grilled, or smoked. Other seafood, such as trout, salmon, crab, sturgeon, eel, lobster, crayfish, and oysters, are also favorites on New Year's Eve. It is not really known how this tradition started. However, one theory is that people wanted to cut their caloric intact after all the Christmas celebrations and food, so they chose less fattening food, seafood, for their New Year's Eve celebration.
In the past, carp was always an expensive and hard to find fish. Because of this, it was greatly valued and a superstition evolved around it. It was believed that a fish scale from the carp hidden in one's wallet brought an abundance of money. The scale had to remain in the wallet the entire year and could not be removed. Likewise, scales hidden throughout the house brought this same abundance of money to the entire family. This custom is still followed today by many Germans.
Karpfen blau"
"Carp blue"
Dieter from Gelsenkirschen, Germany sent me this one that is one of their favorites on New Years Day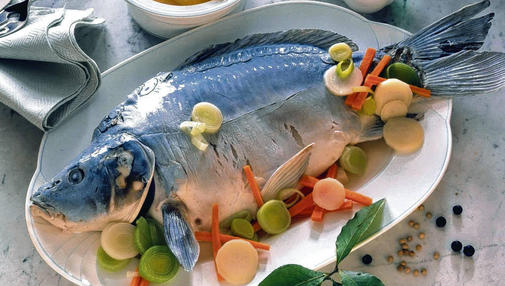 Ingredients:
1 carp (weight 1500 to 2000 grams or 3 to 4 lbs)
1 tablespoon salt
1/2 cup vinegar
1/2 cup white wine
1 1/2 cup water
1 onion
1 laurel leaf
1 tablespoon pepper
1/2 lemon
1 tablespoon butter

for garnish:
one tomato
half a lemon
1 tablespoon horse-radish

Directions:
"Carp blue" is one of the traditional Christmas and New Year's dishes in Germany. To achieve the blue color of the fish, it is important not to scale it. The combination of the scales of the fish skin with the vinegar causes the blue coloration.

1. If your fish is not cleaned when you buy it, carefully cut the underside and clean it. Salt the inside of the fish.

2. Place fish in a bowl. Heat the vinegar to a boil and pour over the fish. Then lay the carp onto a platter, saving the vinegar.

3. Heat wine, water and vinegar in a large pot. Peel onion and cut in half. Add the fish, as well as the laurel leaf, pepper and lemon. Put on low heat and let simmer for 20 minutes. Take out the carp and lay onto a preheated platter.

4. Melt butter and serve separately. Cut tomatoes in slices and garnish the carp with it. Fill the lemon half with the horseradish and lay on plate. You may serve cooked potatoes with this dish.
~~~~~~~~~~~~~~~~~~~~~~~~~~~~~~~~~~

The Tradition of Pork and Sauerkraut
The pig has long been a good luck symbol in Germany.
So it is customary in many German families to eat some kind of pork dish
on new years eve to bring good luck.
Sauerkraut is also seen this way.
Before the meal, those seated at the table wish each other as much goodness
and money as the number of shreds of cabbage in the pot of Sauerkraut.
My friend George Moser brought this up to me who grew up in Pennsylvania Dutch area of
Pennsylvania. They also played cards . If you won it meant good luck and if you lost .....well you better start praying ...!

Here is one Pork Dish
Go here to make this recipe of
Pork Chops and Sauerkraut with step by step pictures
~~~~~~~~~~~~~~~~~~~~~~~~
Crockpot Sauerkraut with Pork

You can do the same dish in a Skillet if you
don't have much time.
Lentil or Pea Soup
A fully eaten bowl of Lentil or Split Pea Soup on New Year's Eve is suppose to guarantee plenty of change in one's pocket.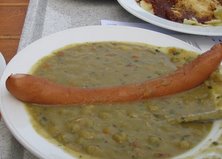 My friend Neal Huepel and I have something in common and
it was being around a famous German chef in Oregon named Horst Mager.
He worked with his Uncle Erich for Horst and got some of his good recipes.
Here is the recipe that he scaled down from
the restaurant proportions.

German Style Lentil Soup
or you can use Split Peas
modified by Neal Heupel from the Rhinelander Restaurant
1 ham hock
4 quarts water
¼ cup clarified butter or oil
1 medium onion (chopped)
2 cups chopped celery heart, with green tops
½ cup chopped carrots
1 pound bag dry lentils or dried split peas (sorted and cleaned)
4 chicken bouillon cubes
salt and pepper to taste
a little dried thyme to taste (optional if you like it)
1 bay leaves
a dash of nutmeg
2 large yellow or red potatoes, diced (I do mine unpeeled)
4 tablespoons of flour mixed with 2 cups of water (optional)

1. In a large pot over medium high heat, cook the ham hock in about 4 quarts of water until the meat falls from the bone. Remove bone, fat and grizzle and discard it. Let the soup cool or sit over night to skim off the fat (optional, but I am fat conscience to a fault).
2. In a separate pan put the butter/oil in a pan and add the onions, carrots and celery. Sauté until the onion is sweated clear in appearance, but not browned.
3. Return the broth and meat and then add the lentil beans, add salt and pepper to taste, cook until the lentils are soft.
4. Add the seasonings, and spices, and then the potatoes. When the potatoes are cooked, either serve, or you can thicken the soup with the flour and water mixture if you like a thicker soup, but this is optional and not part of the original recipe.
printer friendly Rhinelander Lentil Soup
~~~~~~~~~~~~~~~~~~~~~~~~~~~~~~~~~~~~
One of our readers, Irene Lage sent me this info about a German tradition she wanted to share,

Dinner for One
a
German New Years Eve
Tradition
Germans encounter similar misgivings by members of other cultures about their unflappable enthusiasm for the short film "Dinner for One". The 14-minute British stage sketch is shown over and over again on every German TV channel on New Year's Eve. "The same procedure as every year, James" became a familiar catchphrase in the German-speaking world since it was first broadcast in 1963
Dinner for One
This is a tradition in Germany