A Swabian Specialty

This is German for "The March of Gaisburg, which is a district of Stuttgart, Germany.
There are varying stories of how this rich beef stew got it's name, one says that the soldiers
loved the stew so much they marched all the way to a restaurant in Gaisburg named Bäckerschmide.
Another story is that the soldiers of Gaisburg became prisoners of war and the wives brought them this
nourishing dish for their meals. Sylvia Pollack who grew up in Gaisburg told me about this wonderful dish.
Read more about the history of Gaisburger Marsch Here
Come into my kitchen and let's make
Gaisburger Marsch.
~~~~~~~~~~~~~~~~~~~~~~~~~~
Cookbook and Eintopf Issue Special
Our Goulash spice blend features 3 different paprikas, (Hungarian Sweet, Smoked Paprika,
just a tiny amount of Medium Spicy Hungarian Paprika) toasted Caraway and Cumin seeds, Bay Leaves.
Great German flavor for stews and soups comes from the right spice.
This Eintopf Special Incudes:
A recipe book and short biography of my Grandmother Emma Block. Her recipes, culture and cooking styles that were brought over from Germany. How they evolved when she came to America in the early 1900s and settled in Portland, Oregon on the west coast of the United States. Over 100 recipes

Bonus Recipe CD with the Ebook and recipes with step by step pictures

Goulash Ebook
10 Goulash recipes

1.5 oz package (1/3 cup)
of Goulash Spice Mix
enough to make most of the recipes.
Order the Cookbook and Eintopf Special Here
16.97
plus S/H
2.97
plus S/H
~~~~~~~~~~~~~~~~~~~~~~~~~~
Rindfleisch Stew
with
Potato Cheese Knoephla
This dish is from the German's from Russia culture in the U.S. and Canada. The short history is
that Catherine the Great offered cheap land to the Germans if they would farm it, then when the
new Czar took over they were forced out. There was cold land but cheap land in the Dakotas and north in Canada
and they settled bringing their native dishes with them. Over the years they have put their own twist on the German
recipes.

With the Knoephla it doesn't qualify as an Eintopf and if you are doing laundry all day
maybe just some simple dumplings will be easier and make the dish stick to ribs.

Come into my kitchen and let's make
Rindfleisch Stew with Potato Cheese Knoephla
~~~~~~~~~~~~~~~~~~~~~~~~~~~~~~~~~~~~~~~~~~
Birnen Bohnen und Speck
Pears, Green Beans and Ham Shank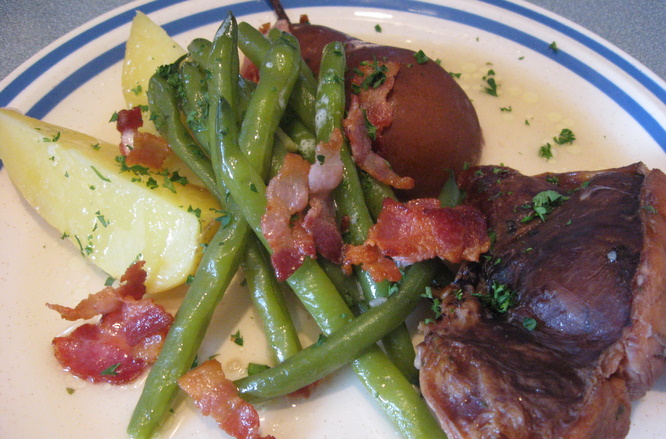 Speck is not exactly Ham Shank, but the latter is much easier to find where I am from.
Speck is a lovely German bacon ...yum.
I love this dish because of the seemingly odd trio that turns into harmonious flavors
when long simmered. You don't need to use ripe pears. an unripe pear right from the grocery store
will soften up and add the sweetness that compliments the pork and the beans.
Come into my kitchen and let's make
Birnen Bohnen und Speck
~~~~~~~~~~~~~~~~~~~~~~~~~~~~~~~~~~~~~~~~~~~~~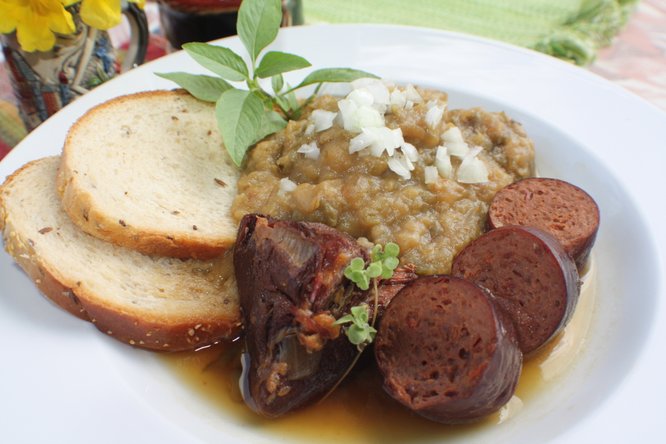 What a fun name, Schnippelbohnen. schnipp means to to snip and Bohnen means Bean.
Generally Schnippelbohnen refers to what in the U.S. we would call a French style green bean.
This is a great way to use older green beans. It is a shame to throw away the larger tougher green beans.
Also today green beans aren't as stringy as they use to be. These tougher beans were often
put through a machine that would slice them and remove the string making them easier to eat.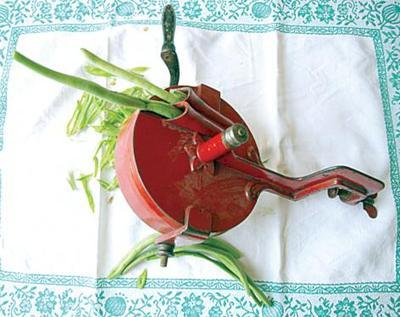 Some folks like to add a pear or 2 to this. It gives a nice background flavor. You can use an unripe pear if you want.
I don't have a Schnippler so I just cut them by hand.
Come into my kitchen and let's make
Schnipplebohnen Eintopf
~~~~~~~~~~~~~~~~~~~~~~~~~~~~~~~~~~~~~~~~~~~~~~~~~
Pennsylvania Dutch
Chicken Pot Pie
My friend George Moser sent me some Pot Pie Noodles that he made from a recipe from his childhood
growing up on Cabbage Hill in Lancaster, Pennsylvania, some say the heart of the Pennsylvania Dutch Country.
George passed away last year but I will always remember him
and especially when I make this dish.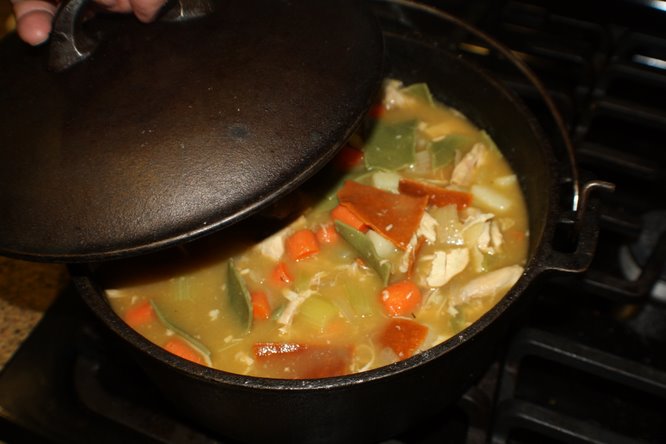 I wondered how it got this name because it really isn't a "Pie".
I had also seen the same dish in Penn Dutch cookbooks called Bot Boi? That sounded ...so odd to me.
With some research it seems to be an old German word for "Potpourri"
The word Potpourri origionally meant a mixed stew in French , literally the word Pot and pourri
meant something like rotten pot but obviously rotten had a different meaning.
Truth be known some say that Bot Boi was just transformed to Pot Pie because they sounded so similar.
Read more about the history of Chicken Pot Pie here...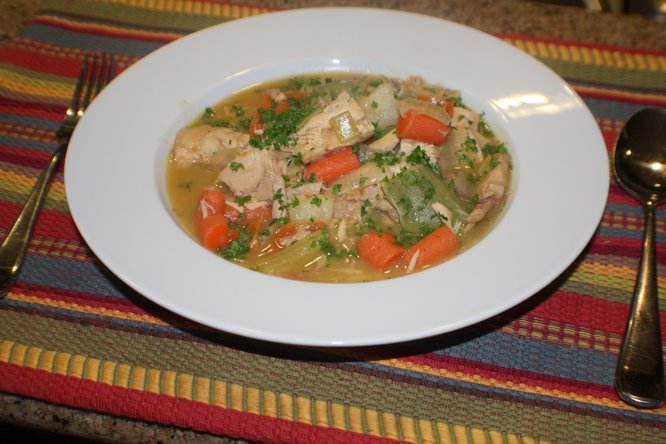 Come into my kitchen and let's make
Pennsylvania Dutch Chicken Pot Pie
~~~~~~~~~~~~~~~~~~~~~~~~~~~~~~~~~~~


German Beet Borscht
This is another dish from the German's from Russia region in America
from a lady that gave me lots of soup recipes Carol Kupser, which her family
ate together often.

.....In the Kupser and Kambeitz families when they make chicken soup they always sprinkle cinnamon in their bowl. If borscht (vegetable soup) they always serve cream to put in your bowl
While this recipes shows making a stock you can shorten the time span by buying good
quality stock and cooking the whole thing at once.
Come into my kitchen and let's make German Beet Borscht

~~~~~~~~~~~~~~~~~~~~~~~~~~~~~~~~~~~~~~~~~