First the most Popular.... Rheinischer Sauerbraten
As we saw in the history of Sauerbraten Rhineland is really where the best known Sauerbraten is and it has such
a long history there. I wonder if Nachos, Cheese burgers, Buffalo Wings will survive 8 centuries and still be as popular as Sauerbraten.

The Rheinischer Sauerbraten is characterized by a nice sweet and sour gravy but that can be achieved in different ways. There are those that balance the tartness of the vinegar, lemon or wine with Lebkuchen, sweet beet syrup, or ginger snaps.
I made one the other day and here is the recipe with pictures
Come and let's make Rhienischer Sauerbraten
The Rhineischer Sauerbraten is often served with Knödels ( dumplings)
The two most favorite are
~~~~~~~~~♥~~~~~~~~♥~~~~~~~~~♥~~~~~~~~
Also
Rotkohl
or Sweet and Sour Red Cabbage is a traditional side dish.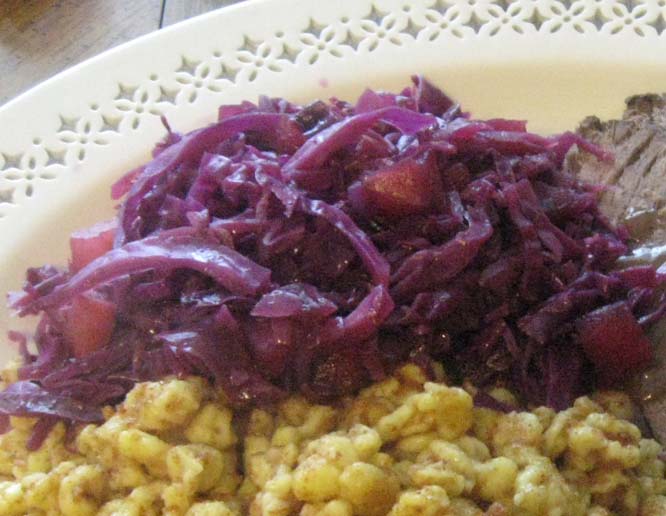 L
Rotkohl is easy to make and liked by many that don't like other styles of cabbage.

Let's make Sweet and Sour Cabbage or
Rotkohl
~~~~~~~~~♥~~~~~~~~♥~~~~~~~~~♥~~~~~~~~
This Rheinischer Sauerbraten tops their gravy with sliced toasted almonds and serves it with
Apfelkompott ( chunky applesauce) topped with Preislebeere Ligonberries jam.
Here is a recipe for Rheinischer Sauerbraten
that uses apples to sweeten the gravy.

~~~~~~~~~♥~~~~~~~~♥~~~~~~~~~♥~~~~~~~~
Our Family
Cookbook

Only
16.97

Comes with
28 Bonus Recipes
with Step by Step color Pictures

(See below)
| | |
| --- | --- |
| Below are a few of the Step by Step Recipes Featured | |
Sauerbraten

Bratwurst

Pan fried Chicken Schnitzel

Apfel Strudel

Old Fashioned Home Made Noodles

German Potato Salad

Springerle

Spätzle

Gefullte Nudeln
~~~~~~~~~♥~~~~~~~~♥~~~~~~~~~♥~~~~~~~~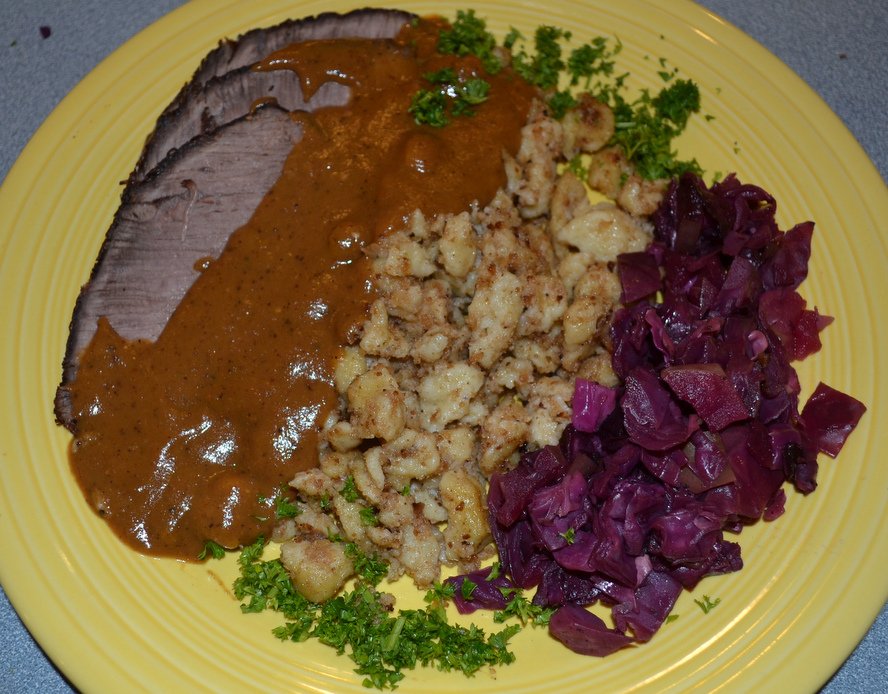 My grandma (Oma) was from Steinsfurt, in the Baden-Wurtemberg area of Germany
and it is very close to the same recipe except that we serve
~~~~~~~~~♥~~~~~~~~♥~~~~~~~~~♥~~~~~~~~
Spaetzles
with it.
Spaetzles (baby dumplings) were a specialty of the area she grew up.
Come into my Kitchen and let's make some Spaetzle
~~~~~~~~~♥~~~~~~~~♥~~~~~~~~~♥~~~~~~~~

Here is my grandma's Sauerbraten recipe.

~~~~~~~~~♥~~~~~~~~♥~~~~~~~~~♥~~~~~~~~
There are some recipes that finish their Sauerbraten gravy with cream or sour cream.
Here is a Fränkischer Sauerbraten recipe
This is the Northern Bavaria part of Germany.
~~~~~~~~~♥~~~~~~~~♥~~~~~~~~~♥~~~~~~~~
We had discussed in the History of Sauerbaten that some recipes use buttermilk
as a marinade instead of wine.
Sauerbraten Norddeutch Art
~~~~~~~~~♥~~~~~~~~♥~~~~~~~~~♥~~~~~~~~
Just for those that are curious here is a recipe for
a REAL traditional Sauerbraten that uses Horse Meat
Here is the recipe
~~~~~~~~~♥~~~~~~~~♥~~~~~~~~~♥~~~~~~~~
Here are More Sauerbraten Recipes
Luft aus Dusseldorf
Origionall Rheinisch Sauerbraten Recipe
Rheinisch Sauerbraten Essen und Trinken
The Dishes of Thuringia

Frankische Sauerbraten
Susi's Kochen Frankische Sauerbraten

Frankische Sauerbraten2
Westphalian Sour Roasted Horse
~~~~~~~~~♥~~~~~~~~♥~~~~~~~~~♥~~~~~~~~
German Music

The Von Trapp Family