Brathanchen mit Semmelknödel
Roasted Chicken with Bread Dumplings
First the Semmelknödel
or
Bread Dumplings
This is one of the easier dumplings I think to make because your prep is half way done.
no potatoes to cook or flour to measure out.
If you have some dried onion flakes all the better.
This is also a great way to use up the last part of a loaf of bread, and one of the reasons
that German's developed the Knödel
Knödel in Germany has a long history. Around 1000 AD we have recorded text of dumplings being made. The bread dumplings are of course a practical invention to use up bread ends and slightly dried bread.

I have read that dumplings were most likely started as a way to stretch the meat and as things got more expensive and meat was rare to afford they went all the way to bread and flour dumplings.

Potato dumplings didn't come on the scene till the 1600's

One of the reasons for the invention of the dumpling is that in the 11th century cutlery was not common in house holds. In the upper class houses in the 11th century there often was only one piece of cutlery called a Knodelwurger translated it means dumpling strangler.


I couldn't find a picture of it but it had 2 tips on it, one for meat and one for dumpling that you could bring both to the mouth at the same time .

particularly rye bread works well.
I see a lot of German recipes though that like to use french bread. Annette my friend at the
German Cafe in Sierra Vista, Arizona likes using the French Bread.

Use "Frumpy" bread
When I looked up Semmelknödel on the German Wikipedia it used the term... altbackene.... to describe the right staleness of the bread to use. When I hit the translate button the word was translated to "Frumpy"!

The marriage of apples and onions.
One of the first dishes in Chef school we made was a stuffed chicken thigh
with apple onion dressing. Since then I have used it for so many dishes, and when I
made a few rounds of successful Semmelknödels I added the apples and onion.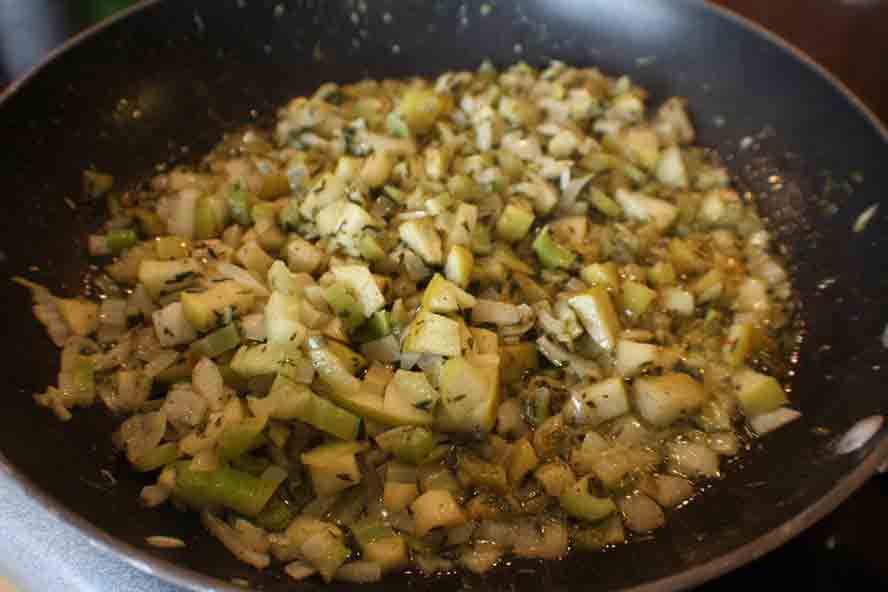 Video of Rouladen and Semmelknödel from
The German Cafe in Sierra Vista, Arizona
by owner chef, Annette Schuchert Engols
~~~~~~~~~~~~~~~~~~~~~~~~~~
Brathanchen
also called
Brathendl
Brathahnchen or Brathendl is basically a roasted chicken but
what makes it special is the seasoning. If you go through recipes
you will find all kinds of seasoning recipes most of them have a good
amount of paprika in them which gives the skin a nice color. Also
a little flour and oil makes the seasoning into a nice flowing paste
that you can brush on the bird and helps it to stick.
I have been sold on a few things about roasting a chicken. One of them
is Brining. The other is slow roasting.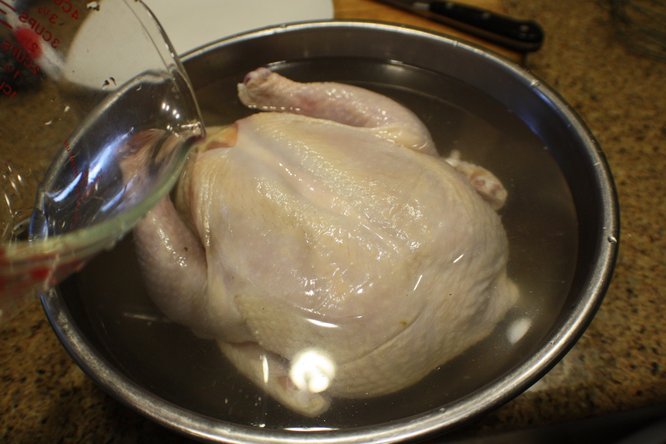 First things first. Brining the Hanchen
I am not sure how prevelant brining is in Germany but I have become such a believer in it
that I can't eliminate it here. Brining is different than marinating. While marinating adds a certain flavor to the meat, brining's cheif purpose is to hydrate the cells. I am not going to get into a scientific discussion about osmosis but you can read about brining here to understand how your chicken will be seasoned nicely and stay much more moist with brining.
Low and Slow
Sweet , Sour, Salty and bitter are the 4 tastes
but there is another one that we are now calling Umami
coined in Japan. This deep rich flavor that you taste
in Parmesan cheese and smoked meats among other foods
are glutamates. These are natural glutamates in certain foods.
One of the ways these glutamates are released is through long slow cooking.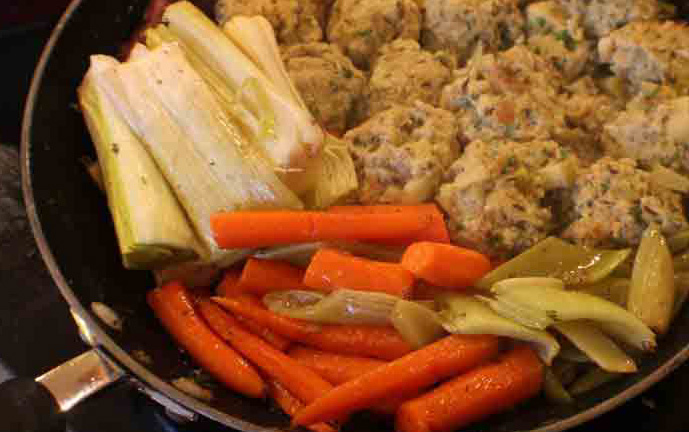 Also using the Suppengrün vegetables that also contain lots of these glutamates,
but it takes time and slow heat to release them.

225 degrees -300 degrees
I have been cooking stews and roasts at these low temperatures lately and love the results.
You don't get the harsh denaturing that you do at higher temperatures and lots of great flavor.
The meat seems to be well cooked and moister also as higher temperatures tend to dry out the meat.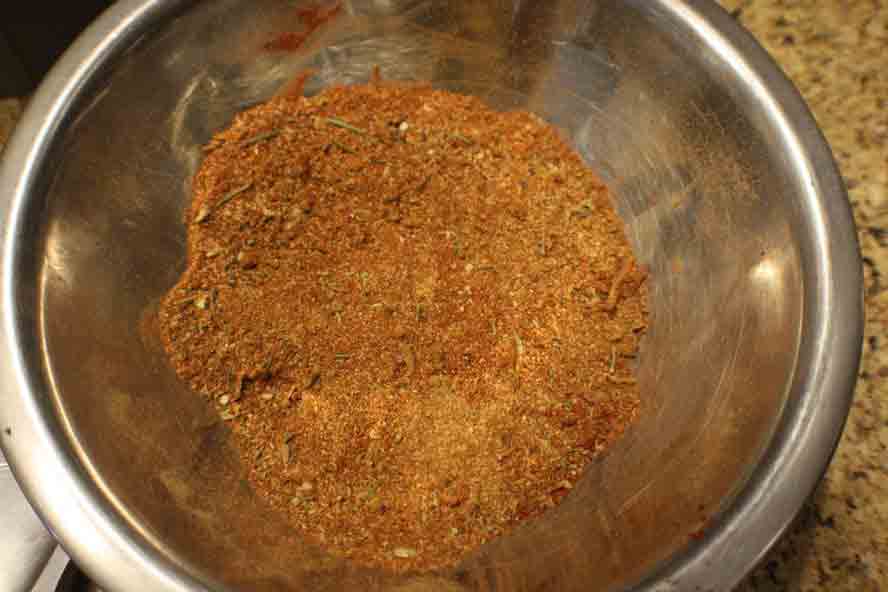 Next the Brathanchengewürz or Chicken seasoning gives the bird a great flavor.
The German recipes often add a bit of flour and oil to make a wet rub that makes it easier to
brush on the chicken and also inside the chicken.

Come into my kitchen and let's make Brathahnchen with
Step by Step Pictures.
~~~~~~~~~~~~~~~~~~~~~~~~~~
A great addition to this project. The story of my heritage that is so
important to preserve and so should you. This may bring back good
memories and inspire you to write your own memories which is important
to your kids and family. SOMEDAY they will be interested.
| | |
| --- | --- |
| Below are a few of the Step by Step Recipes Featured. Print them off when ready to cook and keep them in a notebook. | |
Sauerbraten

Bratwurst

Pan fried Chicken Schnitzel

Apfel Strudel

Old Fashioned Home Made Noodles

German Potato Salad

Springerle

Spätzle

Gefullte Nudeln
~~~~~~~~~~~~~~~~~~~~~~~~~~
Rhubarb Strawberry Compote
with Quarkschaum
Spring always makes me hungry for fresh Rhubarb and what a better
companion to sweeten it up with than fresh strawberries.
While in the U.S we make cobblers and pies. a favorite dessert
in Germany is topping it with a meringue or something really delightful
called Quarkschaum!

Quark has a wonderful fresh flavor and milder than sour cream,
however quark is hard to find in the states but so I like to use
good sour cream. Greek yogurt or even
a nice flavored cottage cheese pureed works well. Mix this with egg whites
and make it a little custard, then add the quark and you get a wonderful flavored topping
that beats flavorless meringue all to heck.
Go here to make Rhubarb Strawberry compote with
Quarkschaum
here with step by step pictures.
~~~~~~~~~~~~~~~~~~~~~~~~~~
German Music
~~~~~~~~~~~~~~~~~~~~~~~~~~~~~
A Medley of Iconic German Folks Songs
~~~~~~~~~~~~~
~~~~~~~~~~~~~~~~~~~~~~~~~~~~~
Maria Hellwig - Volksmusik
Berchtesgadener und Münsterland über Neuharlingersiel -
~~~~~~~~~~~~~~~~~~~~~~~~~~~~~~~
Crazy Feet -Zillertaller Hochzeitsmarsch
~~~~~~~~~~~~~~~~~~~~~~~~~~~~~~~~~~~~~~
~~~~~~~~~~~~~~~~~~~~~~~~~~