~~~~~~~~~~~~~~~~~~~~~~~~~~
Stuffed Pork Roast
with Tangy Fruit and Nut Dressing
Pork Tenderloin is a very lean piece of meat with a low calorie and fat content. The only problem is that it is only a pound so you may come up short if extra folks show up. Also being on the bland side it begs for a flavorful stuffing.

a traditional German stuffing for pork would contain dried fruits such as prunes (Backpflaumen) apricots, apples etc. You could then add other ingredients to balance out the flavor.
Here is a recipe that will give you an idea of all the different stuffings you might use.


How to reverse spiral cut a pork tenderloin
and pound it out.

Easy no fuss way to stuff and roll a pork tenderloin
Come into my kitchen and let's make Gefülleter Schweinebraten
with fruit and nut dressing.
A very popular stuffing for Pork roast in Germany is
Apricot and Prunes
Here is an example
~~~~~~~~~~~~~~~~~~~~~~~~~~
Cookbook and Eintopf Issue Special
Our Goulash spice blend features 3 different paprikas, (Hungarian Sweet, Smoked Paprika,
just a tiny amount of Medium Spicy Hungarian Paprika) toasted Caraway and Cumin seeds, Bay Leaves.
Great German flavor for stews and soups comes from the right spice.
This Eintopf Special Includes:
A recipe book and short biography of my Grandmother Emma Block. Her recipes, culture and cooking styles that were brought over from Germany. How they evolved when she came to America in the early 1900s and settled in Portland, Oregon on the west coast of the United States. Over 100 recipes

Bonus Recipe CD with the Ebook and recipes with step by step pictures

Goulash Ebook
10 Goulash recipes

1.5 oz package (1/3 cup)
of Goulash Spice Mix
enough to make most of the recipes.
Order the Cookbook and Eintopf Special Here
16.97
plus S/H
2.97
plus S/H
~~~~~~~~~~~~~~~~~~~~~~~~~~~~~~~~~~~
Sauerkraut
with White and Purple Cabbage

Made right on your counter in 3 days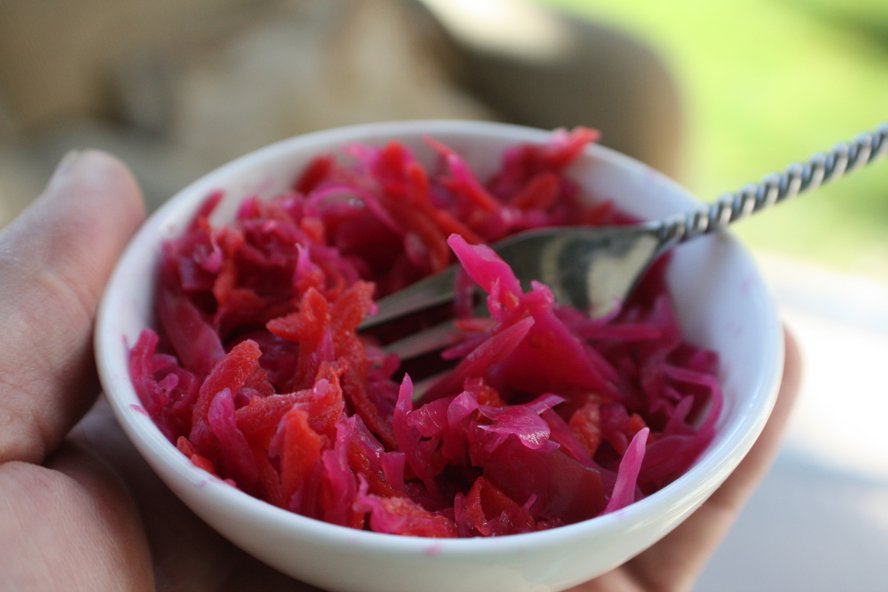 I have a bowl of this for my tummy health every day at least once.
the probiotics that ferment naturally not only create great flavor but
great. the mixing of the different cabbages adds flavor and the addition of carrots
and garlic add both flavor and texture.
| | |
| --- | --- |
| Shredding or chopping with a knife your choice. | Make it right in the jar that you store it in. |
Come into my kitchen and let's make Sauerkraut
with White and Purple Cabbage with
Carrots and Garlic right on your counter in mason jar
~~~~~~~~~~~~~~~~~~~~~~~~~~
German Chocolate Käsekuchen

German Chocolate Cheesecake, that really is an American specialty.
Let's investigate further.


I made this for a recent Brat Fry that I did for the Goschie family who have a large hop farm in
Mt Angel, Oregon. It is a take off on the German Chocolate Cake.
But why if it's not German is it called German?
If your in the states you may see this chocolate bar
in the baking section of the supermarket. It is not German at all.
Read about the history of the prize winning cake using this chocolate bar.
I am going to start working on a version of this cake that could truly be a German creation
I am thinking of using a good brand of German baking chocolate and hazelnuts instead of pecans.
a good cheese like Quark would be nice as well.

Come into my kitchen and Let's make
German Chocolate Käsekuchen
To contrast a German Käsekuchen with an American style cheesecake

Here is my grandma's that I make for my Dad's birthday every year.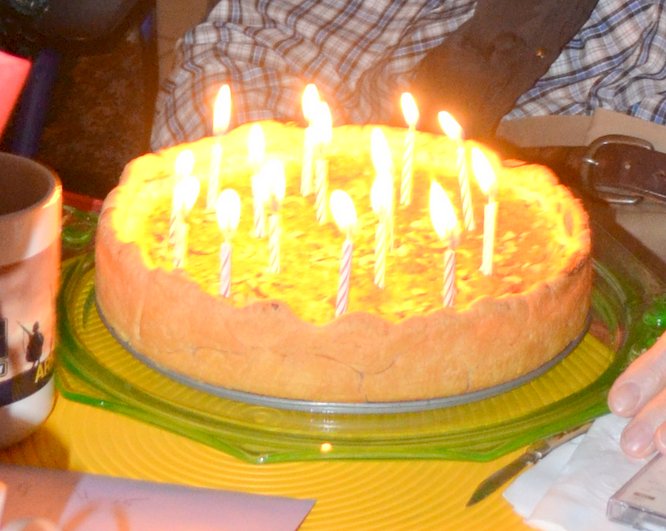 Let's make Emma's Käsekuchen,
A traditional German Cheesecake
~~~~~~~~~~~~~~~~~~~~~~~~~~
Karin Elliot
is a chef and wonderful friend giving me encouragement through the years here and donatedher recipes for our newsletter.
She also does wonderful volunteer work like providing meals for school children in need in Tuscon, Arizona.

Many German-Americans and German immigrants are interested in Native American items from books and movies to jewelry and arts and craft supplies. Karin will take care of you personally with her online store Native Rainbows