It is Way Past Munich Oktoberfest
Every year about this time I try to do something about the Munich Oktoberfest, the largest gathering of
people for a festival in the world. I focused on some different aspects this issue, but for more info on the Oktoberfest
go here to a previous issue of the newsletter.

I wanted to check out an Oktoberfest item you can experience anytime of the year in Munich. The Bier and Oktoberfest Museum in a 14th century building that looks like a wonderful blast to the wayyyy past.

I was especially attracted to the old Bier Kegs and the Bierstube inside the brick and pebble walls built back in Roman times.

I was contacted several times this year about bringing a dish to an Oktoberfest party, meaning something German. I love looking at the big tent menus of the Munich Oktoberfest. Something that caught my eye were these appetizer plates that had dark rye with a spread and covered in finely chopped chives, along with decorative white radish swirls and cheese dip(Obatzda). These are easy to prepare and great! I include a gallery of different Brotzeit platters to fire your imagination. I also am including an easy to make cheese dip that looks like Obatzda that i guarantee your guests will like.


Have you ever wondered how a waiter or waitress (der Kellner or die Kellnerin) carry so many Masskrug (1 liter beer steins) ? They are required to carry up to 10 at a time. The record though is much more and I will show you the video.

to the left is the entrance to the world famous Oktoberfest in Munich, Germany if you were to go during the festival.

Here is more history on the festival.


However if you can't go you can check out the Museum

This museum is located Sterneckerstraße 2, 80331 München,(Munich) Germany.

The best way to explore the museum is through a guided tour. The Munich characters tell you about the history of the building, the festival and an abundance of beer stories.

A quaint, winding lane off Tal between Marienplatz and Isartor, is a hidden jewel of authentic Bavarian tradition: Munich's oldest town house.

Built in 1340 it has been the home to merchants, craftsman and mayors. It was restored with the strictest historical standards to preserve it's original identity.




Notice the Roman Masonry from the 14th century a layer of bricks, then a layer of pebbles from the nearby river Isar. I love the insets for the candles.

To the right is the stairway to heaven. It is characteristic of the buildings of this time period
with a single staircase from the ground floor to the attic.
Here is a montage of Oktoberfest Icons like Laugenbrezel, Lebkuchen Hearts,
Alpine Hats, Emmentaler Cheese, Weisn Hendl (Rotissere Chicken)
The Beer Part of the Museum
There seems to be a real feeling of medieval at the museum that I would love to experience.

The 2 handled beer tankard was sometimes referred in it's time as a "pass cup" as in a group the second handle allows you to pass it from guest to guest and all have a drink.
More about beer tankard and stein history here.

Apparently the difference between a tankard and a stein is a Stein has a hinged lid with a thumb lever. Very ingenious and necessary during the bubonic plague years.

The Beer pub (Museumsstüberl) serves beer fresh from kegs.
Beer recipe from the 1400's
Barley Hops Malt and Water, Nothing Else from this
1487 recipe from a brewery from Munich. These later were
adapted and became the purity law for making beer in Munich.
~~~~~~~~~~~~~~~~~~~~~~~~~~~~~~~~~
Have you ever wondered how a waitress that doesn't look
that big and strong can carry so many beer steins?
This is not easy.
These are liters of Beer, called a Mass in German.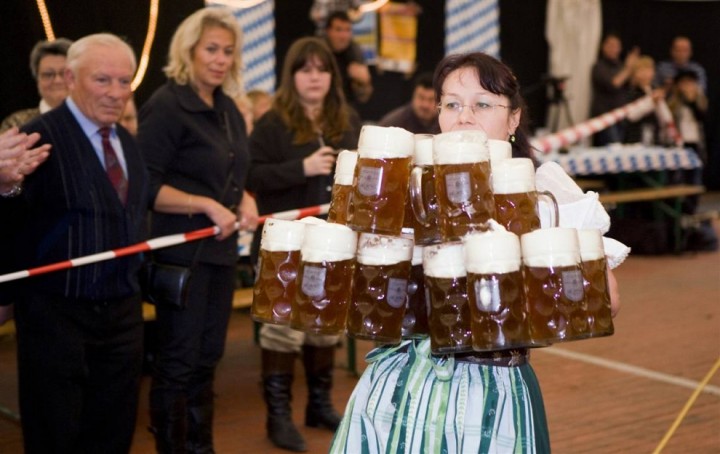 The female record for carrying Beer Steins was held by Anita Schwarz from Eichenau, Germany
19 Steins. in Mesenich, Germany, on 9 November 2008 in celebration of Guinness World Records Day.
Each one of these steins holds a liter of beer and weighs 5 lbs. So she successfully
carried over 90 lbs for a distance of 40 meters and set them down on the table without spilling
a drop.
Video of the Beer carrying competition for women. Watch Anita Schwarz win out of 3 competitors.
For The Male Competition,
Videos of attempts at carrying Beer Steins and breaking the record.

Attempt at the record
Breaking the Record
~~~~~~~~~~~~~~~~~~~~~~~~~~~~~~~~
Some foods you can get at the Oktoberfest
I was asked what would be a good appetizer platter to take to an Oktoberfest party.
Here is a Brotzeit platter sometimes called a
Vorspeisenbrettl (appetizer platter)
Here is the Oktoberfest menu for the Hacker Feltzelt
Hacker's large festival tent
(this is not a gathering place for computer geeks)

The Hacker Feltzelt menu is titled
Schmankerl which is

Here is the whole Hacker Feltzelt Menu
Schnittlauch und Schmaltzbrot
Westphalian ham, Obatzda (Cheese Spread) and
Rettisch (white radish) and Radieschen (red radish)

This is Chive Bread Schnittlauchbrot on the left and Griebenchmalzbrot on the right.
From the Hippodrom


The White Radish (Rettisch) that is shaved is done with a special tool and the red radish (Radieschen) are just usually plated whole.

The Schmalzbrot is an interesting spread made from simmered chopped pork fat with some of the skin and meat to give it cracklings also may contain onions and apples. Those are the bits that look like chopped nuts on the bread, This spread is called Griebenschmalz

The Chive Bread (Schnittlauchbrot) is made with good German bread, butter, quark or similar and chopped chives.

Obatzda is a creamy cheese dip made from camembert and sometimes other cheeses colored with paprika, a little beer and seasonings.

Go Here to make a Vorspeisenbrettl Platter
with Step by Step Pictures
You can of course add all kinds of other goodies, here is a meat, radish and obatzda platter.
| | |
| --- | --- |
| | |
| I like the way they use 2 Masskrugs to position the Vorspeisenbrettl on. | |
The Indispensable Radish on the
German appetizer plate
I have not eaten radishes that much, When you start to work with them
you start to fall in love with their flavor. In the United States you don't usually see them
in restaurants much except cut up in a green salad or on empty vegetable platters


Different Styles of Radish
You can enjoy fresh radish all year long
Often called Radi in Germany.
These are similar to the Daikon radish that you find in the stores in the United States. They are milder in flavor. These originated in China and made their way to Europe in the 16th century. The red small globe variety was developed later on.




These smaller white radishes are called "Bier Rettisch"
they are wonderful with a glass of beer and dark bread and butter topped with chopped chives.

Radieschen or small radish, are grown in Spring.

The Black Radish is planted in July and harvested in the Fall. They can be stored through winter like carrots and turnips.

After you slice the radish salt it and let it sit
"until the radish cries" this brings out the flavor and mellows the sharpness.

to the left

A perfect snack in the Biergarten is bread, sliced salted radish and a Mass.

Often cut like a Slinky
Everyone can pull off what a slice and it keeps intact.

See below how to make this with a kitchen knife. It is not that hard but takes a bit of practice to do very well.
How to make a Radish Accordion
Step by step how to cut a radish accord ian
Video of cutting a radish accordion
Rettisch Schneiden
Triangle Radish Cutter
Radish salads are perfect side for a bbq and a meal. salt, drain and add a vinaigrette and some chopped chives.

Radieschen
the small red radishes

pronounced rad-IS-shen

Makes a nice garnish for this brotzeit with quark.
It seems the smaller the radish the more powerful. The strong bite is caused by mustard oils. (glucosinolate).
These of course ward off predators, but to our advantage it wards off bacteria in our system. Also they
aid in digestion so it is perfect accompaniment for a meal. To soften the "bite" salt the radishes either whole, cut
in quarters or slices and let them sit until they, as the Germans say "cry". drain and dry off the liquid which
contains much of the mustard oil.
For more information, Red Radishes Small but Powerful
More links to working with Radishes
The history of radishes in Germany
More about Radishes from Essen und Trinken a German website.
You can find programs to translate this online. If you have a chrome browser
just right click and choose translate to English.

~~~~~~~~~~~~~~~~~~~~~~~~~~~~~~~~~~~~~~~~~~~~~~~~~~~~~~~~~~~~~~
German Style Cheese Dips
When you order a Laugenbrezel be sure to get an order of ...
Obatzda
( a special cheese spread)
when you order a pretzel you can order a side of this wonderful dip called Obatzda.
It is generally a camembert that that is seasoned and whipped smooth.
Go here to make Obatzda Cheese dip with step by step pictures


How to make a Simple Cheese Dip that is similar to the look of the Bavarian Obatzda,
that is great for USA folks,
the ingredients are inexpensive and readily available and
most all folks I have ever made this for in the 20 years have loved it and wanted
the recipe
Go here for the Simple Cheese Dip Recipe with Step by Step Pictures

~~~~~~~~~~~~~~~~~~~