Breitenbach Dandelion Festival
~☼~☼~☼~☼~
Dandelion Green Salad


with Vinaigrette and chopped egg




(Löwenzahnsalat mit Eier Salatsosse

)
The dandelion greens are strong in flavor and that is GOOD
but needs to be balanced with some sweet and tart dressing
to round out the flavor.
Another option is to blend the greens with.....
Dandelion Salat with Hot Bacon
Dressing
~☼~☼~☼~☼~
Karin Elliot born and raised in Germany
is a chef and wonderful friend giving me encouragement through the years here and donated her recipes for our newsletter. She also does wonderful volunteer work like providing meals for school children in need in Tuscon, Arizona.

Many German-Americans and German immigrants are interested in Native American items from books and movies to jewelry and arts and craft supplies. Karin will take care of you personally with her online store Native Rainbows
~☼~☼~☼~☼~
Spring Tonic
Spring has been a great time to celebrate for our ancestors in Germany. Imagine yourself back a few hundred years
before there was supermarkets, fridges or freezers and good medicine. Just making it through the winter was something
to celebrate but also the coming of some fresh grown vegetables. I think you would want to celebrate as well.
This dish is called Spring Tonic because the greens were known to be great for detoxifying the liver and cleansing other organs.
A celebratory meal of the greens along with some ham, and potatoes became popular and still is to this day in areas.
Burr Fischer's dandelion greens are topped with a hot bacon dressing.

Here is Burr Fischer's "Spring Tonic" Meal
Fresh dandelion greens on top of a smashed potato
and topped with hot bacon dressing with hard boiled eggs.
Go here for the Recipe
~☼~☼~☼~☼~
Dandelion Greens and Kale Stew
with Bone Broth
A good way to enjoy dandelion greens or other greens is to make a stew. This breaks down the
toughness of the greens and we see it in most every culture. The stew can be used for any meal
and as a side dish for about anything you think. Whether you serve them for breakfast lunch or dinner
and as a main or side it really qualifies as a comfort food.
The Stew is enhanced even better with......
Bone Broth
Bone broth is rich in minerals that support the immune system and contains
healing compounds like collagen, glutamine, glycine and proline.
The collagen in bone broth heals your gut lining and reduces intestinal inflammation.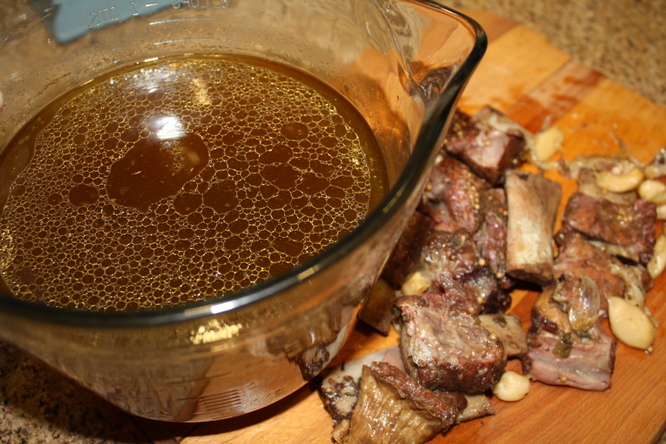 ~~~~~~~~~~~~~~
or beef up your bone broth by making
a Consommé or you could say a
Double Bone Broth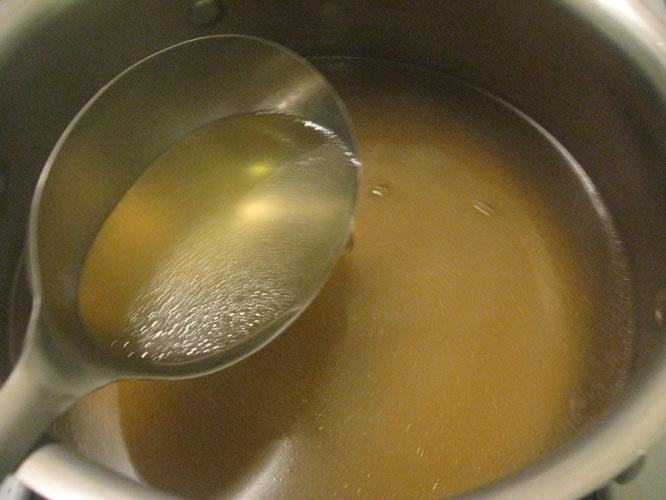 basically this is a bone broth that you make a mix of minced beef (hamburger) egg whites
and spices and slow simmer it. the mixture floats to the top and congeals making what is
called a "raft". You then skim this off and strain it and you not only have this wonderful
enriched broth but it will be crystal clear as well.
~☼~☼~☼~☼~
Dandelion Syrup
(Löwenzahn Sirup)
This is a recipe from "The Gartners" blog, and is in German. You may want to translate this.
Go to Google Translate then copy and paste the URL
http://gaertnerblog.de/blog/2007/loewenzahnsirup/ into the box and it will translate it for you.
A recipe book and short biography of my Grandmother Emma Block. Her recipes, culture and cooking styles that were brought over from Germany. How they evolved when she came to America in the early 1900s and settled in Portland, Oregon on the west coast of the United States. Over 100 recipes

Bonus Recipe CD with the Ebook and recipes with step by step pictures

Goulash Ebook
10 Goulash recipes

1.5 oz package (1/3 cup)
of Goulash Spice Mix
enough to make most of the recipes.
Order the Cookbook and Eintopf Special Here
16.97
plus S/H
2.97
plus S/H
~~~~~~~~~~~~~~~~~~~~~~~~~~