How about a Schwenkbraten or a Spiessbraten?
I absolutely love all of these dishes from the Saarland region of Germany.
This is in the southwestern part of Germany .

The Spiessbraten and Schwenkbraten (A Pork or Beef Steak dish), belong to the city of Idar-Oberstein Germany, as well as the jewelry and precious stones. It started in the 1800's when Gem stone prospectors returned from South America and wanted to do their own version of steaks like the Gaucho's did.

Beechwood Chips are the traditional wood
used for cooking Saarland food over a Schwenker

Idar-Oberstein is known as a gemstone center. Until the 18th century, the area was a source for agate and jasper . A combination of low-cost labor and energy helped the gemstone-working industry flourish. The river Nahe provided free water power for the cutting and polishing machines at the mills

more on the history of Schwenkbraten Spiessbraten and Idar Oberstein.
This specialty is from the Idar Oberstein area of the Rhine.
Read more about it here. Traditionally this is spit roasted over beechwood coals
. This recipe is modified for us that don't have a spit or rotisserie
Go here for the recipe for Spiessbraten
~~~~~~~~~~~~~~~~~~~~~~~~~~~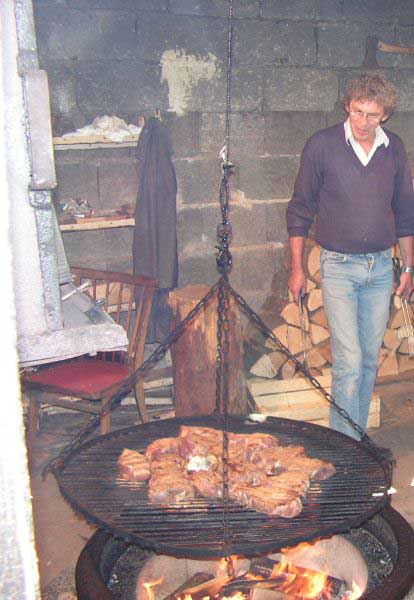 ~☼~☼~☼~☼~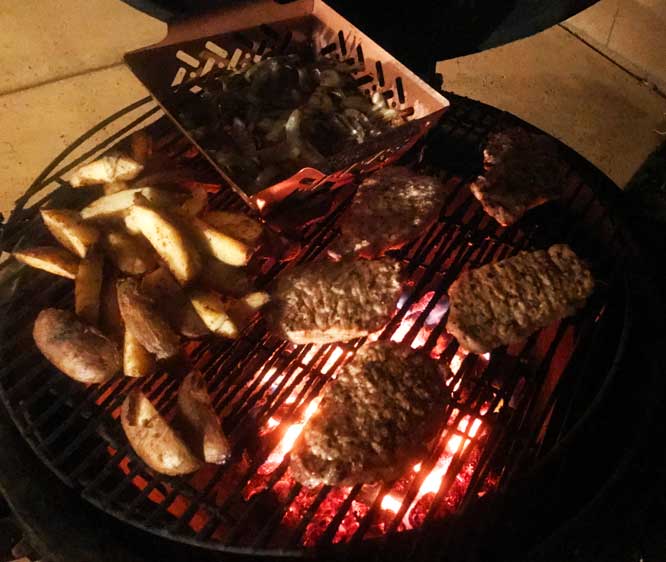 I love the way these pork steaks are marinated. Onions pounded and mixed with
olive oil and spices are pressed into the meat in layers and sit overnight.
Traditionally they are cooked on a swinging grill over beechwood coals.
It is very hard to find beechwood here in the United States,
I am told that oak is an acceptable substitute
Here I served the steak with Rettischsalat (white radish salad)
and German potato salad
Go here for the recipe for Schwenkbraten
Sometimes I like to slice the pork steaks if I am using them on sandwiches.

Lay the slices on a bed of the onions used to marinate, on a roll.


Some other folks recipes for Schwenkbraten
Cookin with Cyndi




Pork Schwenkebraten
The Memorable Kitchen
~☼~☼~☼~☼~
Here is a video of setting up a Schwenker Grill in Saarland
Serve the Schwenkbraten
with a traditional radish salat or
sliced radishes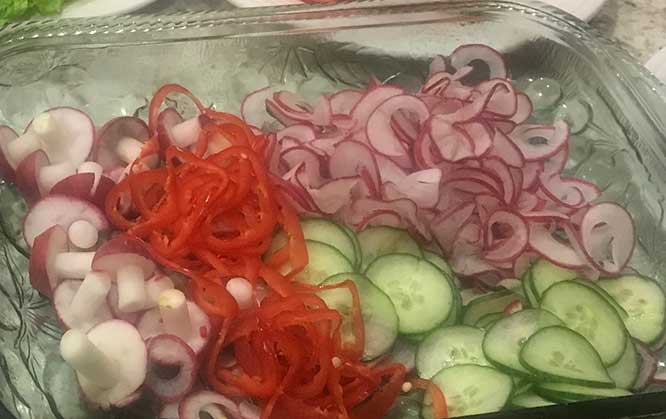 I used a spiralizer to make the radish curls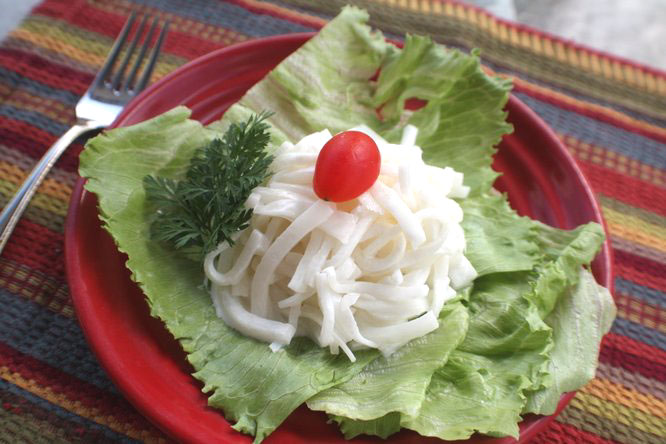 Rettischsalat
(Radish Salad from Daikon)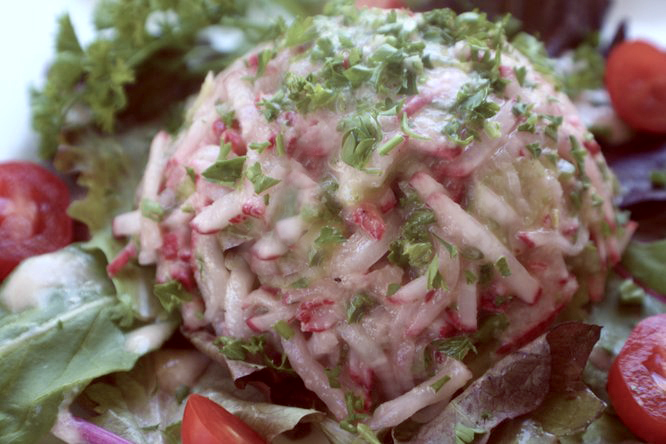 Red Radish Salad
with Vinaigrette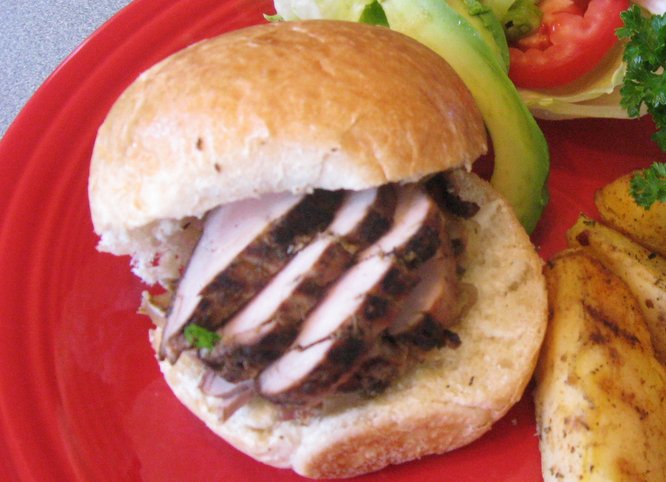 ~☼~☼~☼~☼~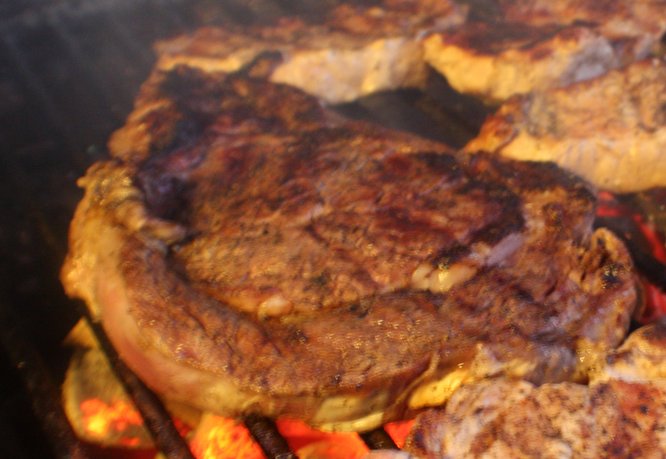 This is August George's original recipe that uses a rib eye steak. DELICIOUS!
Go Here for the Recipe for Steak Schwenkbraten
~☼~☼~☼~☼~
~☼~☼~☼~☼~
Fall Often Brings Zucchini Bumper Crops
Have you ever had it coming out your ears?
My friend Karen Kinnane told me a story that she heard recently when she was in Lepzeig
from her friend that was a chef in Communist East Germany.
This chef ,Andreas got so tired of using the limited vegetables on hand
and really missed what he referred to as the "Long green things" that he loved so much.
After some question and answer Karen determined this chef meant zucchini.

Karen tried to tell him that if you live in areas where they are plentiful
sometimes you have box fulls and box fulls that you can't give away.
In fact she says if you saw your neighbor walking up to the house with a box in his arms
you can guess it was zucchini, close the blinds and turn out any lights to make it look as if
you weren't home.

Well there are many ways now to use that extra zucchini
Zucchini in German is also called Zucchini
~☼~☼~☼~☼~
Here is a Quick Zucchini Soup that you can make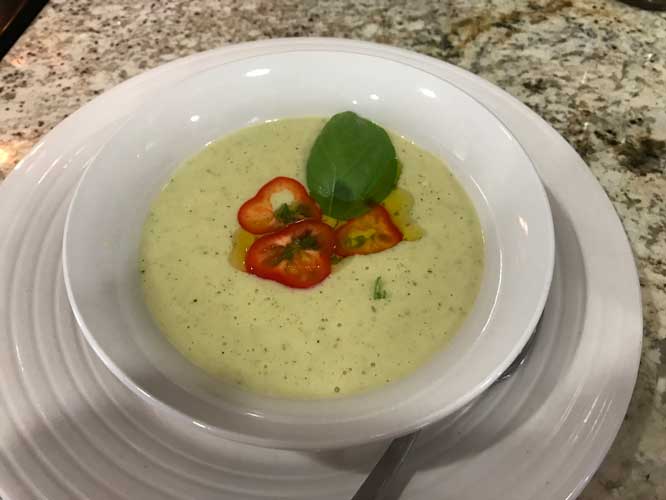 Karen Kinnane who deals with lots of bumper crops of zucchini in her garden and this
is one of the recipes that she makes that is very quick and easy, nice for a fall evening
and can be served hot or chilled.
I didn't have a big crop of zucchini but I do find bagfuls marked down for a few blemish's
and so we like to make zucchini noodle dishes (a recipe follows) and
Go here for the recipe for Quick Zucchini Suppe
~☼~☼~☼~☼~
Zucchini and Potato Pancakes (kartoffelpuffer)
with applesauce (Apfelmus)
If you want to cut down on some carbs this is a nice alternative.
You can of course use whatever ratio potatoes to zucchini you want
but I like it about half and half and I add a bit of mashed potatoes.
Go here for the recipe for Zucchini and Potato Pancakes
~☼~☼~☼~☼~
Zucchini Crusted Grilled Cheese Sandwiches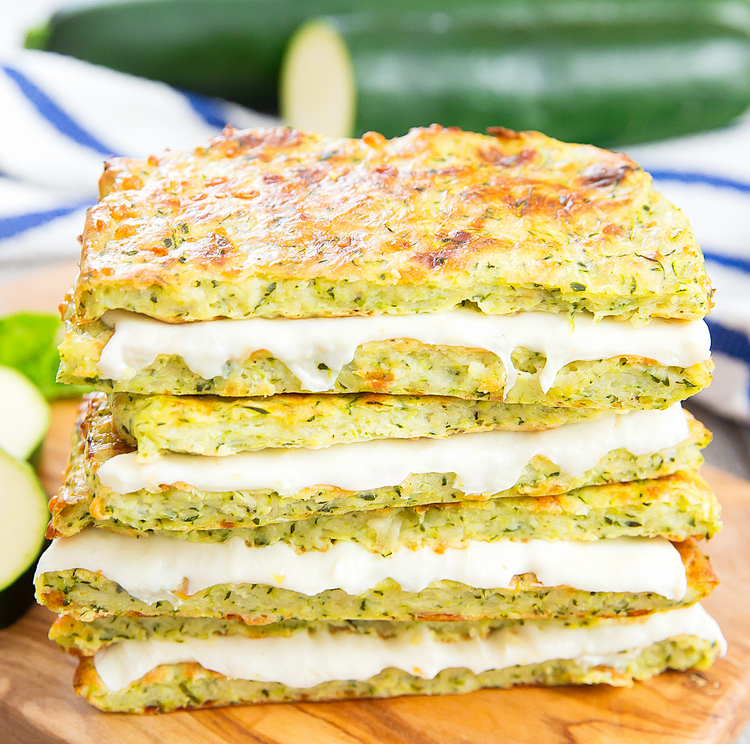 ~☼~☼~☼~☼~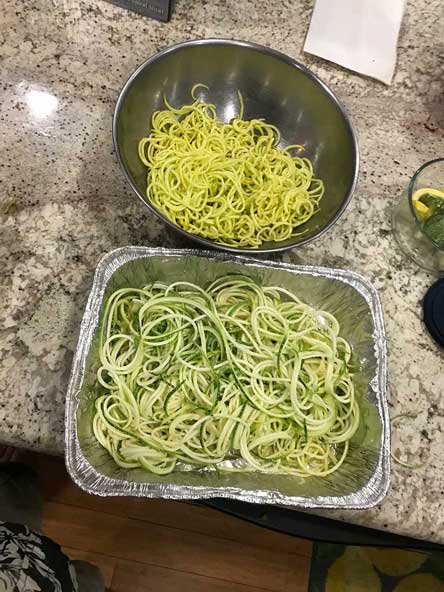 Zoodles with Pork,
Parmesan and Spinach
~☼~☼~☼~☼~
Get yourself a Spiralizer to make the Zoodles and
other fun vegie curls
5 Blade Spiralizer - Spiral Slicer, Vegetable Maker, Shredder !
Makes Zucchini Noodles,
Veggie Spaghetti, Pasta, and Cut Vegetables in Minutes.
Includes Blade Storage Box!
~☼~☼~☼~☼~
~☼~☼~☼~☼~
Kurbissuppe
(Pumpkin Soup)
This is really fun for any celebration but really adds a fall atmosphere
to your Oktoberfest celebration. You bake it in the pumpkin. it is not
just showy ...it is really good!
Let's make kurbissuppe ( pumpkin soup)
in the shell with step by step pictures.
~☼~☼~☼~☼~
Karin Elliot born and raised in Germany
is a chef and wonderful friend giving me encouragement through the years here and donated her recipes for our newsletter. She also does wonderful volunteer work like providing meals for school children in need in Tuscon, Arizona.

Many German-Americans and German immigrants are interested in Native American items from books and movies to jewelry and arts and craft supplies. Karin will take care of you personally with her online store Native Rainbows
~☼~☼~☼~☼~
German Cookbook Special
A recipe book and short biography of my Grandmother Emma Block. Her recipes, culture and cooking styles that were brought over from Germany. How they evolved when she came to America in the early 1900s and settled in Portland, Oregon on the west coast of the United States. Over 100 recipes

Bonus Recipe CD with the Ebook and recipes with step by step pictures

Goulash Ebook
10 Goulash recipes

1.5 oz package (1/3 cup)
of Goulash Spice Mix
enough to make most of the recipes.
Order the Cookbook and Eintopf Special Here
16.97
plus S/H
2.97
plus S/H
~~~~~~~~~~~~~~~~~~~~~~~~~~