Guten Tag,

I am your host
Stephen Block

I hope that where ever you are your keeping warm.
To those of you with German heritage in Australia, Brazil, South Africa,
and other countries in the Southern hemisphere many are jealous that it is summer for you!

BIG potato Knodel or dumplings this week. I have had requests for those that like to make potato dumplings using half raw and half cooked potato, and BIG ones! I have been working on these and think that I have come up with a recipe that you will really like.

To pair up the dumplings a nice Pork and Sauerkraut stew that was as simpleas …place all ingredients in a Crockpot.

Sylvia Norris sent me a German breakfast idea called Apfelkratzen.
an apple pancake I experimented with this and thought it was very tasty and simple.

To those that shun pancakes and dumplings,or eat them with guilt I include some notes of how I fix them so they are
very waistline and heart Freundlich!

Also check out some of the German love phrases that you can tell your sweetie this Valentines Day, plus some German love songs that you can listen to while you look over the new recipes.

Also Ernst Arnold gave a new German restaurant pick.

On with the Newsletter..............


~~~~~~~~~~~~~~~~~~~~~~~~~~
with
with Large Potato Knödel
(Dumplings)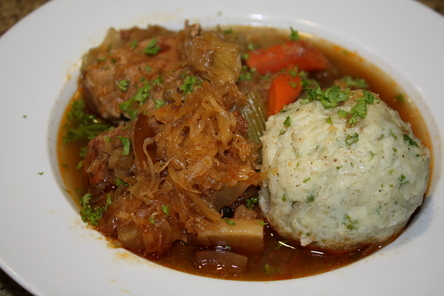 A great winter dish that where the sauerkraut adds a lot of flavor to the stew.

The potato dumplings use half raw and half cooked potatoes which gives a unique flavor combination that you don't get by using just cooked potatoes. The use of croutons stuffed in the center of the dumplings hastens the cooking time, because it doesn't have to cook so long to get the center done.
Note:
if you use lean boneless pork loin ribs you have a low calorie and low fat meal ...Seriously. The dumplings can be made with Egg Beater
or egg whites, and they are mostly good potato that is loaded with fiber.

The broth consistency instead of a gravy thickened with fat and flour also reduces the heaviness.

Come into my kitchen and make Pork and Sauerkraut Stew
with
Large Potato Knödel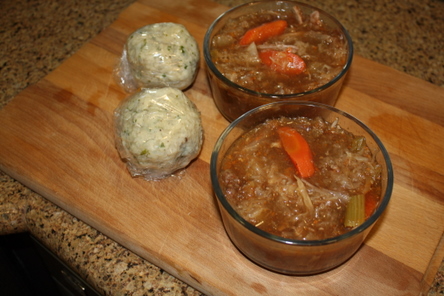 You can even Freeze the leftovers.
Wrap the dumplings in plastic wrap and place individual servings in bowls that you can lightly thaw to pop out of the glass dishes. then wrap and store in Freezer.
~~~~~~~~~~~~~~~~~~~~~~~~~~
| | |
| --- | --- |
| Below are a few of the Step by Step Recipes Featured | |
Sauerbraten

Bratwurst

Pan fried Chicken Schnitzel

Apfel Strudel

Old Fashioned Home Made Noodles

German Potato Salad

Springerle

Spätzle

Gefulte Nudeln
~~~~~~~~~~~~~~~~~~~~~~~~~~
This is a wedge of Iceburg lettuce, surrounded with fresh pickled cauliflower, carrots and onions, and topped with a creamy dressing and toasted pumpkin seeds.
Start with the pickle!
in the Block household we pickle all year long , because the fresh fermented pickle
Is so good for you! Hey ...Cleopatra thought so and she didn't do too bad.


Go here to make Pickled Cauliflower
with carrots and onions
Over 50 great pickle recipes for all
kinds of vegetables, fruit and even eggs.
My new book to celebrate pickling season.
Get it now for 12.95
cinnamon sticks , vanilla bean and pink curing salt


Also a CD featuring
Step by Step recipe on how to pickle your own Corned Beef
and the pink curing salt to make it.


Although your not going to get that nice reddish color
unless you use pink curing salt



Pink Curing Salt
So I include 1 oz of this pink curing salt good for several batches of corned beef.
Apfelkratzet
(apple scramble)
We don't cover German breakfast food that much. Pancakes can be a great German dinner,
but these make an excellent breakfast. "Kratzet" refers to a scramble and this is first scrambled
and then left in the pan to set. I like this dish especially because the texture is very pleasant, not doughy and not just apples mixed with scrambled eggs, but somewhere delightfully inbetween. I also like the German touch of adding a hint of lemon zest to the batter.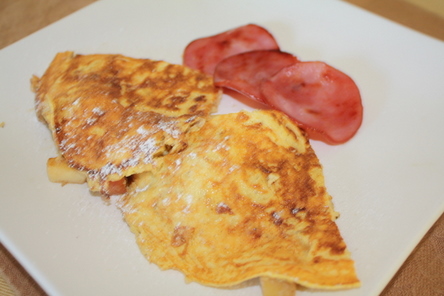 Come into my kitchen and make some Apfelkratzet!
Note: By using Egg Beaters or egg whites you can significantly lower the fat and calories
of this dish. to substitute white whole wheat pastry flour will add a bit more fiber.




~~~~~~~~~~~~~~~~~~~~~~~~~~
For your German Valentine
Talk German romance.........

Go here to see more German love words and phrases
kiss
Kiss me!

küssen
Küss mich!

live
I can't live without you.

leben
Ohne dich kann ich nicht leben.

love
He/She's the love of my life.

Liebe
Er / Sie ist die große Liebe meines Lebens.

love bite
He/She has a love bite.

Knutschfleck
Er / Sie hat einen Knutschfleck.

love, be in
I'm in love.

verliebt sein
Ich bin verliebt.

love, fall in
He fell in love with her.
She fell in love with him.

sich verlieben
Er hat sich in sie verliebt.
Sie hat sich in ihn verliebt.

lover
She took a lover.

Liebhaber
Sie nahm sich einen Liebhaber.
~~~~~~~~~~~~~~~~~~~~~~~~~~
~~~~~~~~~~~~~~~~~~~~~~~~~~
German Restaurant in the States
This is a favorite restaurant pick from
Ernst Arnold
Hi Stephen! I live in Hagerstown Maryland and we have a fantastic Bavarian Restaurant called the Schmankerl Stube. http://www.schmankerlstube. com/ If it isn't already on your list it ought to be. In the summer, one can drink and dine under the old oak tree in the biergarten. Nearby in Shepherdstown, WV is the Bavarian Inn but I prefer the Stube over the Inn. Best regards, Ernst

I order from the German Deli more frequently than ever.
I try to get in bulk to make the shipping dollars count.
Also there are sales all the time I like to take advantage of.
They are nice folks. If you don't believe me call them.
and tell them Stephen Block sent you from the German Goodies Newsletter.

Our Retail Store has moved!
Our new and improved retail store is now open in Colleyville!
The address: 5100 State Hwy 121 Colleyville, TX 76034
(817) 354-8101
Hours of operation:
Mon - Sat: 9am - 9pm
Sundays: 10am - 6pm
~~~~~~~~~~~~~~~~~~~~~~~~~~
Kitchen Tool Review
The Wooden Spoon
One of my favorite and most used kitchen tools.
I love the feel and sturdiness of a wooden spoon. I can use it in any
non-stick pan, The flat bottom is nice so you can scrape the bottom
to loosen food as it is cooking.
I don't mind paying for a good wooden spoon. I paid 12 dollars for mine
It seems like a lot for a spoon but I use it every day and I love it!
~~~~~~~~~~~~~~~~~~~~~~~~~~
Recipe Requests
I really appreciate all of you that donate recipes, and help answer
folks requests. Most of the newsletter is based on what folks request and
what you donate. I love to research the recipe and then put it on here
for all to enjoy.
When you email the recipe to those that request please send the recipe to
me also at
stephen@kitchenproject.com
~~~~~~~~~~~~~~~~~~~~~~~~~~~~~~~~~~~~~~~~~~~~~~~~~~~~~~~~~~~~~~~
Do you have a good recipe for Hassenpfeffer? I used to order it at two different German reastaurants in my area that have gone out of business. We still have a very nice Bavarian restaurant here in town but they do not serve Hassenpfeffer.
Thank you very much.
Gary in Santa Rosa, CA
gej112@yahoo.com
~~~~~~~~~~~~~~~~~~~~~~~~~~~~~~~~~~~~~~~~~~~~~~~~~~~~~~~~~~~~~~~
I was wondering if you knew of a Canadian web site that I could order German food etc from. All the ones I found on line so far are in The USA and there for the shipping costs are much too much.
Thank you for any information you may come up with.
Looking forward to more of your news letters ,,, they are amazing.. :)

Many thanks
Donna Spangenberg
donnajeanspangenberg@gmail.com
~~~~~~~~~~~~~~~~~~~~~~~~~~~~~~~~~~~~~~~~~~~~~~~~~~~~~~~~~~~~~~~
Dear Stephen.

Can you provide me with a recipe called Berched Chicken I'm told it is either a German recipe or Bavarian. Your input in this matter would be greatly appreciated. Thank you very much for your time.

Sincerely,

Ralph Begin
LISEENTERPRISE@aol.com
~~~~~~~~~~~~~~~~~~~~~~~~~~~~~~~~~~~~~~~~~~~~~~~~~~~~~~~~~~~~~~~
~~~~~~~~~~~~~~~~~~~~~~~~~~~~~~~~~~~~~~~~~~~~~~~~~~~~~~~~~~~~~~~
_________________

Some German Love Songs
Stefanie Hertel & Stefan Mross - Schönes bleibt 2009
Roland Kaiser - Alles was Du willst
German
Refrain: "Und alles was du willst,
werd' ich für dich sein
bin dein Stern am Himmel
den du greifst
Denn alles was du fühlst,
fühlst du nicht allein,
oh nein..."

English
"And everything you want,
will I be for you,
'll be a star in the sky,
that you touch,
'cause everything you feel,
you don't feel alone,
oh no...
Du Bist nicht allein -Roy Black
Du bist nicht allein,
Ich bin immer hier...
Du bist nicht allein,
Ich bin immer hier, um da zu sein.
You are not alone,
I'm always here...
You are not alone,
I'm always here, to be there.
Want to receive our
German Goodies Newsletter?

Alles Gute!
Stephen Block


Privacy Policy
and Terms of Use