<>*<>*<>*<>*<>*<>*<>*<>*<>*<>*<>*<>*<>*<>*<>*<>*<>*<>*<>*<>*<>
In This Issue
Recipes | Resources | German Online Shop | German Music | German Names


I missed you

Funnel Cakes
Pennsylvania Dutch

Old German style

Recipe Requests


Funnel Cake at a Fair
<>*<>*<>*<>*<>*<>* *<>*<>*<>* *<>*<>*<>* <>*
Here is a page with German Translators, links to german history, and how to speak German, a good page to bookmark.
<>*<>*<>*<>*<>*<>* *<>*<>*<>* *<>*<>*<>* <>*
Guten Tag everyone,
I am back in Corvallis , Oregon .
I missed you. If you didn't know for the last 6 months I was helping a friend open a restaurant in Vancouver , Washington . It is called 1220 Main . The name of the restaurant is the same as the street address. It is not a German restaurant but it was fun to design the menu and help them get on track. Here is the website if you want to see it. www.1220main.com
We stayed on a farm in La Center, Washington where the internet access was not very good, which made doing a newsletter an exercise in frustration. Also you have probably heard building and starting a restaurant is an all consuming activity one that veterans will surely warn you about. I warned my friend, but he didn't heed my warning, and I guess I didn't as well. I think there is some kind of an addiction that restaurateurs develop that keeps them going back into the fray.
I want to thank you for all the nice letters you wrote asking about the newsletter and telling me that you missed them. You are my strength ( Stärke geben )
<>*<>*<>*<>*<>*<>* *<>*<>*<>* *<>*<>*<>* <>*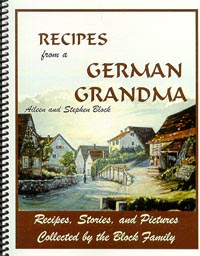 RECIPES FROM A GERMAN GRANDMA
A recipe book and short biography of my Grandmother Emma Block. Her recipes, culture and cooking styles that were brought over from Germany. How they evolved when she came to America in the early 1900s and settled in Portland, Oregon on the west coast of the United States .
http://www.kitchenproject.com/german/OnlineShop/German_Store.html

See a sample recipes from the our book.
http://www.kitchenproject.com/html/GBcover.html
Have you thought of writing your own cookbook?
http://www.kitchenproject.com/writeacookbook/index.htm
<>*<>*<>*<>*<>*<>* *<>*<>*<>* *<>*<>*<>* <>*
Funnel Cakes
Someone wrote asking about Funnel Cakes. I thought that might be an interesting topic to write about since it appears that Germans were in on the development of this tasty dish.

There seems to be two distinct recipes for this dish, one is similar to a pancake batter and one is similar to a cream puff dough (Pate a Choux ) that is a very different batter indeed.
Pennsylvania Dutch Style Funnel Cakes


This style of funnel cakes are the ones that you see at the fairs. It is the most common one and easy to make.

This recipe comes from Pennsylvania Dutch roots, and has been around for quite a while.
The oldest recipe for a recipe titled "funnel cake"in an English language book is this:
This is from one of my favorite food history websites, Food history timeline
Funnel Cakes
[1935]
"Mix 1 pint of sweet milk, 2 eggs well beaten, (yolks and whites together), enough flour to make a thin batter, 1/2 teaspoonful baking powder, 1/4 teaspoonful salt. Mix in a pan thoroughly. Place enough lard in a pan to cover the bottom. Let it get quite hot before cooking the batter. Now put the batter through a funnel into the hot lard, beginning at center of pan, and turning the stream around in a gradual enlarging circle, being careful not to touch the sides of the other dough. Fry a light brown and serve hot with any tart jelly."
--- Pennsylvania Dutch Cookery , J. George Frederick, reprint of 1935 edition [Favorite Recipes Press: Lousiville KY ] 1966 (p. 137)
Here is a modern day version

Pennsylvania Dutch Funnel Cakes

Makes about 4 servings (depending on size of cakes made)
The batter is poured through a funnel into hot cooking oil and fried.


1 large egg, beaten
2/3 cup milk
1 1/4 cup all-purpose flour
2 Tablespoons sugar
1 teaspoon baking powder
1/4 teaspoon salt
powdered sugar
shortening or vegetable oil for frying -
<>*<>*<>*<>*<>*<>*<>*<>*<>*<>*<>*<>*
Du! Du! Liegst mir im Herzen
Find the music and words here
If you have good memories of this song then you will enjoy this version.
listen or download the whole song if you like. There is a link to the German version of all the words.


<>*<>*<>*<>*<>*<>*<>*<>* <>*<>*<>*<>*
Cream Puff Dough Style Funnel Cakes
This version uses a cream puff dough. If you have never worked with a cream puff dough it is very interesting.
I put this version in is because I think every cook should make cream puffs at least once. It is really neat because when it cooks it becomes hollow inside leaving a space to fill it with any kind of interesting stuffing.
Also probably one of the oldest recorded recipes for this pastry was found in a 1879 German cookbook, that uses a cream puff like dough. For those of you that follow the food network Alton Brown did a program on cream puff dough and one of the things he made was a funnel cake.

This is from the, Food history timeline
The oldest authentic German recipe we have for an item that would create what we now call "funnel cakes" is from 1879. The original cookbook is in German. Gisela Harpell, one of our colleagues at the Morris County Library, was kind enough to offer this translation:
1879 German Recipe for Funnel Cakes

Source: Practical Cookbook for the ordinary and elegant Kitchen by Henriette Davidis. 23rd Edition. Pub. Velhagen & Klasing. Bielefeld and Leipzig , 1879.
Recipe: p.468. #248 "Pressed Pastry cooked in melted Butter"
200 gr. fine flour, an equivalent amount of water, 100 gr. butter, 5 eggs,1 tablespoon sugar, grated rind of 1/2 lemon. Bring water and butter to the boil, gradually add the flour,and stir until the dough turns dry and does not stick to the pot. Remove the pot from the fire, to the hot mixture add 1 egg, lemon rind, sugar, and when cooled gradually add the remaining eggs one at a time. The dough is then firmly beaten, added to a syringe, pressed into the hot melted butter, baked to a yellow color according to the instructions in #246, dusted with sugar and cinnamon.
#246, p466-467 listed detailed instructions for baking in butter, lard and oil.
[TRANSLATOR'S NOTE: This is a more literal translation because I wanted to keep some of the flavor of the original. The title page also mentions that this cookbook is designed for beginning cooks and new housewives. The author also states that the recipes are reliable and have been tested by Henriette Davidis. She also includes instructions for entertaining and menues for the various seasons.]
Ingredients:


1 cup water
3/4 stick butter (6 tablespoons)
1 tablespoon sugar
1/8 teaspoon salt
1 cup flour
1 cup eggs, about 4 large eggs and 2 whites
Vegetable oil, for frying
Powdered sugar, for topping
<>*<>*<>*<>*<>*<>*<>*<>* <>*<>*<>*<>
<>*<>*<>*<>*<>*<>*<>*<>* <>*<>*<>*<>
Recipe Requests
I have had many requests while I was gone that I feel bad that I wasn't able to help out. If any of you still are searching for a recipe now that I am back, please feel free to write me at stephen@kitchenproject.com and I will put it in the next newsletter.

<>*<>*<>*<>*<>*<>*<>*<>* <>*<>*<>*<>*
German Cookie Request
A friend of mine is desperately trying to find the recipe for a certain kind of German cookie for her husband and his family. This cookie was described to me as: having a horse shoe kind of shape, the consistency of a macaroon, being kind of dark brown in color, with a hint of flavor that could be maple, coconut, almond, etc. They have a cream-cheese consistency type of frosting just on the top side that may have almond or maple flavoring. Then they are dipped in chocolate. She's been scouring bakeries, German clubs, and other German resources but has yet to have any kind of lead as to the name/recipe of these cookies. If you know of these cookies, even just the name of them, you would be most helpful!! Better yet, if you know of or where I could get the recipe for them, it would be unbelievable. Any help you could give is most appreciated.
<>*<>*<>*<>*<>*<>*<>*<>* <>*<>*<>*<>*
I have a pickled eisbein. How do I cook it?
Michele
<>*<>*<>*<>*<>*<>*<>*<>* <>*<>*<>*<>*

Sausage making Equipment

I recommend
Top


<>*<>*<>*<>*<>*<>*<>*<>*<>*<>*<>*<>*<>*<>*<>*<>*<>*<>*
German Resources

German English Translator
This translates a whole page, paragraph or phrases of German to English or English to German or other languages as well.
Learn to Speak German
German for Travelers
Transparent.com ( German lessons, sign up for German word of the day.)
German-English Dictionary
This one is my favorite. Just type in the word, English or German and the German or English translation will come up.
German Americana
This is a site that has lots of links to German American culture, and literature.
<><><><><><><><><><><><><><><><><><><>
Thanks for Reading and being a part of this group.
Please pass this Newsletter on to your friends. If you want to include any
material in your publication notify me first please.
Subscribe to this publication here
<><><><><><><><><><><><><><><><><><><>

Warmest Regards
Stephen Block
stephen@kitchenproject.com
stephen@kitchenproject.com
http://www.kitchenproject.com