Guten Tag!
Oktoberfest time!

It is Oktoberfest time and I wanted to pass on some of the Oktoberfests going on
and a few ideas every few days that you may be able to use in if your having a celebation.
Some Oktoberfest Bratwurst Recipe Fun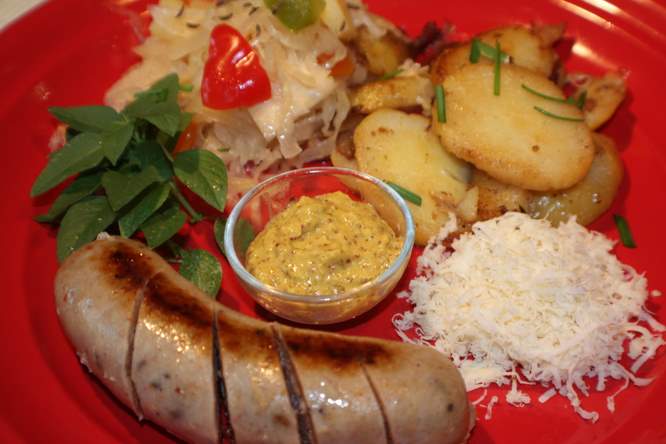 One of the things I have discovered that is so good with bratwurst is
fresh grated horseradish, that is available in the produce at your grocery stores.
It lasts for weeks and weeks in your fridge and simple to just grate as you need.
I added pineapple and bell peppers to the sauerkraut here, and made a German potato salad in
slices instead of chunks at the suggestion of Leah Knockturnal Smith.

| | | |
| --- | --- | --- |
| Here is a horseradish root I bought at the supermarket. | Just peel.... | and grate the horseradish with the fine mesh of your grater. |
it is wonderful to dip a piece of bratwurst in mustard and then in
a fluff of fresh grated horseradish.
~~~~~~~~~~~~~~~~~~~~~~~~~
A quick Bratwurst gallery to give you some ideas for your Oktoberfest.
Long foot longs are fun. You will likely have to make it from Scratch if you want a sausage this long.

Try a currywurst catsup
on your brat.

Annette Engols from the German Cafe in Sierra Vista, AZ says that in her cafe she makes this recipe similar, but makes sure she uses unsalted butter and her secret is to use good curry spice, she suggests penzeys spices online. Roy Denman suggests adding a bit of fresh garlic when you saute the onions.

Use a round bun and 2 Brats

I recently had a sliced brat on top of a burger on a bun, and I could only eat half, but the combination is wonderful!

Sliced and stuffed with bread stuffing mixed with your favorite cheese.

I liked these smoked brats topped with pickled carrot slivers and sauerkraut.

Face painting is wonderful. Also a hunk of French baguette works well for a brat roll

I couldn't resist sending this. Necessity is the "Mutti" of invention.




A little cheese fondue and different brats make a nice change up.

Rustic is sometimes very appetizing!
~~~~~~~~~~~~~~~~~~~~~~~~~~~~~
Oktoberfests Coming Up!
~~~~~~~~~~~~~~~~~~~~~~~~~~~~~
Every 31 days until Sun Oct 30 2011 . Thursday, September 22, 2011 - 6:00pm - 10:30pm
Helen Chamber of Commerce ,
Helen Festhalle, 1074 Edelweiss Strasse, Helen, GA 706-878-1908
Helen's 41st Oktoberfest
~~~~~~~~~~~~~~~~~~~~~~~~~~~~~
~~~~~~~~~~~~~~~~~~~~~~~~~~~~~~~~~~~~~~~~~~~~~~~~~~~~~~~~~~~~~~
Antonia
Die Hände hoch
(Hands High)
Oktoberfest at Big Bear
This is why I like to go to Oktoberfest, such fun
The Swinging Bavarians at Oktoberfest
Angela Wiedl - Jodelexpress
Turn on some More Oktoberfest Music!
~~~~~~~~~~~~~~~~~~~~~~~~~~~~~~~~~~~~~~~~~~~~~~~~~~~~~~~~~~~~~~
| | |
| --- | --- |
| Below are a few of the Step by Step Recipes Featured | |
Sauerbraten

Bratwurst

Pan fried Chicken Schnitzel

Apfel Strudel

Old Fashioned Home Made Noodles

German Potato Salad

Springerle

Spätzle

Gefulte Nudeln
Where do we share our German recipes and heritage?
The German Goodies Facebook Page
Also place recipe requests

Join our discussion of German recipes on Facebook
Just hit the "Like" button and you can start posting.