Guten Tag!
Oktoberfest time!
recent Oktoberfest newsletters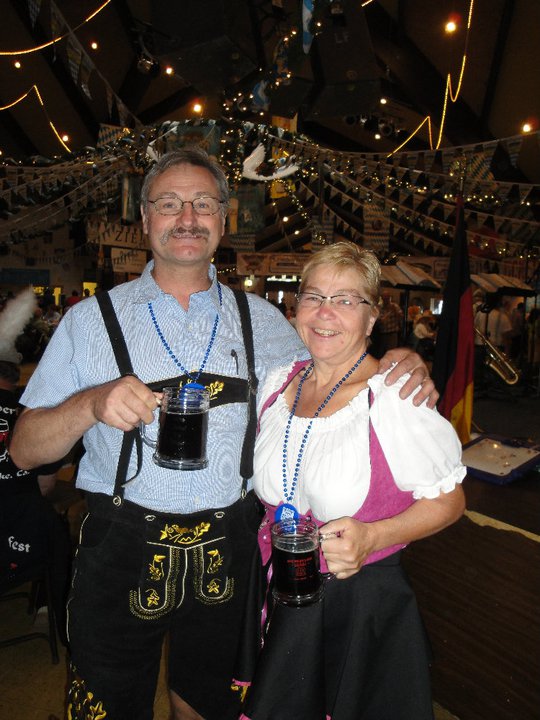 The first Oktoberfest. If you look close in the center it is a
horse race that was the main event.
They stopped the races in 1960.
It starts always with the Mayor of Munich tapping the keg and saying
"O'zapft is"
meaning it is tapped.
Then the first beer is given to Minister-President of the State of Bavaria

Here is a great video of the tapping of the first beer
in the 2007 Munich Oktoberfest.
Now there is a parade of the "Landlords and the Breweries" , music, and rides,
and food booths and every 4th year an agricultural show.
One dish that is not commonly talked about in the Munich Oktoberfest is
Steckerlfisch (Fish on a stick).The fish (usually Mackerel) is skewered on a stick lengthwise so it
can be tilted over the fire and the fat runs down the stick instead of into the fire.
Still is a very popular food at the Oktoberfest, they are put the fish (usually Mackerel)
on a stick lengthwise so that it can be angled over the fire and the fat
will run down the stick instead of over the fire.
One thing that hasn't changed is
"Man Down"
Especially drunk patrons are known as "Bierleichen" ,
or beer corpses.
~~~~~~~~~~~~~~~~~~~~~~~~~~~~~~~~~~~
If you are doing your own Oktoberfest, you may want to work in a little Bratwurst history.
Our heritage is one of survivors, and the bratwurst is a great symbol of
using every part of the animal that is edible.

The hog was processed in the late fall, a few of the sausages were eaten
fresh and the rest smoked and saved for the cold winter.
and our relatives survived!
1st Thuringian bratwurst 2006-2008
King Harald Hausmann Suhl-Hainsberg
From the Bratwurst Museum

There is lots of interesting information on how this sausage started, and how
each region of Germany has developed their own style.
It will help as you decide to do your Bratwurst for your celebration.
Some Grill their Sausages over coals as in Thuringia
and in Coburg over pine cones!

In Munich it is just steamed in water so as not to burst the skin

Then there is the Mainfränkische Meterbratwurst That is one meter long!
Since we are talking Oktoberfest
and Munich is the big one, we will focus on the Bratwurst
around Bavaria and Thuringia
Go here to find out more about
Bratwurst History
and some of the popular wurst.
~~~~~~~~~~~~~~~~~~~~~~~~~~~~~~~~~~
Obatzda
German Cheese Dip for Pretzels
What I will serve with my pretzels this Oktoberfest
Obatzda
German Cheese Dip
with step by step pictures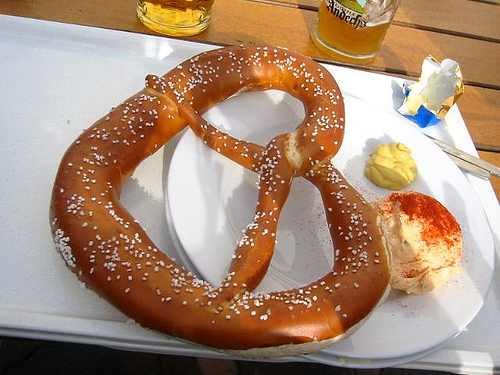 ~~~~~~~~~~~~~~~~~~~~~~~~~~~~~~~~~~~~~~~~
~~~~~~~~~~~~~~~~~~~~~~~~~~~~~~~~~~~~~~~~~~~~~~~~~~~~~~~~~~~~~~
Kurbissuppe
( Pumpkin Soup)
This is really fun for any celebration but really adds a fall atmosphere
to your Oktoberfest celebration. You bake it in the pumpkin. it is not
just showy ...it is really good!
Let's make kurbissuppe ( pumpkin soup) in the shell with step by step pictures.
Turn on some Oktoberfest Music First!
~~~~~~~~~~~~~~~~~~~~~~~~~~~~~~~~~~~~~~~~~~~~~~~~~~~~~~~~~~~~~~
| | |
| --- | --- |
| Below are a few of the Step by Step Recipes Featured | |
Sauerbraten

Bratwurst

Pan fried Chicken Schnitzel

Apfel Strudel

Old Fashioned Home Made Noodles

German Potato Salad

Springerle

Spätzle

Gefulte Nudeln