Guten Tag!
Just a few recipes to pass along to you!

Were off to Big Bear tomorrow for the last Oktoberfest weekend there.

Fall brings visions of pumpkins and apples, frost and cooking and baking in the kitchen. Pumpkins are cheap now, but sometimes I wonder ..what can I do with all that pumpkin.... Making a pumpkin pie is too much work and we eat less sweets now.

My pocketbook is often light and so I think about my grandma and relatives that made due with what they had, and always took advantage of using what was available and not wasting.

Pumpkin is picking up a little more steam in the Culinary world Pumpkin Soup, Pumpkin ravioli to pumpkin cheese cake. Our Germans from Russia friends talk about a favorite that grandma use to make called Plachenda. It is a pumpkin turnover and so I included it in this issue, along with Pumpkin Soup, German Mac and Cheese, Baked Ham in Pastry, and a German Sweet Potato Casserole. Some video's of a Pumpkin Festival in Germany, German Kürbisregatta (racing pumpkin motorboats!) and music by Gitti and Erika
~~~~~~~~~~~~~~~~~~~~~~~~~~~~~~~~~~~
Roast Ham
Wrapped in Bread Dough
( Schinken )
I have had several requests for Baked Ham in Rye Dough
it makes a nice Holiday Dish.
A tradition in Germany and other parts of Europe,
for a special feast bake the ham in bread dough.
The ham stays moist and the bread tastes extra good as well!

Here is a recipe for
Roast Ham
Wrapped in Bread Dough
( Schinken )
~~~~~~~~~~~~~~~~~~~~~~~~~~~~~~~~~~~~~~~~~~~~~~~~~~
German Mac and Cheese!
Brenda Iswhoiham asked about this dish she had in a restaurant recently. At the same time Leah Knockturnal Smith wrote that she made a German Mac and Cheese
only she cut up Weisswurst in it, and that made it a full meal.
Even better the next day.
The savory aroma of this dish must be in the air!
Leah suggests to make it really authentic, use Bavarian Swiss Cheese called Emmentaller, and Gruyere both nice flavored white cheeses.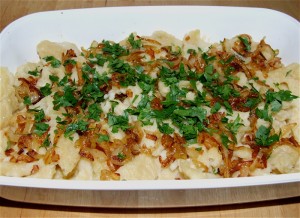 Another great topping is caramelized onions and chopped parsley.
Here is the recipe for Käsespätzle
German Macaroni and Cheese
First start with making some spaetzle....
Come into my kitchen and let's make some Spätzle
with Step by Step Pictures
if you don't have a Spätzle maker you can use a colander, that has some pencil style holes.
You can also make them with a knife and a board .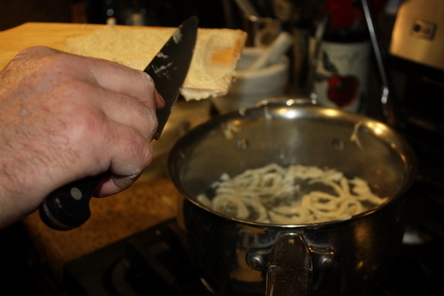 Called Handgeschabtspätzle
Go here for the recipe
( Hand Cut Spätzle)
If you are traveling to Southern Arizona, here is a great restaurant that
serves a German Macaroni and Cheese, that has an onion cream sauce
and topped with roasted onions.
The German Cafe, Sierra Vista, Arizona
~~~~~~~~~~~~~~~~~~~~~~~~~~~~~~~~~~~~~~~~~~
~~~~~~~~~~~~~~~~~~~~~~~~~~~~~~~~~~~~~~~~~~
Germans Love Pumpkins!
called Kürbis
For those interested here is The history of the Pumpkin
I was asked by Helga Wengler on the Facebook page about
doing some German sweet potato dishes. Consulting my German
friend Roy Denman he said that they are not very common where he was.

I don't see why you couldn't substitute them in any pumpkin recipe.
German Pumpkin Festival
Kürbisfest
Pumpkin Festival on the farm in Franconia Himmelkron
2010 photo gallery at www.timm-olaf.de
~~~~~~~~~~~~~~~~~~~~~~~
Plachenda
Pumpkin Turnover
This is like a pumpkin turnover, and is from a Germans from Russia,cookbook. The Germans from Russia are a group of Germans that went to Russia when Catherine the Great (the Empress of Russia with German Decent) offered them land, around different parts of Russia. IN 1871 when Alexander II took over in Russia he repealed this rule and many of the Germans from Russia immigrated to the United States. They have their own style of German cooking, often the dishes are the same but with a different name.

Go here for a recipe for Plachenda
Pumpkin Stumbus
is another recipe from the Germans from Russia.
You simply boil equal amounts of pumpkin and potatoes and then
Mash them like you would for mashed potatoes.

They would top this with caramelized onions or take 1 tablespoon bacon fat
or butter, melt in a pan and add 2 tablespoons flour. brown it and then add 3/4 cup of water.
This makes a nice little gravy for the Pumpkin Stumbis.
~~~~~~~~~~~~~~~~~~~~~~~~~~~~~~
Pumpkin soup baked in the shell
This is a nice presentation but tastes as good as it looks. It is not sweet, but a toothsome savory blend of pumpkin potatoes and leeks and onions.
Come into my kitchen and let's
cut up some pumpkin ( Kürbis ) and make some
Pumpkin Soup (Kürbissuppe) with
Step by Step Pictures
~~~~~~~~~~~~~~~~~~~~~~~~~~~~~~~~~~~~~~~~~~
| | |
| --- | --- |
| Below are a few of the Step by Step Recipes Featured | |
Sauerbraten

Bratwurst

Pan fried Chicken Schnitzel

Apfel Strudel

Old Fashioned Home Made Noodles

German Potato Salad

Springerle

Spätzle

Gefulte Nudeln
Pennsylvania Dutch Style
Pork Spareribs with Apples and Squash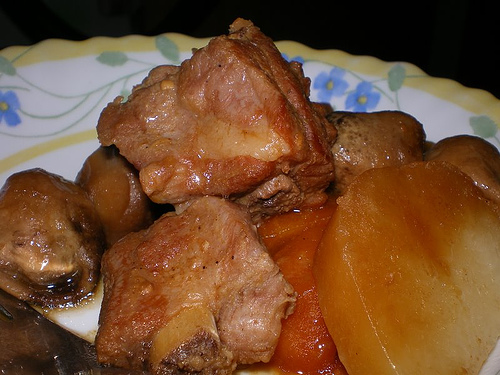 You can easily substitute pumpkin or sweet potato for this recipe
Here is the recipe for
Pennsylvania Dutch Style
Pork Spareribs with Apples and Squash
~~~~~~~~~~~~~~~~~~~~~~~~~~~~~~~~~~~~~~~~~~
Roy Denman's recipe for what he calls a
German Sweet Potato Casserole
The Streusel topping gives it the German moniker

~~~~~~~~~~~~~~~~~~~~~~~~~~~~~~~~~~~~~~~~~~
German Kurbisregatta
Pumpkin boat races
~~~~~~~~~~~~~~~~~~~~~~~~~~~~~~~~~~~~~~
German Music Selection
Heidi - Orginele Nederlandse, Dutch versie (Dutch version / Holländische Version)
~~~~~~~~~~~~~~~~~~~~~~~~~~~~~~~~~~~~~~~~~~~~~~~~~~~~~~~~~~~~~~
Bratwurst Oktoberfest Newsletter Sept 15
Octoberfest Newsletter Sept 20