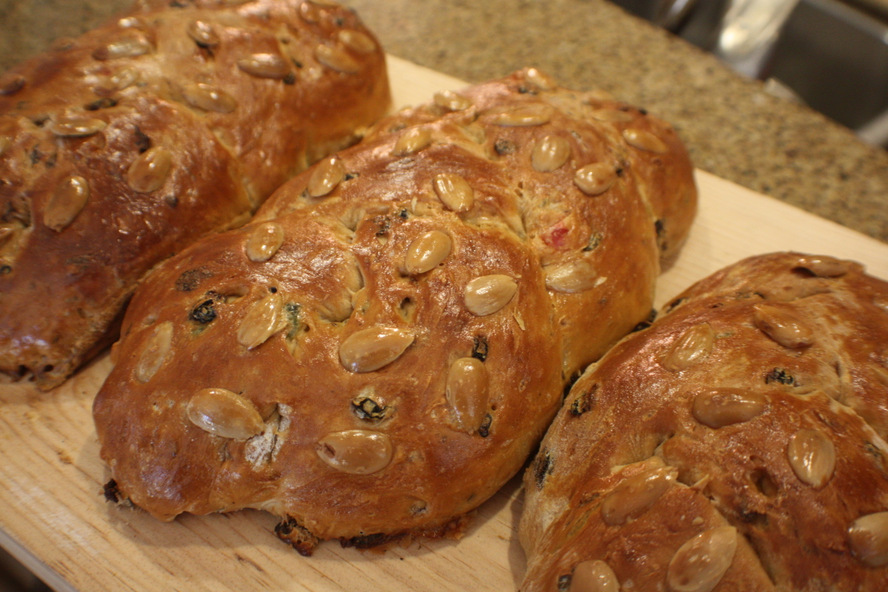 My Grandmother's Recipe for Stollen.
She chose to braid it, which is traditionally called
Hefezopf instead of Stollen, Zopf meaning braid.
This recipe has been baked every year for close to 100 years now in our famiy.
A Brief Stollen History

Stollen has a very long and interesting history.
Since the early 1300's in Germany it has been a favorite. But it has taken on a huge symbolism
down through the ages and the oldest Christmas market in Germany is named after this loaf of holiday bread.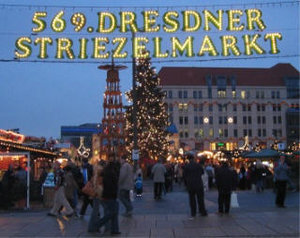 Streizel is another name for Christstollen and in Dresden they have the Striezelmarkt every year.
It is the oldest Christmas market in Germany that started in 1434.
What is with the Name?
Stollen sounds strange for a holiday loaf of sweet bread that represents the Christ Child.
The name Christstollen comes from the shape of the stollen looks like a baby wrapped in a blanket,
and so it became a symbol for the baby Jesus.
| | |
| --- | --- |
| It is believed by many that the name "stollen" was originated in a mining community in Dresden . A Stollen is a word for an entrance to a mine shaft. The rounded end of the bread reminded them of a mine entrance. | |
| | |
| --- | --- |
| Picture of the HUGE Stollen baking oven. | In the Early 1700's August the Strong, Lord of Saxony ordered a 27 foot long Stollen weighing over a Ton to be marched in to a festival to symbolize the mightiness of their army. |
~~~~~~~~~~~~~~~~~~~~~~~~~~~~~~~~~~~~~~~~~~~~~~~~~~~~~~~~~~~~~~~~~~~~~~~~~~~~~~~~~~~~~~
World's largest Stollen

In 2010 Bakers in Dresden made a new world record by putting together this large Stollen for the cities Stollenfest.

more about this record breaking stollen in Dresden

Dresden Stollenfeset

Showing the presentation and cutting of the Giant Stollen!
Go Here for more on the history of Stollen
~~~~~~~~~~~~~~~~~~~~~~~~~~~~~~~~~~~
Could be the
Perfect After or Late Christmas Gift?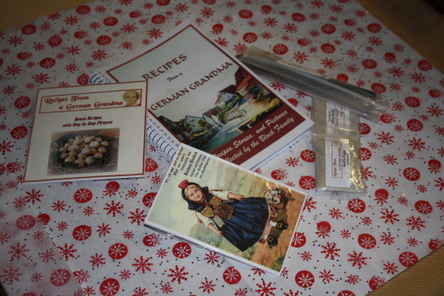 I would love to be a part of your Christmas with our Gift Wrapped Cookbook that includes or
Special Goodies Package seen above, (Bonus Recipes CD, postcards, vanilla beans and vanilla sugar),
Let me personalize it by signing it to you or someone special.
We send it out 2 day priority mail !
same day you order to get there for before Christmas.
There is still time, I get it out the same or next day!
We send it out 2 day priority mail !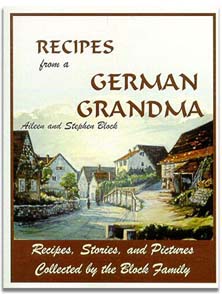 To order just the cookbook alone go here