Turn on some Christmas Music
Pfeffernusse (peppernuts) and Zimtstene
Two of my favorite German Christmas holiday cookies
First the Pfeffernusse ....
Pfeffernusse is named because they are peppery and some of the recipes
they are shapped like small nuts. Some are more of a larger dome shape.
These cookies go back as far as Lebkuchen does to the middle ages.
Many recipes are a variation just shaped different.
They were a popular "Oma Zeit" (literally grandmother's time ) when they were made during the holiday season, when folks visited friends and loved ones houses with cookies . They were sometimes a little hard and perfect to dip in the Glühwine, coffee or tea.
~~~~~~~~~~~~~~~~~~~~~~~~~~~
~~~~~~~~~~~~~~~~~~~~~~~~~~~
Pfeffernusse Roy Denman's Style
(pictures donated by Cheryl Frey)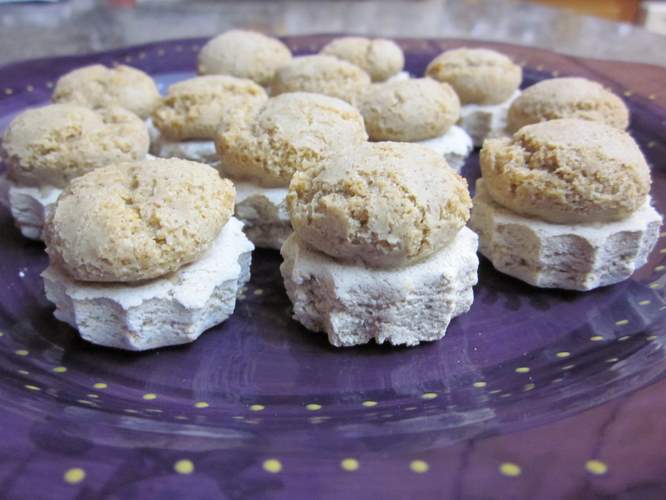 This is an interesting version of this classic German Christmas Cookie, the recipe was one that Roy Denman loved from his childhood in Germany, and here is the recipe his mom gave him.

As you can see in the picture the sides are dried into a shape and then the centers puff up.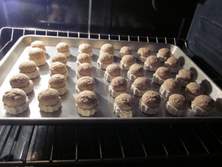 Go here for the recipe for Roy Denman's Pfeffernusse
with notes by Cheryl Frey.
~~~~~~~
~~~~~~~~~
~~~~~~~
Pfeffernusse
Stephen Block's Grandmother's Recipe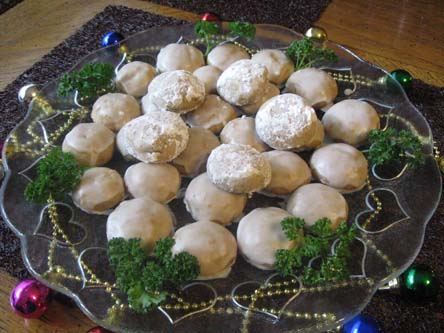 This is a simple recipe that you can either roll in powdered sugar or put
a little lemon flavored powdered sugar glaze on.
Come into my kitchen and let's make these
Pfeffernusse
with step by step pictures
~~~~~~~~~
~~~~~~~~~
~~~~~~~
(Cinnamon Stars)
A dough made of ground nuts flavored with cinnamon and a meringue top, this is another classic German advent cookie that has been around for ages.
Symbolism has always been a part of German Christmas baking and the star is representative of the nativity scene.
Go here to make Zimtsterne or Cinnamon Stars with step by step pictures